What is it?
Tiles are small Bluetooth devices that can be attached to keys, TV remotes, bags or anything else likely to go missing around the home. Then, if they go missing, you can 'call' them from a smartphone. They will then beep until they're found – which is great for people who keep misplacing car keys.
The Tile Mate costs £20 and has an eye for easy attachment to key rings, while the £30 Slim is flatter, making it perfect for wallets or bags. Both devices function in the same way, linking up to the Tile smartphone app, which can be downloaded for free and supports multiple Tiles.
What's it like?
Both the Mate and Slim come in a neat package and they feel very sturdy and well-made. They are battery powered but come sealed, so replacement batteries can't be installed. Fortunately, batteries are guaranteed to last at least a year. If they run out before that the Tile will be replaced.
Setting up is really easy. Install the app, switch on Bluetooth and follow the on-screen instructions. It took about a minute to get each Tile hooked up. Once paired, the Tile device can be named after whatever item it's attached to and a picture added within the app. We named ours 'keys' and 'wallet'.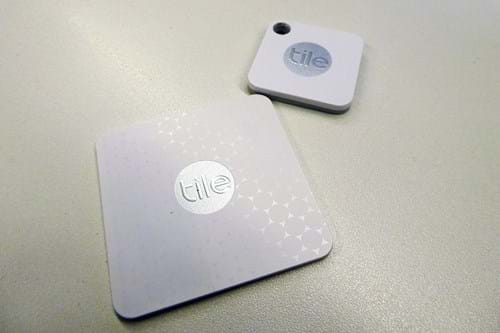 The Slim is larger but thinner than the Mate, and has no eye for attaching to keyrings
If you then misplace your item, simply fire up the app and, provided the Tile is within range, tap the icon on the screen and it'll start ringing a musical jingle. The volume isn't particularly loud, but if your item is stuffed down the back of the sofa or hidden in the washing pile it'll be easily noticed.
Bluetooth range is up to 100ft but, in reality, it works best within around 30ft. That means, in a typical house, it should be quite easy to find whatever has gone missing. However, Tile also attempts to help find things that have gone missing further afield.
As long as Bluetooth is switched on, the Tile app will keep in touch with paired devices and update their location on a map. So, if you have reached home and realised you left your keys or wallet behind somewhere, the app will report where the device was last seen - the office, for example.
It does require Bluetooth to be on all the time, though, otherwise locations won't stay up-to-date. That can do more harm than good, because you might end up heading off to a place where your item isn't, simply because the location data within the app isn't up-to-date.
Fortunately, if you have well and truly lost your item it can be reported as missing via the app. Then, if another Tile user passes near it, the rightful owner will get an alert, enabling them to head off and find their item based on its most recent location. This is entirely anonymous – a Tile user won't know they have passed near someone else's item.
This is limited, of course, since it relies on Tile users passing your lost item through pure chance. If you lost your item somewhere rural, there is a much lower chance of another Tile user passing it than if you lost it in the middle of London. Still, it gives a better chance of recovering an item than if it had no Tile attached at all.
Should I buy one?
If you regularly misplace your car keys (or whatever else) then yes. It's an extremely easy way to track them down again and takes the stress out of a busy, rushed morning. There are similar products that do the same job and cost less, but the Tile devices and the app are very well executed, so seem worth a little extra.
The range within which the app can make Tiles ring is limited and will be affected by thick walls, so there are some limitations to be aware of. But for forgetful people, or for families with devious, key-hiding children, Tile is an elegant and user-friendly helping hand. The fact other users might track down a lost item is an added bonus.
You can buy a Tile from Amazon by clicking here
Details
Price: Around £20 for Mate or £30 for Slim
Bluetooth range: Up to around 100ft
Alternatives
TrackR: from £25
Wuvo: from around £10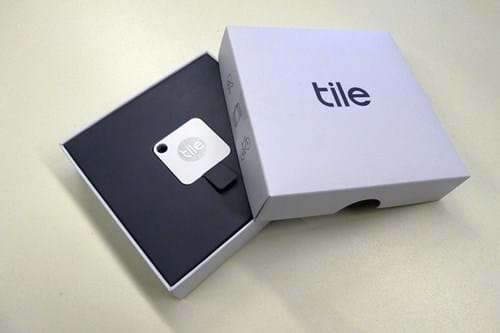 Packaging is neat and stylish