Top 10: Dog harnesses for cars 2020
Wherever you like to keep your dog when travelling in the car, it's crucial for the safety of your passengers and your pet that they wear an appropriate harness and are secured to a seat belt. Here are ten of the best harnesses for your precious pooch.
Top 10: Boot protectors for dogs | All pet product reviews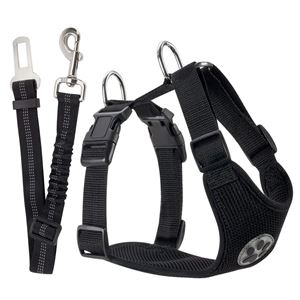 1
SlowTon Dog Car Harness Seatbelt Set
Getting the wrong size harness for your dog can be as dangerous as having no restraint at all, so this harness and clip set from SlowTon is ideal, as it comes in six different sizes to suit a range of weights and heights.
The double chest strap is made from tough mesh to allow breathability and there is a bewildering range of colours and fabrics to suit your dog's wardrobe (should they have one…)
Buy it now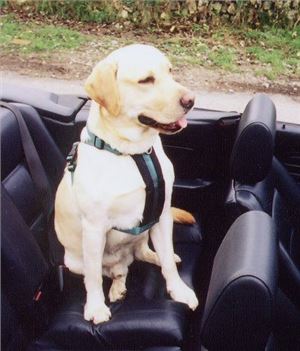 2
Creature Comforts Softex Car Safety and Walking Harness
Simple and inexpensive but rated highly by some Amazon customer reviewers, this harness by Creature Comforts is available in six different sizes and is designed to be used on walks as well as in the car.
There's a useful amount of padding on the straps to ensure comfort and the seller claims they are supplied to four national dog rescue centres, which is added reassurance of its suitability.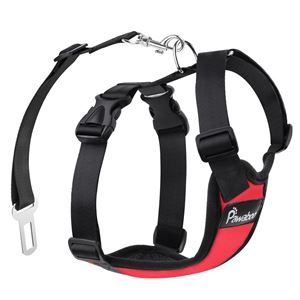 3
Pawaboo Dog Safety Vest Harness
Scoring a healthy 4.6 stars out of 5 from over 200 Amazon customer reviews, this harness from Pawaboo looks smart and with ten different colour combinations to choose from will undoubtedly match your pooch too.
It's available in four sizes, is made from durable Oxford fabric and offers generous chest padding for comfort. But it is worth noting that the small print says it is unsuitable for use with the Kia Niro, 2011 Jeep Wrangler and 2013 Honda Pilot.
Buy it now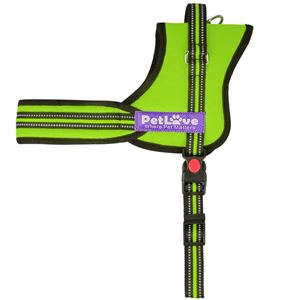 4
Pet Love Dog Harness
Scoring an impressive 4.6 out of 5 stars from over 410 reviews on Amazon, the Pet Love harness is liked for its durable and stylish (arguably) material. The harness is easy to put on and take off, and ensures visibility at night with reflective padding.
This particular harness is XL, though Pet Love offers sizes ranging from XXXS to XXL. The harness offers a lightweight mesh Lining with soft sponge padding and adjustable straps. PetLove products are also covered by a three-month warranty.
Buy it now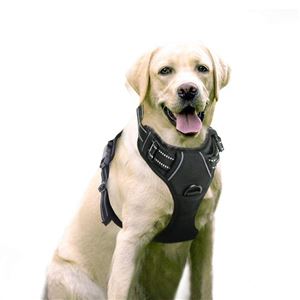 5
Rabbitgoo No-Pull Dog Harness
Despite the name, this harness is for dogs — not rabbits. And it scores a 4.6 out of 5 stars from almost 600 Amazon reviews. The harness is available in sizes XS to L, and offers adjustable slide straps with soft padding underneath to maximise comfort.
The no-pull design stops stress being put on your dog's neck, meaning pulling pressure is evenly distributed to the body to prevent pulling and choking. There are two metal leash attachment points for walking, as well as reflective straps for good visibility. The harness also comes with a one-year warranty.
Buy it now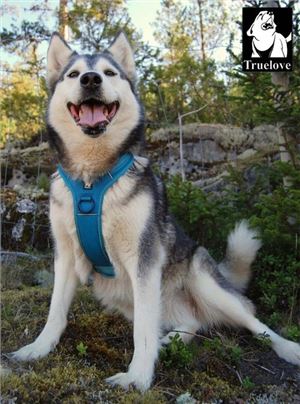 6
TrueLove Dog Harness
The TrueLove dog harness is available in XS to XL and boasts a 4.4 out of 5 star rating on Amazon from over 145 reviews. The harness offers a durable outer layer and soft mesh, padded chest and belly straps for comfort during extended wear.
Reflective Nylon webbing ensures good visibility, while the Duraflex buckle has a large loading capacity — which improves the tensile strength. 
There are also two leash attachment points for walking; Zinc-alloy D-ring on the dog's back, and webbing with Zinc-alloy O-ring on the dog's chest. 
Buy it now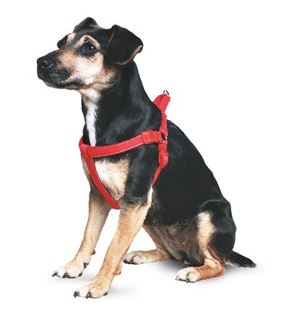 7
Ancol Padded Nylon Dog Harness
Another bargain harness, this smart red offering from Ancol comes in seven sizes, although not all sizes were available at the time of writing.
Not specifically designed for use in a car, the Ancol nonetheless has the all-important chest bracing and includes a sturdy rear ring for connecting to your vehicle's seatbelt - although a connector for this purpose is not included.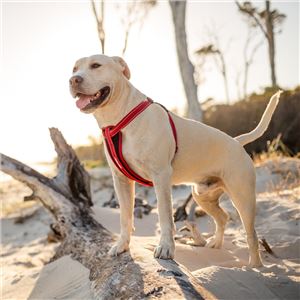 8
EzyDog Classic Chest Plate Harness
Get past the lazy spelling and this harness from EzyDog has a generous chest plate, which as well as promising a high level of comfort for your dog will help to distribute the force of sudden deceleration more easily.
Five sizes are available with a good range of adjustment for each one. It's put together with reflective stitching for added safety at nighttime and includes a simple car restraint loop that fits around your car's seatbelt. The 2XL is the highest-rated size variant.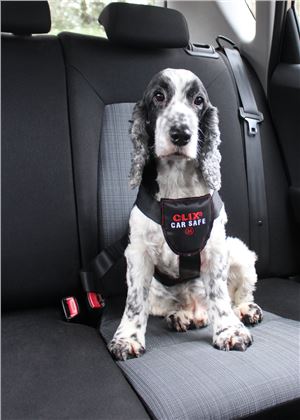 9
The Company of Animals CLIX CarSafe Harness Medium
The CLIX CarSafe harness aims to provide maximum safety and comfort for your dog in the car and whilst walking. Soft neoprene padding covers all points of contact, with particular focus on the central chest protector.
The harness is quick to fit and easy to use,  just plug directly into your seat-belt socket (not suitable for Volvo or Saab cars) or slide the existing seat belt through the loops in the harness handle. It comes in sizes XS, S, M and L.
Buy it now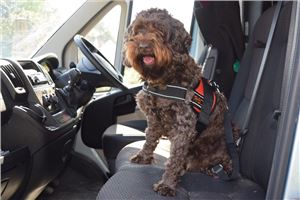 10
RAC in-car harness and seat belt connector
The RAC Advanced Harness is an easy to fit, padded harness that can be adjusted around the tum and the chest of the dog. Sold separately, the RAC In-Car Harness Seat Belt Connector Strap attaches to the harness and clicks into the seat belt to restrain the dog while you drive. It also keeps your dog safe if you have reason to stop quickly.