What is it?
Car jump starter packs are usually heavy, cumbersome and inconvenient. This one, from Aukey, isn't. It's small enough to live in your glovebox, strong enough to start almost any car, even with an entirely flat battery and doubles up as a portable phone charger.
The price for that useful functionality is quite high at more than £100 RRP. However, if you shop around online, you can usually get hold of one for nearer £70 but, even then, it's a fair bit more expensive than the traditional, huge, lead-acid battery powered jump packs.
What's it like?
From the package, the jump starter comes in a carry case with a charger for a three-in socket, a 12v hook up and clips to hook it up to the car battery. It's light and very easy to move around, plus it's simple to understand the controls. Ours was partially charged when it arrived, but needed a few hours connected to the mains to reach 100 per cent.
The level of charge is indicated on blue LED lights on the unit and, with 18,000 mAh of capacity, it's strong enough to charge an iPhone from empty 18 times – and it will. There is a twin USB connector for plugging in phones. But really, it's meant for jump starting a car.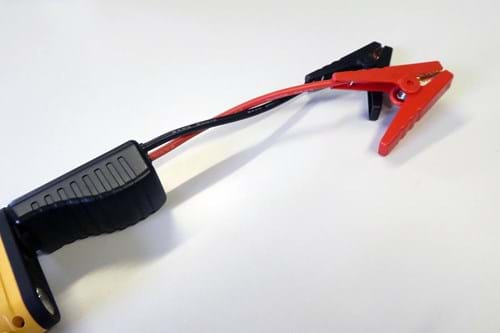 The connector for jump starting the car can be removed
To do that, the included connector needs to be plugged in to the charger and switched on with a little button. Then it can be hooked up to the battery, after which lights illuminate to indicate whether things are properly coupled up. The red wire connects to the positive terminal and the black one to the negative.
Once that's done, it's simply a case of turning the key and cranking the engine. We found it started a 1.4-litre petrol car even when the battery was completely dead. The model tested is rated to start a 6.5-litre petrol or 3.0-litre diesel. If you're not sure, peak cranking power for the jump pack is 600A, so check the rating on your battery to be sure it's up to the job.
Should I buy one?
Maybe. If you have a second car or a motorbike, having a jump pack like this can be a godsend if you've left your vehicle unused for a few weeks – and since it's so small and light it's far easier to use or move around than an old-fashioned lead-acid powered jump pack.
But it's expensive compared to one of those, so if you need a jump pack for the odd, occasional emergency then you might be better off with one of those. But if you are happy to spend the money, it's hard to complain about the PB-C13 – it's a really handy bit of technology.
Details

Price: £100.99 RRP
Capacity: 18,000 mAh
Peak cranking current: 600 Amps
Also consider: Silverline 234578 jump starter, £42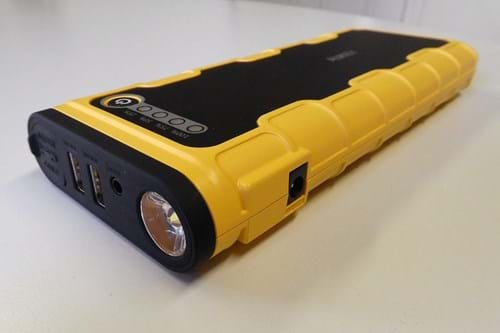 There are two USB port for charging devices like phones