Top 10: Cheapest petrol lawnmowers
Electric lawnmowers are quiet and easy to use but, ultimately, they're not ideal for everyone. If you've no convenient access to a mains socket then that rules out a cabled lawnmower, while a larger garden – or taller, thicker grass – could outstrip the capabilities of a battery-powered mower.
Consequently, for many, a petrol-powered lawnmower remains the only option. Fortunately, buying a petrol lawnmower doesn't necessarily entail spending lots of money. Here are ten of the cheapest petrol mowers on the market, so that you can get on with hacking that grass down quickly without breaking the bank.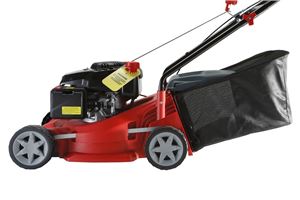 1
Sovereign 129cc 40cm Push Mower – £85.00
This is one of the cheapest petrol lawnmowers available. It features a 45-litre grass box, a 129cc engine and a 40cm cutting width – making it best suited for smaller gardens, or for buyers requiring a mower that can get into tight corners or down narrow paths. It's not the most durable mower, predictably, so if your garden is rough then you'd best look elsewhere. Otherwise, for the money, it's hard to fault.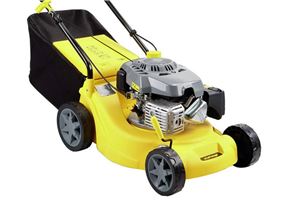 2
Challenge 129cc 40cm Self-propelled Mower – £139.99
If you want an inexpensive self-propelled lawnmower then this Challenge-branded mower could be just the ticket. It's specified like the Sovereign, with a 129cc engine and a 40cm cutting width, but cuts down on the effort required thanks to driven rear wheels. The deck's plastic, so it's not a heavy-duty mower – but at least it won't rust. It doesn't include any oil, either, so budget around £10 for some suitable lawn mower engine oil.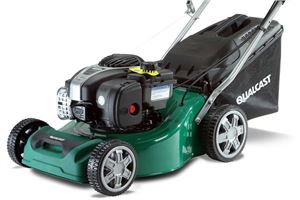 3
Qualcast 125cc 41cm Self-propelled Mower – £159.00
Opting for a brand-name mower may cost more but there can be advantages to upping your budget. For example, compared to the less costly Challenge mower, this self-propelled Qualcast features a tough steel deck instead of a plastic one. It also comes with a quality Briggs & Stratton engine, too, whereas the Challenge features an in-house unit. More prominently, the Qualcast has a two-year warranty, whereas the cheaper Challenge has just one year of cover.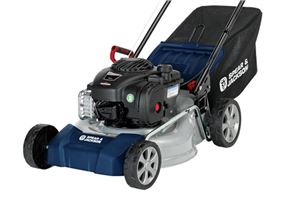 4
Spear & Jackson 125cc 46cm Push Mower – £169.99
Looking for something a bit more heavy-duty? This Spear & Jackson push mower has a metal deck, a 46cm cutting width and a big 55-litre collection bag. It also has a tried-and-tested Briggs & Stratton engine, so you shouldn't have any problems on that front. Unlike a lot of rivals, it also comes with a three-year warranty – which grants improved peace of mind and should help keep costs down. A self-propelled version is also offered, costing £229.99.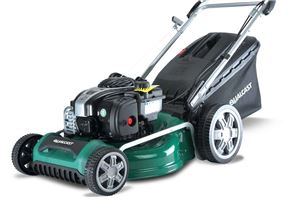 5
Qualcast 140cc 46cm Self-propelled mower – £199.00
If you like the idea of a brand-name mower and need something more capable, this self-propelled Qualcast – which has a 46cm cutting width – is worth considering. It has a cutting height that ranges from 25-75mm, a large 55-litre grass bag and a two-year guarantee. Power comes from a 140cc Briggs & Stratton engine, which is slightly larger than those offered elsewhere, and it should prove a reliable option. Replacement parts, such as blades, aren't expensive either.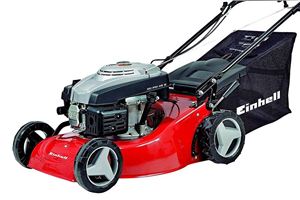 6
Einhell 139cc 46cm Self-propelled Mower – £199.99
German manufacturer Einhell has put together a straightforward self-propelled mower that features a 46cm cutting width, a steel deck, a 139cc engine and a big 50-litre collector bag. Its height can be adjusted from 30mm-80mm, whereas most other rivals range from 25mm-75mm, granting slightly improved clearance. It also has a large 1.3-litre fuel tank, so you can cut for a long time – but it is heavy, making it hard to manoeuvre and liable to dig into soft ground.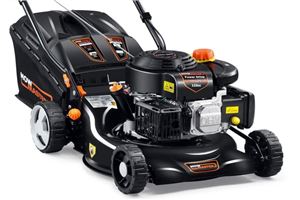 7
MowMaster 123cc 46cm Self-propelled Mower – £219.00
This MowMaster offers a mulching mode, which is where the grass is chopped up into fine pieces and deposited back on the ground. Besides reducing faff, as you don't have to empty the grass bag all the time, the mulched grass acts as a fertiliser for your lawn. The mower is also self-propelled, has a 46cm cut and a steel deck with an integrated hose connection for easy cleaning. It also comes with a two-year warranty.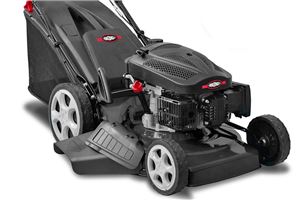 8
Racing 173cc 50cm Self-propelled Mower – £249.00
This off-brand mower is certainly more expensive than most but it compensates with a features list as long as your arm. This self-propelled lawnmower benefits from a powerful 173cc engine, a wide 50cm cutting width, a steel deck, a washing port and – usefully – the ability to mulch, bag or side-eject grass cuttings. It has a big 1.2-litre fuel tank and 70-litre bag, too, but the maximum cutting height is 70mm. A two-year warranty is standard.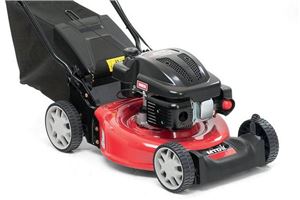 9
MTD 99cc 46cm Self-propelled Mower – £303.00
MTD has a history of building durable, reliable lawnmowers that are ideal for those seeking something that's going to routinely deal with rough terrain and poor conditions. This mower's only got a 99cc engine but it has a 46cm cutting width, a strong steel deck, a maximum cutting height of 92mm and a large 60-litre collection bag. A two-year warranty is standard but, depending on where you buy it from, extended warranties are often available.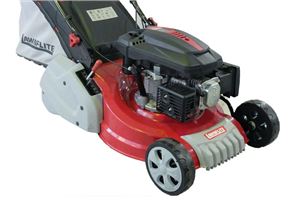 10
Lawnflite 46cm 135cc Self-propelled Roller Mower – £329.00
If you want a super-smart striped finish to your lawn then you may well be considering a roller mower. These are usually very expensive but specialists MowDirect has collaborated with Lawnflite to produce an affordable self-propelled roller mower. It has a 46cm cutting width, a 135cc engine, a big 60-litre grass collector and a two-year warranty. The cutting height can be set as low as 17mm, too, which will result in a very neat, professional-looking cut.