What is it?
The Flymo 1200R sits at the more affordable end of the robot lawn mower market and is designed for small and medium-sized gardens. It will take care of lawns up to 400m2, keeping the grass in good shape without you having to lift a finger (or push a lawnmower).
Unlike more expensive (£1000+) robot lawn mowers, you can install the Flymo 1200R yourself - you don't need a technician to come out and do the set-up for you. Everything that you need is in the box, including the Flymo 1200R itself, its charging station, 150m of boundary wire and pegs to keep the wire in place.
What's it like?
Getting the Flymo 1200R set up is pretty simple if a little fiddly. You'll need to stake down the boundary wire using the supplied pegs around the perimeter of the lawn that the robot will be mowing. This wire is the area that the mower will cut - once the mower senses this wire, it will turn around and move back into the mowing area.
The Flymo 1200R is designed for gardens up to 400m2 and our test lawn was 365m2. Set up took around an hour, though this will vary depending on how familiar you are with the principle of robot lawnmowers and whether you have borders and trees that the wire will need to be guided around.
One thing to bear in mind is that the grass needs to be cut before installation. The best time of year to install the Flymo 1200R - as with all robot lawnmowers - is in the spring when the ground is softer and you're able to hammer the pegs in with ease (and you have a full season to appreciate the robot mower's work). That wire needs to be pegged closely to the ground or - even better - buried. Otherwise, it runs the risk of being snipped by the mower's blades. Should that happen, it is possible to get inexpensive wire repair kits on Amazon.
Then it's just a case of connecting the wire to the base station (where the mower automatically comes back to charge its 18V/1.6Ah lithium-ion battery), letting it charge for an hour or so and setting the initial cutting height using the twist-dial on top. Cutting heights are between 20 and 50mm. If you can't connect the base station to the mains from your lawn, then this robot mower (and any other for that matter) isn't for you. We'd suggest having it on its highest setting and gradually bringing it down over a few days so that it's taking a small amount off the top of the lawn at a time.
And that's the core principle of the Flymo 1200R (and all robot lawn mowers for that matter): taking a small amount off the top of the lawn regularly. This means that the small clippings act as fertiliser for the lawn and don't clump in piles in the same way as if you were to leave the collection bin off a push mower - and it doesn't have a grass bin to empty. The beauty of this method is that your lawn always looks 'just mown' and never untidy. The downside is that it cuts in a random zig-zag pattern so that it doesn't end up focusing on one area. That means no lawn stripes, if that's your thing...
After that, you'll need to tell the 1200R what you want it to do - via the LCD panel - and when. The menu system will let you programme which days of the week or times that you want the mower working (for instance, you may not want it to mow at the weekend when you're enjoying the garden and pets/children are more likely to be around). It will even cut at night if you want it to and is quiet enough not to disturb the neighbours as its doing so. 
Tuning these finer details takes no time at all and once done, it really is a set-and-forget product. Unless the boundary wire is broken, you'll only ever need to think about the mower once every three months when the razor-like cutting blades need to be replaced.
Words like 'razor' and 'robot' will naturally have your thoughts turning towards safety. The 1200R is packed with sensors, so lifting it up will automatically cut it out, while 'bump sensors' will cause it to reverse away from any obstacle that it comes into contact with. The cutting razors - which are housed more than a finger's length away from the edge of the mower - only engage when it's on; they're limp when it's off.
While that doesn't make them entirely harmless, it does mean that it's impossible to much more than nick your finger and arguably safer than trouble-shooting a push-mower with solid metal blades. That said, do keep an eye on things that are left on the lawn. Although the 1200R is unlikely to harm a human, it's less forgiving on an errant hosepipe.
And then there's security. If you've paid upwards of £500 for a lawn mower, you want to be confident that someone can't just pick it up and walk away with it. If you lift the robot, not only will the blades cut out but it will sound an ear-piercing alarm. You'll also need to enter a four-digit to get it going again - with that it's immobile.
Running all summer it should cost no more than £5-10 in electricity, making it much cheaper than a petrol equivalent, but on a par with an electric or battery-powered cordless mower.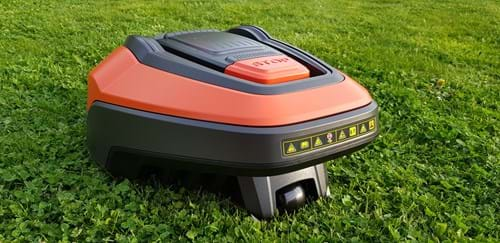 Should I buy one?
While still not cheap, Flymo 1200R is affordable enough to make it a real alternative to a conventional mower. It retails at around £1000, though we regularly see it on offer between £500-£600. Although that still makes it more expensive than a push mower, it is significantly more affordable than top-end robot lawn mowers from the likes of Honda and Husqvarna, where you won't see any change from several thousand pounds.
At the £500 mark, it starts to move into an appealing territory where you may be happy to pay a little extra so that you never have to mow the grass again. Especially appealing if you see mowing the lawn as a bit of a chore that you'd rather avoid. Or, alternatively, if you have older relatives who may no longer be able to mow the grass themselves, but still want a tip-top looking lawn, this could be a smart way of doing it, especially in the spring when it's a once or twice a week job.
Finally, it does come with a decent pedigree. Although you may associate the Flymo brand with hover mowers, it is actually owned by Husqvarna, which has more than 20 years of making robot lawn mowers and manufacturers some of the best higher-end models.