Car Seat Chooser
Why use the Car Seat Chooser?
Choosing - and buying - a car seat for your baby or child is a pain. It means visiting every child seat manufacturer - either online or in-store - to see if their seat fits your car and, if it does, it goes where you want it to. So we decided to do something about it. We built a car seat choosing tool that starts with the most important thing (well, after your child, that is): your car.

Tell us what car you have, or plan to get, and we will show you those that fit your car.

 
Select your car's make to get started
Tell us what car you have, or plan to get, and we will show you the car seats that fit.
How do I choose the right baby or child seat?
Unsure of your ISOFIX from your i-Size? Our buying guides lay out - in plain English - the essentials that you need to know before you start to think about buying a seat.
In this guide
1. What size is your child or children?
The starting point is to know the basics about your kids. So stick them on the scales, measure them, and ask their grandparents to remind you of the dates they were born.
Armed with that information, you can check the standard car seat categories (below) to find out which seat is required.
Weight range: up to 10kg (22lbs)
Age range: birth to 9 months
Weight range: up to 13kg (29lbs)
Age range: birth to 15 months
Weight range: up to 18kg (40lbs)
Age Range: birth to 4 years
Weight range: 9-18kg (20-40lbs)
Age range: 9 months to 4 years
Weight range: 15-36kg (33-79lbs // 2st 5lbs-5st 9lbs)
Age range: 3-12 years
Weight range: 22-36kg (49-79lbs // 3st 7lbs-5st 9lbs)
Age range: 6-12 years
Age ranges are approximate – it's the height and weight that really matter. You'll also notice that the weight ranges of the seat groups cross over, but it's always safer to keep a child in the lower group for as long as possible. A child in a seat that's too big isn't ideal. 
It's also possible to buy '1/2/3 group' seats, which cover the entire spectrum, adjustable to convert from a baby seat into a booster, as well as the 'i-Size' setup that covers from birth to around four years old. The same safety and fitment rules apply to those.
2. Does my car have Isofix child seat anchor points?
Isofix has been standard on all new cars since 2006 so if you're buying new, your car will have it fitted. And if you're choosing a used car, there's a good chance your car will have Isofix - around 60% of all cars on the road have it fitted. Originally Isofix had the two anchor points but some cars also have a top tether point – usually on the back of the seat.
If you're not sure look for the Isofix labels or simply run your hands along the gap where the seat base and back meet to feel for the metal hooks. Two-seater cars often have them fitted in the passenger seat although you do of course have to turn the passenger airbag off. Read the full article on whether car seat belts or Isofix is safest.
But, just because your car has Isofix, it doesn't mean that all car seats are compatible or you can use more than one of the Isofix positions. Check for compatibility with your car.
More fitting advice from RoSPA: childseats.co.uk
3. Isofix or Seatbelt?
When it comes to fitting your child car seat, there's still much debate about the best way to keep your little one safe in their seat. Many people say seatbelts are perfectly safe – if fitted properly – while others swear by Isofix mounting points.
We all know how seatbelts work. And how they're designed to protect adults in the event of crash. And they work in exactly the same way when fitted to a child car seat. The problem is, they're not always fitted to child seats properly. In fact, it's a far more common problem than you'd imagine. Research by Good Egg Car Safety in 2014 tested almost 1700 car seats and found 67 per cent of them were incorrectly fitted.
Sometimes it can be new parents who aren't familiar with their car seat but more often than not it's actually those with older children who don't realise they've been fitting them incorrectly for a long time.
When installed correctly, seat belt fitted seats are very safe. It's also easy to switch the seat between different cars, plus if you have an older car without Isofix mounts, you can be confident your child will be safe.
Independent tests show that Isofix mounted seats are extremely safe. Rather than relying on a belt, the car seat is fixed directly to the base of the vehicle seat. That means there's less movement in the seat in the event of an accident, particularly a side on impact.
The real advantage to Isofix is that it's so simple to fit. Research by Maxi-Cosi shows that 94 per cent of parents use Isofix correctly. Why? Well you just simply click in the Isofix legs and the car seat is solidly installed. Nearly all Isofix seats have green and red indicators to show you when the seat is fixed correctly.
4. Consider an i-Size car seat if you have a newer car
The i-Size name may not give much of a clue – and we think it's far from the best title – but i-Size is a Europe-wide standard for car seats that was introduced in July 2013.
That's several years ago, yet it's still seen as a 'new' innovation, with many parents - and parents to be - not sure what it actually means.
If you're looking for a new car seat for your little one, you'll see many that now say they are i-Size compliant. The i-Size regulations are designed to give extra protection to children. The key differences are better head and neck support along with improved protection from side and frontal collisions.
Alongside that, all i-Size seats must have a five-point harness to keep the child safely strapped in, even if the car rolls over.
Another key improvement is that rather than being categorised by the child's age and weight, i-Size seats are classified by height, after all, every child develops at a different rate.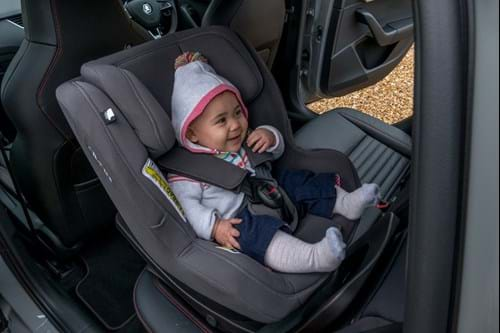 i-Size doesn't guarantee happy babies. But it does provide extra peace of mind.
On top of that, all cars and vans (including pick-ups) have to be i-Size compliant if they want to achieve the maximum five-star Euro NCAP safety rating. And if you buy an i-Size compliant car seat, it will fit every i-Size approved car.
Isofix and i-Size work alongside each other. So any i-Size compliant seat has to have Isofix fixings. Isofix is the international standard for the attachment points in cars. In other words those metal hooks you get in the back seats plus sometimes a top tether strap.
Using Isofix is far safer than relying on seatbelts. The system is straightforward so parents are less likely to fit the seat incorrectly. Sounds silly but recent research showed that 52% of car seats fitted with a seat belt were wrongly installed.
5. Buy the right seat at the right time
If you keep an eye on prices and plan well in advance, it is possible to pick up a decent discount on a child seat that's about to be discontinued. Still brand new and still safe, but it will be last year's model with a chunk taken off the RRP.
Listed below are today's discounts on child and baby seats from Amazon, Halfords and Mothercare and others.
Deals that have a price that has been crossed out are discounts on the current recommended retail price. Prices without a crossed-out price show a new, lower RRP.
Ask HJ
What's the best SUV to fit three child seats in the back?
I need to have three child seats (two children under 3 and a baby) and would like to fit all three across the back seat. What midsize SUV would you recommend? I'm looking at getting a year old one for around £20k?
We'd recommend the Honda CR-V. It has three Isofix points across the rear seats, although it's a slightly tight fit for bulky child seats. It's a good SUV though and should prove to be reliable.
More Questions
Car Seat Buying Advice