Top 20: Camper van essentials
If you've just bought a camper van there's every chance you're eager to go on an adventure – but wait. First you'll need to stock it up with all the essentials, from crockery to water drums and from bedding to a mobile Wi-Fi. We've listed 20 items almost every motorhome owner will need to get hold of.
There are plenty of other important items beside these too, some of which you may have at home already – so make sure you make a comprehensive packing list well in advance. That way, when you hit the road you won't need to make too many detours before you can enjoy your holiday. 
New to camper vans? Check out top 10 things you need to know before driving a camper van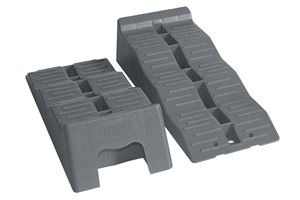 1
Levelling ramps – around £24
Whether you're wild camping or using a purpose built site, chances are the ground you pitch on won't be perfectly flat, so some levelling ramps are well worth keeping in your camper.
These Fiamma ramps have three steps and they're easy to clean. They're capable of supporting motorhomes or caravans of up to five tonnes, yet they're light enough to be easily moved around and stored when not in use. Fiamma also sells a storage bag for the ramps, if needed.
Buy it now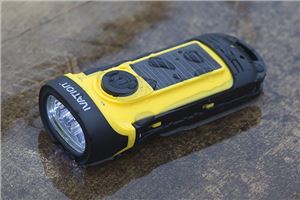 2
Torch – from around £13
A torch is an absolute essential when holidaying in a motor home – and a wind-up LED torch is probably the best choice, since it will never run out of battery. For trips to the loo in the night it'll come in extremely handy – in fact it's probably worth having several torches in your camper van, just in case.
This waterproof camping torch has three modes and is available with a solar charger for an extra pound. There are plenty of cheaper, extremely small wind-up torches available online too if you want to stock up and put some spares in gloveboxes or drawers.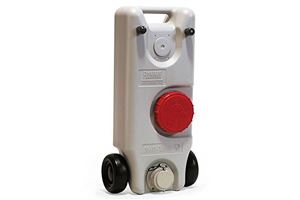 3
Water tanks – from around £60
While some camp sites have serviced pitches to enable easier drainage, most will require you to empty your grey water tank and chemical toilet yourself, as well as to collect your own water from taps. That means getting a couple of water tanks. Remember not to mix them up…
There are various designs on sale, including plenty that roll along to make life easier when they're full. Other handy things to have include waste tank and pipe cleaning chemicals, as well as some lengths of hose and tubing to hook things up and avoid spillages.
Buy it now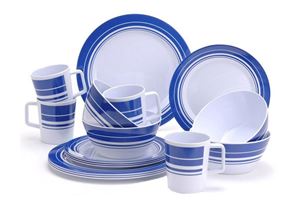 4
Cutlery and crockery – from £20
Even if you're planning to eat out a lot when you're away, you're still going to need plates, cups and cutlery for breakfast, snacks and tea breaks. Melamine is probably the most sensible material for crockery, since it'll withstand being dropped or bashed around in transit. 
A set of cutlery is important too, along with knives, scissors and a can opener. It's surprisingly easy to forget those things, so getting spares and leaving them with your camper van is sensible and it makes packing for a trip easier next time. If you have a small camper then there are stackable crockery sets and cutlery rolls designed to save space.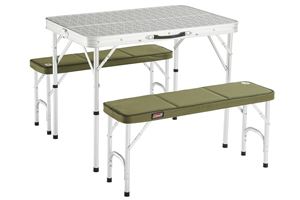 5
Folding chairs and table – from £84 for full set
Camper vans might have seating inside, but why not (if you're lucky enough to get any) enjoy the sun? Folding tables and chairs are available in some ingenious designs that occupy next no space when stowed away. They mean you can make the most of the scenery, wherever you find yourself.
We found this Coleman foldaway bench and table set, which is pricier than some with an RRP of £130, but has comfortable, padded seats and – more importantly – stows away into a very compact carry case, ideal for storage in a camper van where space is at a premium.
Buy it now