What is it?
The Garmin DriveAssist 51 LMT-D is a sat nav unit that features an integrated dash cam, in an effort to cut down on windscreen clutter and fuss. You simply put it in your car, plot the route and set off; the dash cam will then capture any incidents along the way, which could make an insurance claim far easier to resolve.
The 51LMT-D also packs a host of potentially useful features – including a camera-enabled lane keeping aid, a collision warning alert, voice control, live traffic and live car park availability updates. Its specification is otherwise conventional, consisting of a five-inch display, UK and European mapping and built-in WiFi and Bluetooth connectivity.
This isn't an inexpensive solution, though. Given that there are plenty of affordable dash cams out there which cost less than £90, Garmin's all-in-one solution will have to impress to justify its premium.
What's it like?
The Garmin comes in a simple box that contains the unit itself, some documentation, an in-car charger and a USB cable for file transfers. It's relatively easy to unpack and pack, so you've something to store the sat nav in when necessary.
The sat nav unit has a five-inch screen is finished to a high standard; its design is relatively plain but it's well finished and feels suitably durable. On the back you'll find a Mini USB port for charging and data transfer, a microSD slot for video and still shot storage, a power button and the camera itself. On the underside of the unit is another microSD slot, which is reserved for additional maps.
Like most sat navs, the Garmin uses a sucker mount. It simply clips into the back of the unit and adheres to the windscreen with the flip of a lever. As a result, it takes mere moments to install or remove the Garmin. The sat nav is similarly quick to start up, so you can be ready to go in no time at all.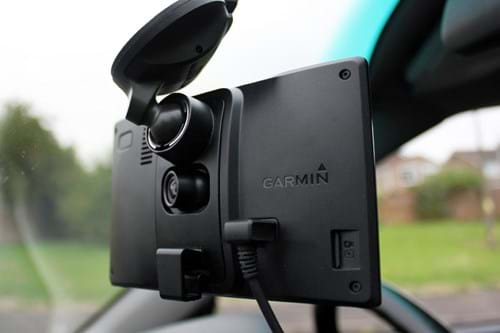 One of the best aspects of the DriveAssist 51, like other Garmin sat navs, is that the interface is easy to understand and use. This, coupled with a bright, clear screen and controls that respond quickly, makes it a delight to use. As you'd hope, it has full postcode recognition and its extensive points of interest database makes it even easier to plan your trip.
As is the case with most sat navs, you can pick from a selection of route preferences – such as quickest or shortest – and you can choose roads or routes that you want to avoid, which is excellent if you're trying to dodge particular stretches of roadworks or similar; this version benefits from live traffic notifications, too, so you'll be warned if there are any significant delays on your desired route.
The unit can take some time to plot the route, once you've selected your destination, but following the Garmin's guidance is effortless. The display is clear, and the path to follow well presented, and the voice commands are easy to hear and give you plenty of warning with regards to upcoming turns.
You can pick from a whole range of options, too, including speed camera warnings. And the unit will then promptly notify you of any upcoming hazards. The Garmin also has voice control, which works remarkably well and allows you to cancel or alter your route while on the move. The only navigation-related gripe is that, if you take a wrong turn, the Garmin can take some time to calculate a new route.
The dash cam is one of the less impressive aspects of this Garmin, as the footage it produces isn't the clearest – with number plates only becoming visible when a car is just a few metres away. That said, any video captured by it will be clear enough to show what happened in an incident.
Like the Garmin 55 dash cam, footage from the DriveAssist 51LMT-D can then be downloaded to your smartphone via the Garmin VIRB app, which makes sharing videos that little bit simpler.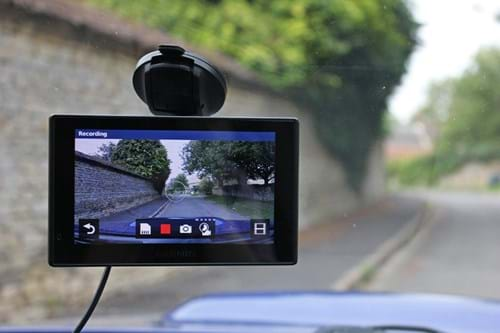 This Garmin also packs a lane-keeping aid and a collision warning alarm, which rely on imagery from the camera to generate appropriate warnings. While a neat idea, they are often unreliable and we soon found ourselves either ignoring them or turning them off.
On the plus side, updating the system shouldn't prove problematic as it has its own WiFi connection. It also has Bluetooth – so you can make hands-free phone calls if you pair your phone with it.
Should I buy one?
If you need a new sat nav, and think that a dash cam would be beneficial on the trips you intend to take, then this Garmin is worth considering. It's an excellent sat nav unit, for starters, and is easy to use. While the quality of the footage from the camera isn't great, it serves its purpose and the set-up helps minimise the number of cables, mounts and devices in the car.
Otherwise, you're perhaps probably better off considering a standalone sat nav and dash cam. You could get Garmin's DriveSmart 51LMT-D for around £150, and a Z-Edge Z3 Plus dash cam for £100, saving you almost £50. More to the point, you could install the standalone dash cam permanently and unobtrusively in your car – meaning you'd benefit from it all the time, and not just when you were using the sat nav as well.