What is it?
The Z3 Plus is the top of the range dash cam from Z-Edge. Its big selling point is the fact it records in Ultra 2.5k Wide Quad HD in 1440p and has a HDR night vision mode designed to give better quality footage at night. According to Z-Edge, it has no less than six glass lenses, which are to reduce glare in bright sun.
It's priced at £200 but you'll find it on Amazon for around £110. It also comes supplied with a 32GB Kingston SD memory card, which would usually cost you around £10. What it doesn't have is GPS or WiFi - what Z-Edge describes as 'pricey and unnecessary features' - but that's for you to decide.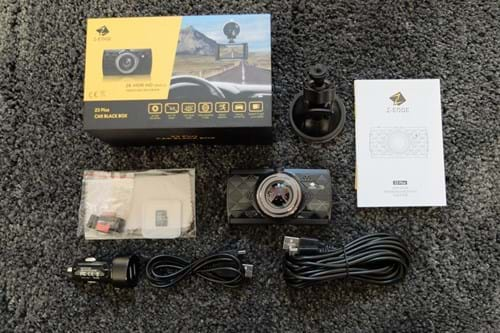 What is it like?
The Z-Edge is lighter than most dashcams around, which doesn't give you an immediate impression of quality, not helped by the rather rattling nature of the buttons on the side. Straight out of the box, this doesn't feel like a camera that retails at £200, despite the diamond pattern design on the front.
But things do get better. While those buttons don't feel especially nice, the fact there are proper buttons makes the Z3 Plus easy to use on the move. Much more so than rivals which utilise a touchscreen design and can be quite unresponsive.
Like most dashcams, the Z3 Plus is ready to go straight out of the box. Getting the micro SD in is quite fiddly due to the recessed slot on the base of the unit. Taking it back out requires someone akin to Edward Scissorhands. Or at least the end of a sharp pencil. Like most dash cams now, Z-Edge recommends using a class 10 or better micro SD card.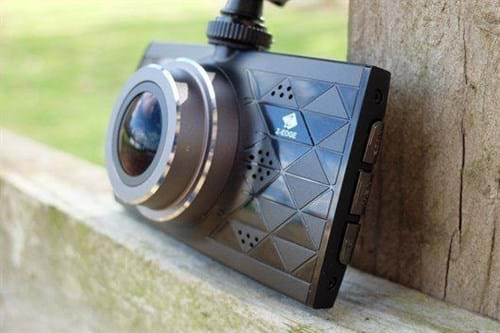 It usefully comes with two leads - one short and one long - both with USB connectors, along with a dual-port in-car charger. The advantage is that you can have your dashcam plugged in and still have a USB port available, rather than the more traditional moulded cigarette-lighter chargers.
There's a useful Quick Start guide which shows you which are best settings depending on what kind of driving you're doing, whether it be the daily commute, a road trip or want continuous recording. Once plugged in, the Z3 Plus happily goes about its business and starts recording as soon as you turn the ignition on. 
Where the Z3 Plus proves its worth is with the footage. The camera is excellent, giving lovely clear footage where you can easily read number plates, as the sample clip below shows. Although as ever we have to point out that that raw, uncompressed footage is of better quality. Thanks, Youtube...
It's at night or in bright sun where the Z3 Plus shows why it's worth the money. It performs incredibly well in conditions where the average dashcam struggles. You'll be hard pressed to find anything better bar a 4K dashcam and those tend to be more expensive. There's no vibration or rattling from the mount either, which means a steady picture, the light weight of the unit helping here.
Changing the in-camera settings is easy thanks to the simple menu system and in our time using the Z3 Plus - over a few months - we've had no software issues or crashes. It's worked faultlessly. 
The lack of WiFi isn't really a big deal unless you're continually wanting footage straight from your dashcam. You can just connect it to your computer or take out the micro SD card to get the footage. There's no GPS either though, which means the Z3 Plus doesn't record your speed. That could prove more of an issue if you need to provide footage to the police or an insurance firm.
However, the parking mode is useful. If it detects any motion or vibration it will turn on and start recording, switching off 30 seconds after any movement has stopped. It's powered by the internal battery in this mode, which has enough power for 15 minutes of video - Z-Edge says this is sufficient for 72 hours in parking mode.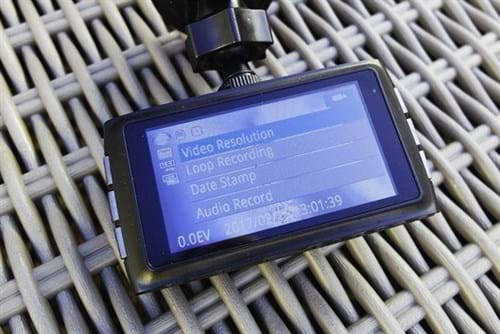 Should I buy one?
While the Z3 Edge doesn't seem that great when you first take it out the box, its talents lie in its camera. It produces superb quality footage in all conditions and is one of the best all-round dashcams we've tested. 
It may not be feature-laden but the footage it takes is excellent - and surely that's the main purpose of a dashcam. It doesn't take any time to set up and once fitted you can just leave it alone to record in the background.
It's also reliable and easy to use, so although not the cheapest dash cam around, we think it's a worthwhile investment given the quality of the footage it captures.