What is it?
The idea behind the Karcher FC5 is simple. Instead of different machines and equipment for vacuuming, washing, scrubbing, and polishing hard floors — the Karcher FC5 does all of them at once. With two rotating fleece rollers, combined with a powerful vacuum, the FC5 picks up anything loose on the floor, while at the same time removing dried-on stains and buffing to a shine.
If you have a substantial amount of hard floors in your home and £200 to spend, the Karcher FC5 could be the upright that you've been waiting for.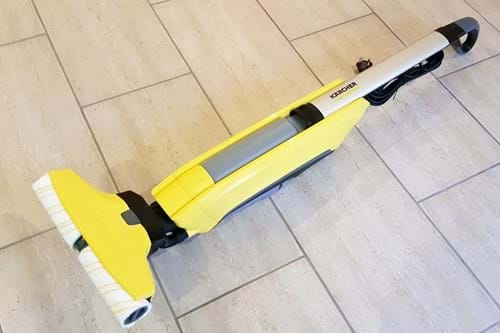 What's it like?
The Karcher FC5 gives the impression that it's a serious piece of equipment from the moment that you open the box. It's almost entirely assembled in the box, so all you need to do is clip on the handle, slot it into its dock and then the sturdy yellow machine is good to go.
The really clever part, which makes it stand out against competitors, is that it never soaks the floor. It only moistens, so the floor is damp rather than wet, which means it dries quickly and can be used on a wide variety of surfaces.
It works by using two forward-rotating fleece rollers at the front of the machine, which picks up clean water from the built-in tank and rotates at 500rpm. They pick up debris from the floor and scrub at the same time.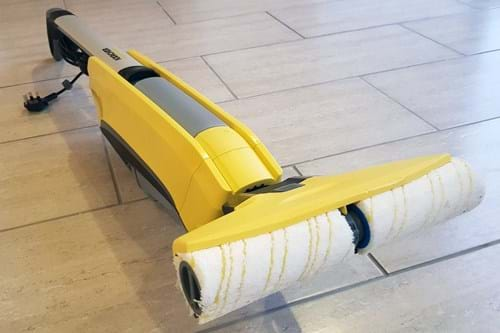 Meanwhile at the back is a squeegee and 460w vacuum mechanism, which collects muck from the floor and deposits it into the dirty water tank. If you've got the popular Karcher window vac, you'll have an idea of how this works — but on a much larger scale.  
This dual action of washing and vacuuming is a real boon to anyone with a hard floor because it removes the need to vacuum first — which, if you have a lot of hard floors, can turn a quick floor clean into a drawn-out affair. The Karcher FC5 means that the job isn't much more time consuming than if you were using a vacuum cleaner. Once you're done, these rollers can be easily removed and are machine washable.
And what a job it does. Those rollers really give tiles and grout a good scrub, while on wooden floors it has a similar effect on the gaps between joins. Stubborn dried-on stains are easily removed with just a couple of passes; those microfibre rollers really do work magic. In use, the floors never get anything more than damp, which is a real bonus if you have kids running around. And, within half an hour or so, it's entirely dry with a streak-free finish.
The clean water tank is 400ml and the waste water tank is 200ml (which will show that even 'clean' floors are dirtier than you think), but this doesn't mean that you'll be emptying it twice as much as filling the clean water tank — only about 50 per cent of the clean water is recovered.
Re-fitting is no chore, with both tanks unclipping easily and are re-fitted with a reassuring 'clunk'. The 7m cable means you can use the FC5 without having to stop all the time to unplug and plug in elsewhere as well.
In use, it feels well built and robust. But it can feel rather heavy to some. With the tanks full it weighs in at more than 5kg. Not an issue for lifting and moving, but when you're doing a large area it can be tiring — not least because when you pull it back, you're working against the forward-spinning rollers.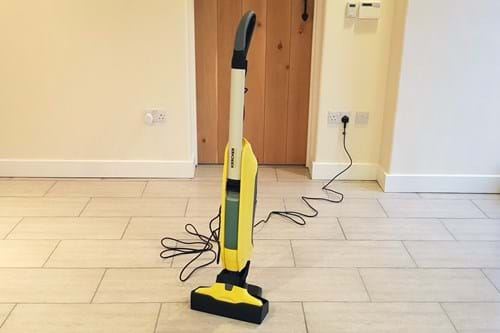 Some pressure is required to push down on those rollers too. There is some angling on the head of the FC5, but it doesn't articulate enough to get under sofas. We also found that it could get caught on any surface that wasn't entirely flat, slightly uneven tiles for instance. But these are small niggles on what is essentially a superb machine.
Should I buy one?
You've really got to have a lot of hard floors — whether tile, stone, laminate or hardwood for the Karcher FC5 to make sense. But with more and more of us fitting hard floors, there's an increasing need for this kind of product. In our opinion, it's an exceptionally useful machine if you have a couple of hard floor rooms (or more, obviously) that need cleaning.