What is it?
A scooter, of course. The Flex Deluxe has the largest wheels (200mm) in Micro's adult scooter range and one of the highest adjustable handlebar heights (73cm to 103cm), meaning it's the premium option for those wanting a smooth, effortless ride. Although it isn't electric, so you'll still have to push to keep it moving.
But that's not a bad thing, scooting is one of the cheapest, healthiest and environmentally-friendly ways to get around. It can also significantly shorten urban commutes, like scooting to a nearby train station. The lack of electric power also means it's perfectly legal to ride in the UK.
It's easy to fold down, so you can sling it in the back of your car or over your shoulder in seconds. With a max weight of 100kg/15 and a half stone, it's the ideal option parents wanting to scoot along on the school run and urban commuters who don't want to worry about finding somewhere to lock up a bike.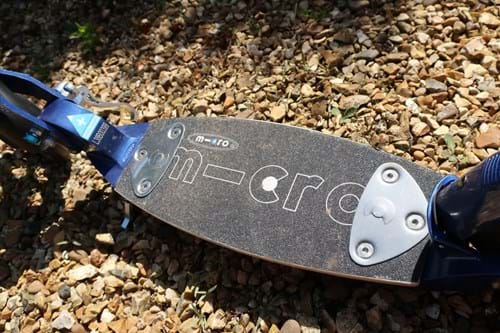 What's it like?
As soon as we get the Micro Flex Deluxe out of the box, we can tell it's premium quality. The wheels are large and solid to handle bumps smoothly and make slightly longer distance commutes easier. The Flex Deluxe also features a large metal, foot-operated brake and plastic mud-guards. The wood and fibreglass deck isn't reinforced by metal - like it is on the Micro Suspension scooter. Instead, the deck is 'ultra flexible', according to Micro, so it can absorb bumps and deliver a comfortable ride.
It's not the lightest at 4.7kg, but it isn't too heavy for carrying up some stairs or around for a few minutes at a time. Micro also sell a strap separately for about £9, which makes carrying the folded scooter over your shoulder a lot easier.
Usefully, there's a kickstand on the underside of the Flex Deluxe, too, allowing the scooter to stand upright so you don't have to awkwardly hold it to stop it falling over. The kickstand is a nice feature, although we often find it hard to locate under the deck with our foot.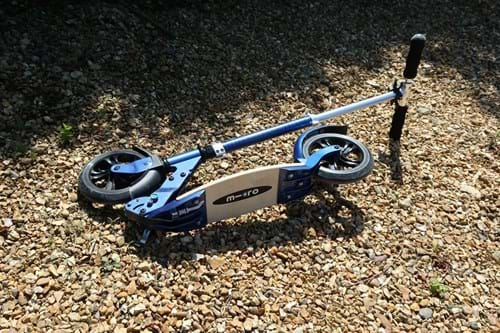 Folding the scooter down is a fairly simple job, it's just a case of undoing a latch and pressing two buttons on either side of the folding block, which is just the mechanism that moves between the handlebars and the deck. The scooter clicks into place when folded or unfolded, then you tighten the latch again. It's a bit confusing at first, and if you do it too quickly, it feels like the mechanism might take your fingers off. But this instruction video clears it up a bit, as well as explaining how to adjust the handlebar height.
If we were to pick faults, the deck is a little bit smaller than we'd like. The idea is to have one foot flat and one foot angled to use the back-brake if necessary when you aren't pushing, but - even so, the deck feels a touch cramped. In comparison to the Micro Suspension, which has 'a larger foot deck for larger feet', the deck is considerably smaller - with enough space for one of our UK Size 5 shoes to sit flatly and our other foot to rest on the back.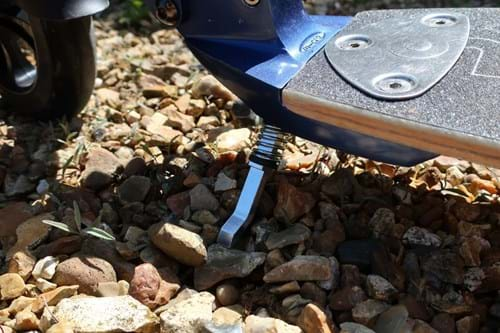 The Swiss scooters are designed to last, so each component can be replaced if necessary without having to scrap the entire scooter. This means you can substitute worn out parts when needed so the scooter lasts longer than many cheaper brands on the market. The Flex Deluxe comes in three colours: blue (like ours), black and cream.
We used the scooter mostly for the last little bit of our commute to work, rather than walking. Once parked, we took the Flex Deluxe out of our car, popped it up and rode the last five minutes through town towards the office. It significantly shortened our walking time, which was great when it was cold out. However, scooting in the rain isn't so fun considering it's difficult to hold an umbrella and use a scooter at the same time.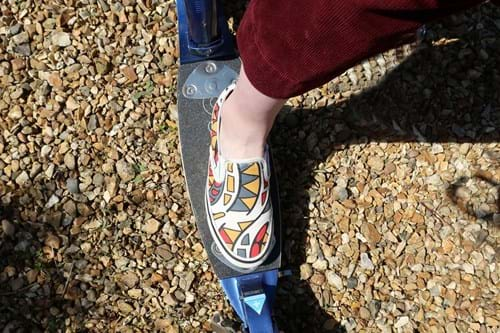 Should I buy one?
The Micro Flex Deluxe is an easy to ride, high-quality scooter that can make urban commuters life a little easier, or just for parents to keep up with their little ones. After all, it was shortlisted for our Scooter of the Year category - although the Micro Suspension scooter took home the trophy.
It's effortless to ride, with bumps being easily absorbed and the big wheels making longer distances far easier to cover than on a scooter with tiny wheels. It doesn't feel quite as sturdy or refined as the Suspension model, but it does have an extra ounce of fun about it.
If you fancy a cheaper scooter that still offers Micro quality, the Micro Flex Classic makes a good case for itself. The Classic is slightly lighter (4.23kg), slightly less adjustable (handlebar height: 68cm -96cm) and has 145cm wheels instead of 200cm - so it'll be less refined on uneven ground.