Top 10: 125cc motorcycles 2020
We've chosen the 10 best 125cc motorcycles you can ride after passing a CBT test and still with L-plates. This selection also promises to keep you entertained after you've passed your full motorcycle test so you won't feel the need, or financial pain, of having to swap to something bigger straight away. The list is in price order.
Top 10: Scooters 2019 | Motorcycles & scooter reviews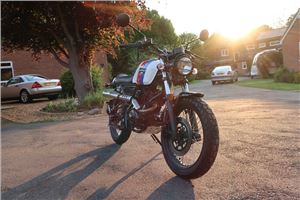 1
Lexmoto Tempest 125 - £1799
Scramblers have become all the rage in the style stakes, but don't panic if you can't afford some of the heavy hitters as Lexmoto has its Tempest on hand. It won't go unnoticed the Tempest has some styling cues borrowed from other very popular scrambler models. But that's no bad thing as it gives the bike great looks and a riding position that's easy to live with for several hours at a time.
The four-stroke 125cc engine and five-speed gearbox won't tax your skill or patience, while the handling is ideally set-up to take on city streets. You could even tackle the occasional unmade track, but the Tempest is happiest soaking up envious looks in town rather than muddy puddles.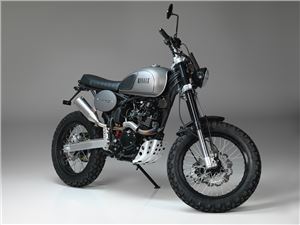 2
Bullit Hero 125 - £2495
You could save a few quid and choose Bullit's Spirit 125 café racer model, but we love the detail and finish of the Hero. Here's a bike that knows most of its riders will be using it in and around town, so it focuses on stable handling and a ride that soaks up pugnacious roads with grace. Some might find the steering a little slow when riding on more open, flowing roads, but it instils plenty of assurance in newer riders. Around town, the upright seating position affords good vision and takes the weight off your wrists.
All of that matters, but many will opt for the Hero for its tough looks and attitude that belie its 125cc capacity. So, you can have all of the style without big bills.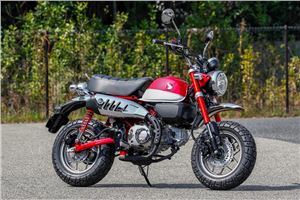 3
Honda Monkey - £3699
There are many ways you could spend the price of the Honda Monkey and some of them might even be sensible. But where's the fun in that? It's a no-brainer to see the joy in the Monkey, even with just a cursory glance, its retro styling lures you in. Then you spot the details like the LED headlight, the shape of the tank, unique badges and modern dial.
The brilliance of the Monkey is the way Honda has updated its classic design for the modern age. It's not some pastiche but the real thing, just with the up-to-date kit that makes it usable every day. That includes the 125cc engine that whirrs through its four-speed gearbox with gusto. Completing the Monkey's city-busting credentials are a softly sprung but not wallowing ride, good brakes and superbly cushioned seat. It all makes this Monkey money well spent.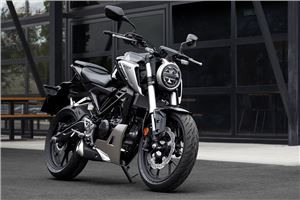 4
Honda CB125R - £3989
Honda is one of the very few motorcycle manufacturers that can ask as much for this naked CB125R and make it good value. Much of that is down to the depth of quality evident in every component and how this bike is assembled. It's all top-notch, so for anyone looking to use their bike year-round, the Honda has to be on your radar.
Then there's the way the CB125R rides. With all of the weight carried low and centred in the middle of the bike, it handles in a very neutral manner that inspires confidence in new riders. It also allows more experienced users to flick into bends and make the most of the composed suspension and strong brakes. The 125cc four-stroke engine is a willing helper in all of this, while comfort is excellent too. Then there's the neat digital dash, stylish looks and curvy rear swing arm: it all adds up to one of the most desirable 125s out there.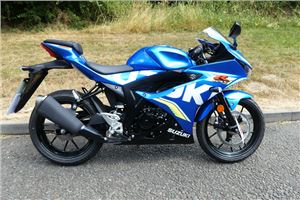 5
Suzuki GSX-R125 - £4099
Any Suzuki bearing the GSX-R title has a lot to live up to, even if it's the 125cc tiddler of the range. The name stands for rawness and exhilaration and this 125 meets the mark with its 15PS engine that redlines at 11,500rpm. It's smooth on the way up there, though it needs plenty of revs to give its best. So, just like a GSX-R, then.
The riding position is typical of this breed of Suzuki too, canting the rider forward, which helps take the weight off the hard, unyielding seat pad. There's good wind protection and running costs are in the pocket money bracket. This all makes the GSX-R125 very good value and it's far from the most expensive 1125cc race rep on the market, but it is one of the best to ride.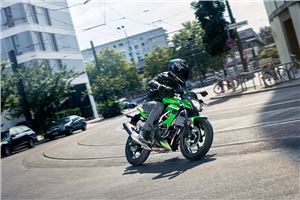 6
Kawasaki Z-125 - £4129
The Z-125 marks Kawasaki's return to the A1 licence class, which it was last present in back in 1991. Compared to a lot of others in this sector, the baby Zed has bags of appeal as it looks very much like its larger siblings that enjoy a good degree of cult status. Based on the Z-125 Ninja, the naked version here shows off this frame far more and is all the better for it. You also get raised handlebars for a more relaxed riding position, while the engine delivers plenty of power (15PS) and fun for this class.
It has the attitude of a KTM 125 Duke mixed with the riding agility of the Aprilia Tuono 125. Add in the striking looks of the Kawasaki along with excellent build quality and motor with proven reliability, and you wonder why the company has been absent from this class for so long. It's everything a new rider could ask for and has enough in reserve to keep longer-standing licence holders entertained. A more up to date dash display would be welcome and the pillion seat is more of a get-your-mate-home-in-an-emergency measure, yet these are small concerns.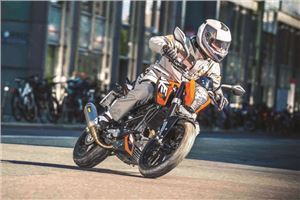 7
KTM Duke 125 - £4249
If you're still young and image-conscious, the Duke is a great choice of commuter bike. Not only does it have style but it's also practical, with a reasonable amount of steering lock and a fairly comfortable riding position, plus it's safe thanks to standard ABS. The fact it is identical in size to its 390cc stablemate just adds to the appeal.
It also means you can practice for your test on the 125cc bike and then upgrade to the more powerful 390 Duke model, retaining the familiar layout and feel but with more power. The only major difference between the two is performance and some extra weight. 125 Dukes are in demand too, so you should be able to get a good price when you come to sell.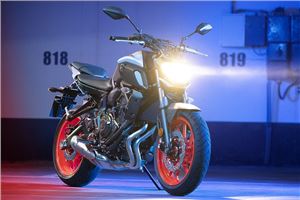 8
Yamaha MT-125 - £4299
Yamaha has scaled down its mighty MT-09 perfectly to create the MT-125. For anyone setting out on their motorcycling career, this is a bike that will look after you as well as provide plenty of excitement. It's light, flickably agile in town or down country roads, and it's also comfortable enough for longer trips.
The 16PS engine comes with enough low-down urge for easy town riding, yet it also loves to squawk round to its red line. It even has a shift light to make sure you change up at the right moment. Ridden with a gentler right hand, the MT-125 can eke out your fuel budget thanks to 134mpg average economy. You do pay a heftier price for the MT-125's looks and attitude than many other naked 125s, but this one has the style to claim bragging rights in its class.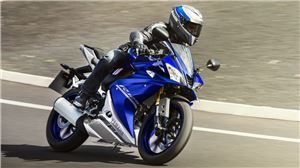 9
Yamaha YZF-R125 - £4499
Plenty of sports bike riders may have abandoned the sector for the all-round pleasures of adventure bikes, but Yamaha knows young riders want that the thrill of a race replica like its YZF-R124. From a distance, you could be forgiven for thinking this is the real-deal R1 such is its ideal proportions and raked-forward stance.
Sling a leg over the sculpted seat unit and the racer for the road feel continues with a riding position that throws weight onto your wrists at low speeds. Get going on country lanes and this isn't an issue as you enjoy the YZF's pin-sharp handling, brakes and cornering. The 125cc engine comes with Variable Valve Actuation to keep the power coming at higher revs, yet the R 125 can also be surprisingly economical too at a combined average of around 130mpg.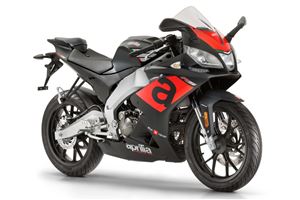 10
Aprilia RS4 125 - £4499
In the late 1990s and early 2000s, the absolute king of the college car park was the Aprilia RS125. When derestricted it's genuinely quick – at least when it wasn't being fixed. Emissions rules mean the new model is a four-stroke with less power, but if you plan on one day riding a real sports bike this is a good place to get some practice.
Its powerful brakes, 70+ mph top speed and keen, sharp handling make it feel like a miniature superbike – and its appreciably cheaper than the Yamaha R125 – which is the new king of the college car park. It's still very expensive for a 125cc bike though – and it's hardly comfy around town.
Related Articles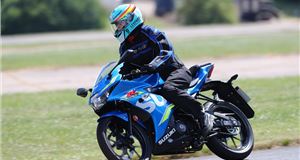 Motorcycles
Getting into riding a motorbike or scooter can be confusing when you don't quite know where to start....