What is it?
The Z-125 marks Kawasaki's return to the A1 licence class, which it was last present in back in 1991. That's important news for the Big K and for those looking for a learner-legal machine with more than a bit of style and chutzpah to it. Compared to a lot of others in this sector, the baby Zed has bags of appeal as it looks very much like its larger siblings that enjoy a good degree of cult status.
Kawasaki hasn't cut corners in creating the Z-125, so you get a stylish trellis frame that's a prominent feature of this bike. Based on the Z-125 Ninja, the naked version here shows off this frame far more and is all the better for it. You also get raised handlebars for a more relaxed riding position, while the engine delivers plenty of power and fun for this class.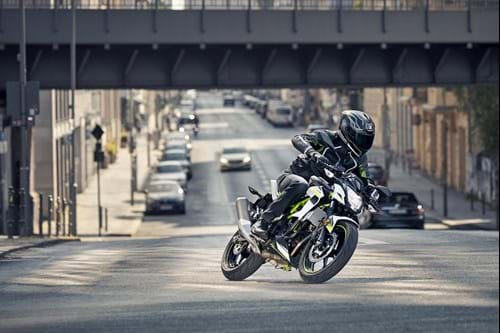 What's it like?
It would have been easy for Kawasaki to whip the fairing off the 125 Ninja and claim the Z-125 was a naked roadster to rival the Honda CB125R or Aprilia Tuono 125. However, the Japanese firm has gone into a lot more detail than that and, as a consequence, has a learner-friendly machine that delivers plenty of excitement and looks for less than a KTM 125 Duke. This is no mean feat.
To manage this, Kawasaki has indeed taken the fairing away from the 125 Ninja, exposing the very attractive trellis frame chassis to the sunlight and passers-by's gazes. It looks great and the traditional Kawasaki green finish that's standard is the business. For any new rider, the Zed has all the credibility you could want and that also means it has a longer reaching appeal for those same riders when they've graduated to an A2 licence.
As well as stripping away the fairing, Kawasaki has added new wider mirrors and taller bars, radically changing the riding position to that of a roadster rather than a racing crouch. It opens up far more possibilities on the Z-125 as comfort is excellent. The main seat feels a little firm at first, but plenty of hours in the saddle demonstrate the shape and positioning are spot on. This is helped by the foot pegs giving enough room so your knees don't feel compacted at the end of a busy day.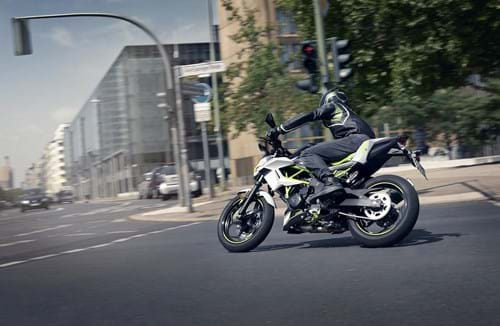 Those wide bars also offer superb control in all situations. Most Z-125s will find themselves being used in urban environments and here the Kawasaki excels. You can boss the bike through gaps in the traffic like a filtering demon and the Zed is narrower than a lot of scooters, so you know it has been made with city use in mind.
The comfy riding position also means you can head through town without worrying about any aches or creaks on the commute. The front bikini fairing offers a very modest amount of protection from the elements, but with a top speed that hits the buffers at 70mph, you don't have to worry too much about being assailed by rain that feels like bullets.
A more reasonable cruising speed on the Zed is 65mph, where the engine zings away happily in its peak power band. Maximum power is delivered at 10,000rpm and torque reaches its best at 7700rpm, so anywhere between these two points is where the Kawasaki's motor is in its happy place. However, it doesn't need any trigger warnings as this motor will carry on in this manner all day, every day and loves to be revved hard. Given its learner focus, this shouldn't be an issue and Kawasaki will sell you a louder exhaust to make the most of the single-cylinder engine's noise.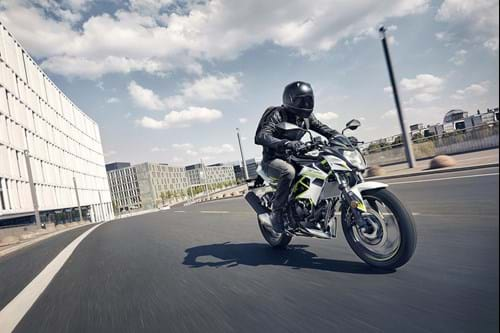 Learners and more experienced riders alike will appreciate the light clutch lever action, which makes town riding so much less of a strain. It's a shame the gearbox isn't a little slicker as you tend to have to use the clutch for upshifts rather than making clutchless changes. Still, it's not a hardship and the six-speed gearbox's ratios suit the power and delivery well.
As for the brakes, the Z-125 comes with a single 290mm petal disc up front and 220mm disc at the rear. Nothing fancy here, but they work well and there's ABS anti-locking to help newer riders gain confidence quickly and avoid emergency spills off the bike. The suspension is also equally competent without being flash, so you get 37mm front forks and Kawasaki's Uni-Trak rear end. Both have a quality feel missing in most of the Zed's rivals, though it's a shade more firmly set up than the majority of its competition. However, we found it soaked up urban bumps and country lane jolts with aplomb while giving the rider all the feel needed to make safe, swift progress.
With excellent grip from the standard fit Dunlop tyres, the Z-125 feels like a bike that will look after learners while entertaining more experienced riders. This sense of quality is only let down by the slightly dull digital dash. It performs a nifty start-up routine when you turn on the ignition, but that's your lot.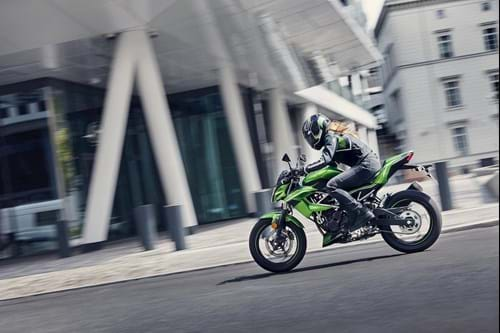 Should I buy one?
The Kawasaki Z-125 doesn't quite manage to undercut the Honda CB125R on price, but in almost every other department the baby Zed is the more appealing machine. It has the attitude of a KTM 125 Duke mixed with the riding agility of the Aprilia Tuono 125. Add in the striking looks of the Kawasaki along with excellent build quality and motor with proven reliability, and you wonder why the company has been absent from this class for so long.
We're very glad Kawasaki has returned the A1 licence sector with the Z-125. It's everything a new rider could ask for and has enough in reserve to keep longer-standing licence holders entertained. A more up to date dash display would be welcome and the pillion seat is more of a get-your-mate-home-in-an-emergency measure, yet these are small concerns next to everything the Z-125 does brilliantly.