What is it?
Mio is a company associated with automotive tech such as dashcams and sat navs, but it's also making a splash in the increasingly crowded bike computer sector. The Mio Cyclo 210 is its entry-level unit, with a retail price of £189.99 and the likes of Garmin's Edge Explore and Wahoo's ELEMNT Bolt in its sights.
Headline features include a 10-hour battery life, Strava connectivity and a Surprise Me feature — which can create its own routes depending on how far or for how long you'd like to ride.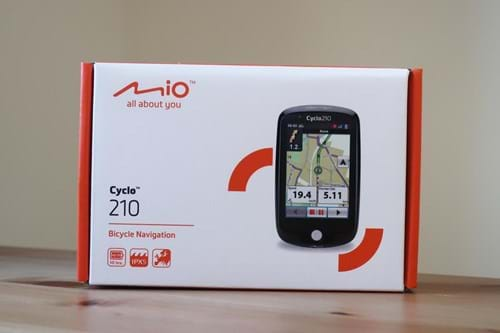 What's it like?
First impressions are excellent. As bike computers go, the Mio Cyclo 210 is an attractive piece of kit, and it's easy to set up. In the box is the unit itself as well as a USB cable and a bike mount kit, essentially comprised of some cable ties and a few rubber bungs (or 'stem mounts' to use the technical term).
From opening the box to using the Cyclo 210, it takes less than five minutes. But to get the most out of it, you're best setting up a profile within the settings menu. This allows you to input data such as your sex, height, weight and preferred mode of transport (e.g. mountain bike).
Once we were ready to hit the road, starting up the device takes a matter of seconds and it connects to GPS quickly. The 3.5-inch touchscreen looks good and is easy to operate, although the button required to turn it on and unlock it takes a surprisingly hefty click. It's a minor thing but makes the Cyclo feel cheaper than its excellent screen suggests.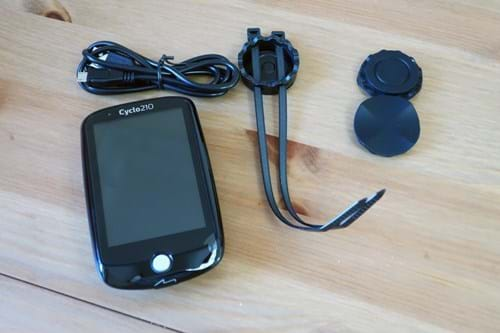 Using the Navigate section, we can input destinations using postcodes or road names. It also lets us search for points of interest, such as bike shops, campsites or pubs. There's also a handy 'surprise me' feature - increasingly common on bike computers in this price category. All you need to do is input a distance (or time) you'd like to cycle, and it offers three different route options.
In terms of routing, we can tell the Cyclo 210 what we're using it for and it'll adjust the routes to suit. There's the option to choose from a city bike, mountain bike, race bike and running/walking profiles, as well as whether we want to avoid major roads or unpaved roads. This works pretty well, in our experience, we certainly found some quieter roads while cycling that we wouldn't have stumbled across otherwise.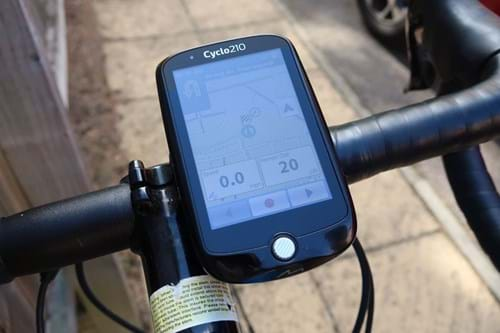 The walking feature doesn't work quite so well. Combining this with the 'surprise me' feature caused our Mio Cyclo210 to freeze, and when we finally managed to get it to work it still seemed to take us down some major roads, even after telling it to avoid them. It's not really made for walking, though, and there are better systems available if you want a walking GPS.
While cycling, it's easy to see the Mio Cyclo 210 thanks to the aforementioned bright screen and colourful graphics. The buttons are big and clear, although we'd obviously recommend coming to a stop before operating its touchscreen.
The Cyclo 210 claims to be waterproof and, while we wouldn't like to submerge it entirely underwater, our experience suggests it copes fine with rain and splashes when riding off road. It's a very robust unit and ought to cope with being dropped without showing any significant damage.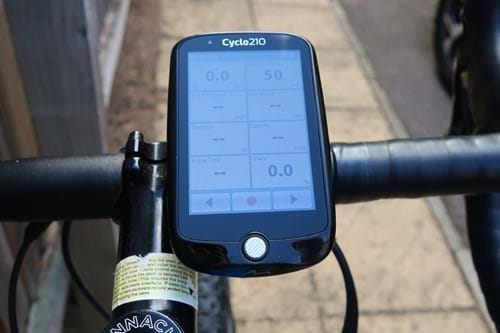 So what doesn't the Mio Cyclo 210 do? There's no ANT+ connection so you can't connect it to a heart rate monitor, nor is there Bluetooth. That means if you want to transfer routes to or from the 210 (or pair it with Strava), you have to connect it to your computer using a lead and transfer them via the MioShare app — an annoyingly fiddly process.
Should I buy one?
On paper, the Wahoo ELEMNT Bolt we tested offers more features for the money (such as the connectivity), although the Mio Cyclo 210 is more user-friendly and looks smarter.
Its 10-hour battery life might be too little for more serious riders as well, and you'll get a bigger screen if you pay more money for one of the more advanced bike computers from Mio. Having said all that — for the money — the Cyclo 210 is an excellent choice. It's painless to set up and does the basics very well.