What is it?
The E-Prime is Razor's newest electric scooter. It was nominated in our Scooter of the Year category at the 2019 Honest John Kit Awards, which was won by the Micro Suspension. But that isn't to say the E-Prime isn't an excellent scooter, it's a lot of fun - and that's not just because we got to whizz around on it for 'work'...
With adjustable handlebar height, a max. weight of 176lbs/80kg (12 and a half stone), max speed of 15mph (24 km/h) and 40-minute battery life - this scooter definitely isn't just a children's toy. In fact, electric scooters are all in the rage amongst hipsters and city folk alike because they're one of the cheapest, healthiest and environmentally-friendly ways to get around.
If you've got an urban commute that's become a bit of a chore, even if it's just a last mile walk to work from/to the train station, then an e-scooter might be the solution you've been looking for.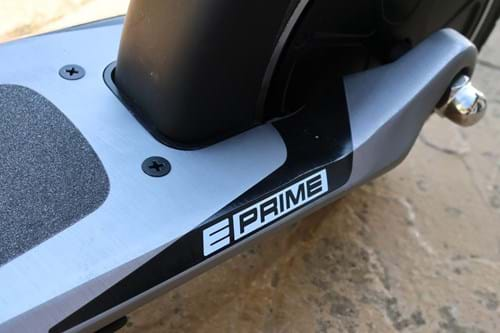 What's it like?
A whole lot of fun. But, to be a bit more technical, the E-Prime is constructed of a durable, aluminium frame and an anti-rattle, folding deck - which is extra-long and extra-wide so that adult riders don't have to awkwardly lean one foot against the back brake while riding.
Unboxing is very simple because there's not a lot of set up required before you get going. Assembly is just a case of attaching the handlebars to the stem of the scooter. The Allen wrench is also included in the packaging, which is useful for anyone who doesn't have a tool kit. We like the way the E-Prime looks, it has swanky prism-shaped handlebars and generally looks very durable and polished - however, we aren't such big fans of the wires that protrude from said handlebars. It's a small gripe, but one that does cheapen the overall design.
The thumb-activated, black throttle sits on the right handlebar and offers genuinely smooth and fast acceleration. The scooter needs a push start so it's travelling at least 3mph before its motor will engage and the throttle can be used. As mentioned earlier, the E-Prime can reach speeds up to 15mph when the variable-speed throttle is pressed down fully. The red paddle on the left handlebar acts as an electronic, thumb-activated brake. There's also a rear-fender controlled brake for those used to traditional scooters.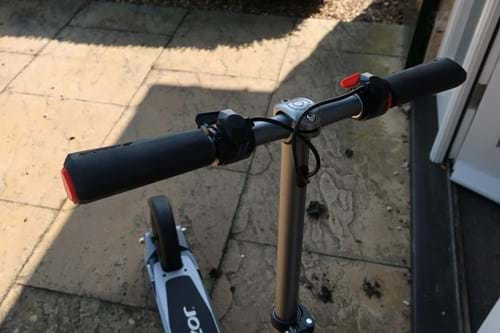 The 36V motor will cover about 30-40 minutes of riding, according to Razor. However, as with all electric motors, this will be very dependent on how you use the scooter. Constant scooting at top speed will likely cover less than 30 mins, although when testing the E-Prime, we regularly scooted to our local coffee shop - which is a 20ish-minute trip each way, using the motor for a significant portion of the journey. Another pleasant note to make about the E-Prime is that it's very quiet on the move, just quietly whirring at full speed.
A five-stage, multicoloured battery indicator sits near the folding mechanism, which is also where you'll find the power button. To fold the scooter up and down, we just unscrew the cap and then push it downwards - when it's locked into place, it clicks. The cap then needs tightening again, with the whole process taking a matter of seconds.
It takes up to 4 hours to recharge, which is actually quite fast, but it does mean charging it fairly frequently if you use it to commute (or mess about on) regularly. The charging port sits under the deck and features a waterproof cover that takes quite a tug to remove at first. On the plus side, splashes of water from wet ground are unlikely to cause any electrical issues.
The aluminium scooter is fairly lightweight (21.6lbs/9.8kg) - much lighter than its exceptionally popular electric scooter rival, the Xiaomi M365 (12.5kg). When folded, it's small enough to fit in the boot or backseat of a car and under a reasonably-sized desk at work. It isn't light enough to comfortably carry for ages, but folding it to carry up some stairs, onto a train or a few minutes to work isn't an issue. There's also a retractable kickstand so you won't have to lean it against something to stop it falling over.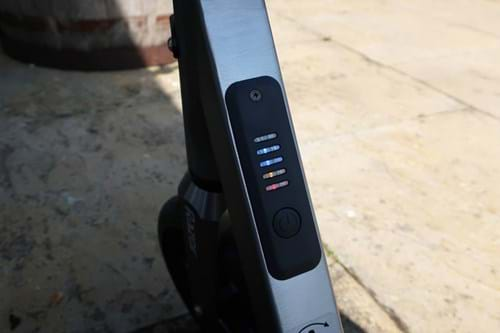 The 200mm rubber wheels make travelling long distances easier, with the large wheels making bumpy ground less of a chore to traverse - but it still isn't very pleasant covering rough terrain. On pavements and stretches of quiet residential roads, the scooter is a breeze - but on a cobble-stoned section of older road, it shook so much we thought our teeth might fall out.
Although, this isn't an issue that the E-Prime alone faces, rather one that scooters and e-scooters struggle with in general. Unless you opt for a more expensive e-scooter with suspension or air-filled tyres, you're likely to face some discomfort when riding on roads or paths that aren't smooth.
The handlebar height is adjustable to a choice of two different levels. But the scooter's maximum weight is 176lbs/80kg (12 and a half stone) so it won't suit all adults. However, when it comes to manoeuvrability, the scooter scores high marks. The low deck makes cornering feel sharp and stable, which is always a positive. 
As for complaints, braking with the Razor E-Prime could be stronger. When we've been accelerating flat out and then wanted to stop suddenly (for a dog that ran in front of us on the path, for example) the front brake didn't feel quite powerful enough so we had to resort to using the back brake at the same time. In emergency stop situations, it doesn't feel quite as safe as we'd like - but maybe there's a message there about not going full speed on a path where other people are walking...
The £400 E-Prime is considered to be one of the more affordable electric scooters on the market - with the Micro Falcon costing almost £1000 and the very popular Xiaomi M365 electric scooter costing £430. For those not 'in the know' about e-scooters, these prices all seem very high. After all, you could get a not too shoddy old Nissan Micra for under £1k.
But, in reality, £400 is very reasonable if - for example - you're already chucking a few quid towards using a Bird or Lime e-scooter rental every day to cover the last mile to work from the train station. Plus, you don't have to worry about finding somewhere to lock up a bike or come back to find the front tyre has been nicked.
And it isn't a throwaway scooter either, we've put it through its paces in recent weeks (jumping pebbles and the like on paths) and it's holding up absolutely fine. Razor is also a reputable brand, so you're likely to get better customer service if something does go wrong compared to Amazon-only companies.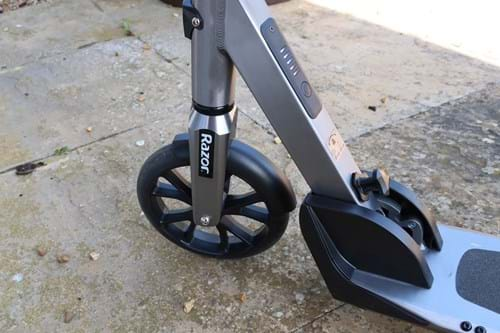 The range isn't amazing, but you get what you pay for. If you want an electric scooter for short journeys that are too long to walk but not suitable to drive - the E-Prime should be ideal. And, as we said before, it really is a lot of fun. 
One final thing to bear in mind is the legality of electric scooters in the UK. E-scooters are classified as Personal Light Electric Vehicles (PLEVs), so while it isn't required to tax or register them, they're only legal to use on private land in the UK. Yes, you read that right. The law dictating this is, arguably, very out-of-date (1835), and unfortunately doesn't look as if it'll be amended any time soon - although electric scooter firms have been trying to fight this so it could very well change.
It's particularly annoying because e-scooters aren't wildly more dangerous than kick scooters. However, they're motorised and have no pedals, so it's illegal to use them on cycle lanes and pavements — as well as on roads because they're too low-powered. That said, we've been using the scooter on local paths around Peterborough for months and have never been stopped. E-scooters are also a dime a dozen in big cities - especially for those who commute by train, so as long as you're riding safely and sensibly, we think you'll be alright.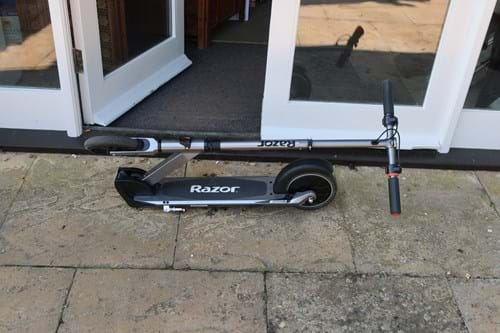 Should I buy one?
The Razor E-Prime is significantly cheaper than many rivalling electric scooters for adults. The build quality is impressive and the scooter is lightweight with a long deck that makes riding it easy and comfortable, too.
When it comes to value for money and the very important fun factor - we think the E-Prime is a fantastic choice. Yes, £400 is a lot of money - but when you take into account the time it could save you in walking or the money you pay renting bikes/e-scooters and taxis, it really could be a smart investment.