Top 10: Air Purifiers
Summer brings with it a whole host of airborne unpleasantness that can really upset anyone with hayfever or other allergy issues. Fight back with an air purifier - here are ten of the best at a variety of price points.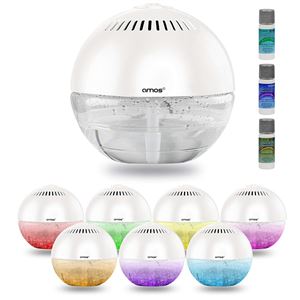 1
Amos Air Purifier
Checking in at under £18, this purifier from Amos is excellent value and has plenty of features to boot. Plug it in to a standard 3-pin socket, add tap water and it will purify the air around you, helping to remove nasties and adding negative ions to the air to further reduce the presence of unwanted airborne particles. It also comes with three fragrances and a colour-changing LED.
Buy it now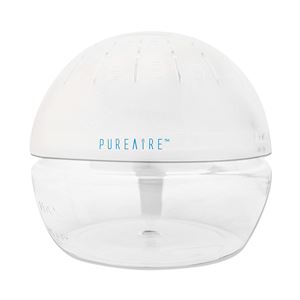 2
PureAire Basic Air Purifier
Another offering that sneaks below the £20 mark, this model from PureAire can work in rooms up to 800 square feet despite being little bigger than a dinner plate. Add 400ml of tap water and it gets to work purifying and ionising the air, helping to get rid of unpleasant odours and bacteria. You can add fragrances (sold separately) and it has a soft LED glow too.
Buy it now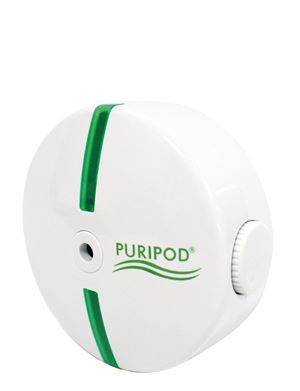 3
Puripod Digital Plug-In Air Purifier
This purifier from Puripod plugs directly into the mains and needs no water to operate as it removes odours and bacteria from the air. It requires no maintenance and includes a green LED when switched on, which may be of use as a night light in bedrooms. It is worth noting that it may block the second socket if fitted to a double power outlet.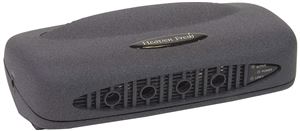 4
Heaven Fresh HF 100 Ionic Air Purifier
Instead of the usual white sphere, this purifier from Heaven Fresh is more compact, thanks to its smart design. Instead of using water it gathers airborne particles on a collector plate, which is periodically wiped to ready it for use. It's so compact that it comes with a car adaptor so you can take it with you too.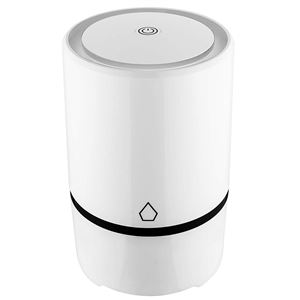 5
Miladel Desktop Air Purifier
This desktop purifier by Miladel takes a step up in specification, with a HEPA carbon filter as well as air ionization for a high level of purification. It's powered via USB so it can operate almost anywhere, and it is sufficiently compact to sit on your desk. It comes with a filter brush, a light and can operate as an oil diffuser too.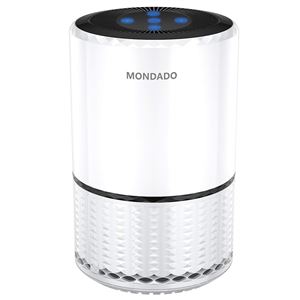 6
MONDADO Air Purifier
Another purifier that employs both HEPA and carbon filters for high-level performance, the Mondado can output up to 111 cubic metres of air per hour, making it suitable for rooms up to 20 square metres. It has three speed settings and a switchable ionizer, with the lowest speed giving a noise level of only 32 dB.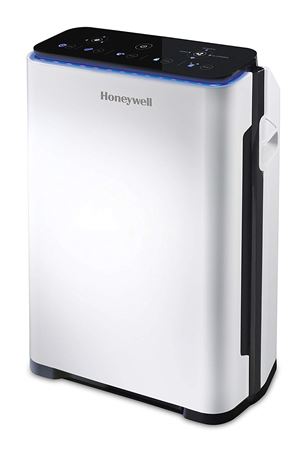 7
Honeywell HPA710WE Premium Air Purifier
Honeywell has a long history of making air conditioning systems and this purifier demonstrates this expertise. It removes a claimed 99.7 per cent of particles and allergens as well as tackling unpleasant odours and gases. It comes with the all-important HEPA filter and has five cleaning levels to tackle any situation. It can also output up to 187 cubic metres an hour, making it suitable for larger rooms.
Buy it now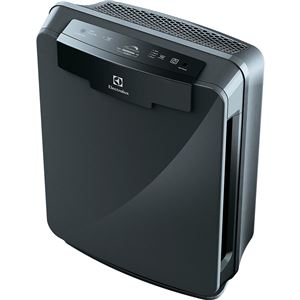 8
Electrolux EAP450 Air Purifier
Standing out from the crowd here on account of being finished in charcoal grey (although you can have it in white), this Electrolux offering claims your air will be 99.9 per cent cleaner thanks to its strong performance. An air quality sensor keeps an eye on the environment and there are washable filters for long life. It's also been approved by the Swedish Asthma and Allergy Association, which can only be a good thing.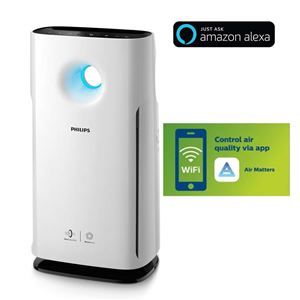 9
Philips AC3259/60 300i Air Purifier
A more comprehensive air purifying system from Philips, the 3000i is not cheap, but it is brimming with features and capabilities. It can operate automatically, kicking in when it detects nasties in the air, and it can tackle very small particulates as well as bacteria and gases. You can control via the app or Alexa, and it can deal with rooms up to 80 square metres in size - there's an even higher spec version if you have a bigger room to tackle.
Buy it now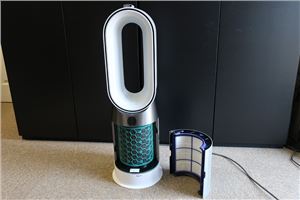 10
Dyson Pure Hot+Cool Purifying Fan Heater
It's a Dyson, so the price is nearer the top end, but it does a lot more than just purify. Dyson's hot+cool purifying fan heater is a clever, feature-packed, powerful machine. It has the potential to replace a fan, heater and purifier, which - when you think of it in those terms - goes some way to justify the big price tag. If you were to buy all three of those devices, you might spend the same amount of money - and you'd need the space to store them.