Top 10: Scooters 2020
As well as plenty of new commuter-friendly machines, there are more scooters now aimed at those wanting to ride further afield. There are also some brilliant reinvented classics using electric power. Here are our Top 10 of the most exciting scooters you can buy in 2019.
Top 10: Maxi scooters | Top 10: Essentials for learner riders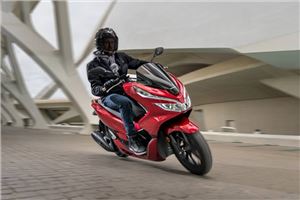 1
Honda PCX 125
The Honda PCX could well be the scooter for all occasions. Its slimline looks belie how well it keeps the wind and rain off its rider, while a comfy seat offers long distance support and enough space for a pillion to tag along too. There's even plenty of room to stash your helmet and shopping under the seat.
A quiet, typically efficient Honda 125cc engine powers the PCX and offers up strong acceleration off the mark. It carries on that good work well up to the legal limit on A-roads and feels sure-footed in all conditions.
It's so good, the PCX calls into question the need to own a car in a city as it can deal with year-round journeys in total comfort. It also has low running costs thanks to its 133.9mpg combined consumption, so 175 miles from a tank is easily on the cards.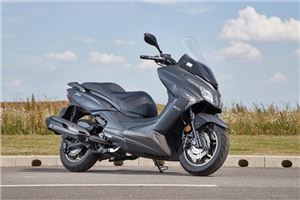 2
Kymco X-Town 300i ABS
Kymco ably demonstrates you don't need a big budget to enjoy a maxi scooter with its new X-Town 300i ABS. A reshaped chassis allows for a narrower width to help when filtering and it provides more storage space under the seat than many rivals so you can pack two full-face helmets in there.
There are single brake discs front and rear and this Kymco comes with ABS anti-lock stoppers as standard, which all adds to the great value of this scooter.
The 276cc single-cylinder engine delivers decent performance and a range of up to 192 miles while also being EU4 compliant. It's also A2 licence-friendly.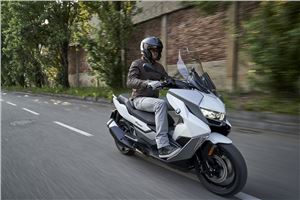 3
BMW C400 GT
The C400 GT tones down the sportiness of the X model in favour of a comfier seat and better weather protection. While some might miss the added agility of the X, the GT is far from slovenly in the corners yet manages to feel more supple over bumps. As a scooter aimed at commuting duties, it has a tight turning circle, excellent low-speed stability and strong, progressive brakes.
The 350cc single-cylinder engine also makes easy meat of town riding thanks to plenty of grunt right from tick-over. It's free from vibrations, will whisk you to the motorway limit with no fuss and you should see around 200 miles per fill of the tank.
A bit more underseat storage would be useful, but otherwise it's hard to fault a scooter this well made and with such a classy dashboard.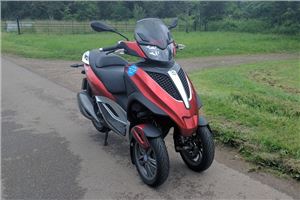 4
Piaggio MP3 Yourban Sport 300
The three-wheel configuration is the defining feature of the MP3 range and it's one you soon get used to. It allows you to ride with huge confidence in all conditions without sacrificing any ability to filter through congestion with slinky ease. You also get decent weather protection, a cushy ride and strong brakes.
The 278cc of this MP3 model makes a well-judged balance between performance and economy, while the CVT (continuously variable transmission) gearbox means you don't have to the think about shifting ratios. It all combines to make a scooter that's absolutely in its element whisking around town.
On top of this, Piaggio provides ample underseat storage that makes this scooter the ideal alternative to a car or public transport in town.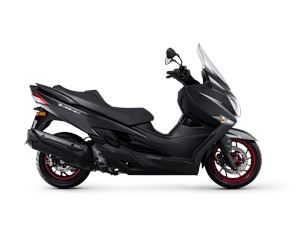 5
Suzuki Burgman 400
The 400 model is the sweet spot in the Suzuki Burgman range thanks to the performance of its single-cylinder 400cc engine mixed with fuel economy that makes it cheap to run. You'll never feel short-changed when pulling away from the lights or passing traffic on faster roads, and the motor is pleasing quiet and smooth.
As a maxi-scooter, and one with a long history in this sector, the Burgman has refined its offer to a point where it works brilliantly. Wind and rain just pass over and around you as the rider and the pillion is well protected too. You both sit on a finely shaped and padded seat that helps keep your weight low in the frame to work with the Burgman's fine handling and excellent steering lock.
Suzuki's Burgman 400 isn't the cheapest mid-size maxi-scooter, but the quality and detail more than justify the expense.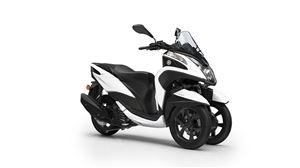 6
Yamaha Tricity 125
Yamaha has joined the three-wheeler scooter brigade with its Tricity 125 and it's a cracking small capacity scooter. Don't think for a minute the 125cc engine will struggle with the added weight of the third wheel: it doesn't. Instead, the Tricity feels as sprightly as any scooter in this capacity class and you have the added advantage of greater front end grip and stability to carry more corner speed.
The two wheels at the front mean the Tricity gives massive confidence under braking, which is perfect for those learning to ride or moving up from a smaller machine. For more experienced riders, this also lets you make swift progress through busy city streets.
All of this practicality is underscored by details such as a large underseat luggage hold, 12-volt power supply and a fairing that keeps the weather at bay. For the price, this is a tempting option over larger capacity three-wheelers.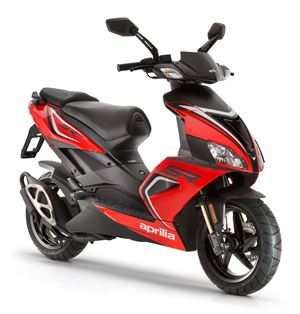 7
Aprilia SR 50
Aprilia single-handedly invented the 50cc sports scooter and the SR 50 makes the most of that heritage. It's distilled it into a splendid scooter that has the looks to appeal to young riders starting out and those wanting something to commute on with a bit of attitude.
Handling is at the core of the SR 50's appeal and it carries it weight low in the rigid frame. Disc brakes front and rear are unusual in this class and give excellent retardation. The 13-inch tyres give lots of traction and enhance the flickable nature of this machine in corners.
With a two-stroke 50cc engine, the Aprilia is feistier than its four-stroke rivals in the way it sounds and performs. It's all part of the buzz of riding this style of scooter that reminds us all it's good to have fun.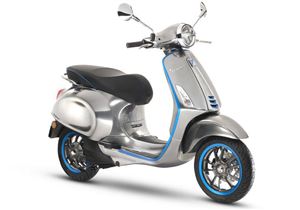 8
Vespa Elettrica
Vespa came up with the blueprint for the scooter, but the Elettrica marks the biggest change in the Italian's history. Don't panic, the looks stay the same with its swoopy lines, but now there's a battery-powered electric model in the line-up.
With a 2kW motor, the Elettrica has more poke than 50cc fossil-fuelled rivals and the instant delivery makes it a handy city commuter tool. With this in mind, the Vespa can travel up to 62 miles on a full battery and it can be completely recharged from a domestic socket in four hours.
It's far from the cheapest scooter on the market, especially compared to 50- and 125cc rivals. However, negligible running costs and classic looks give it considerable appeal.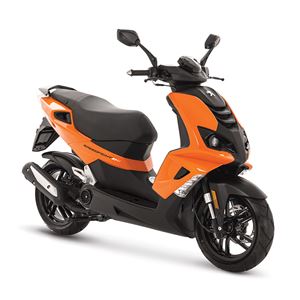 9
Peugeot Speedfight 125
The Speedfight is a modern classic and been with us since Noah first slapped L-plates on, but now Peugeot has taken the radical step of replacing the previous two-stoke motor with a cleaner four-stroke unit.
Some may think that spells the end of the fizzy French scooter, but Peugeot has bucked the trend and given the updated Speedfight more power. This comes courtesy of the 125cc Smartmotion engine that brings it into line with EU4 emissions.
Peugeot offers a variety of colours for the Speedfight, as well as some handy options such as a top box, so you can personalise this scooter to your tastes.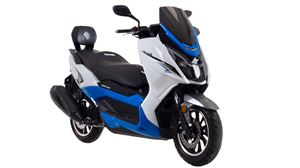 10
Lexmoto Chieftain
Price is the over-riding reason you'll choose the Lexmoto Chieftain over other maxi-scooters, but it won't be why you hang on to it. Even though it significantly undercuts most of the opposition, it still has the look and feel of those rivals to make certain you don't feel underprivileged.
Lexmoto has saved some money by using a simple 125cc motor with less power than some competitors, but the Chieftain still nips around town with all of the alacrity you could want. Strong brakes, suspension that isolates most bumps and decent handling all add up to a scooter that's fun and comfortable. It also has a 13-litre fuel tank to make longer trips achievable.
It's hard to fault the Lexmoto for what it costs, but it's also hard to criticise it full stop. Great value and good to ride makes it easy to like.
Related Articles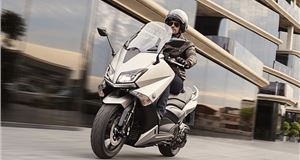 Scooters
All you need to know to ride away on the ideal new scooter. Read our complete guide to help you decide...