What is it?
The Husqvarna Automower is a robot lawn mower that automatically takes care of trimming the grass. And, once set up, you can just forget about it.
The concept of the Automower (and almost all robotic mowers) is simple. Instead of a weekly or fortnightly mow, the robot mower goes out almost every day to regularly take a very small amount off the top of the grass. These clippings - which are so small that they're not noticeable - then act as a fertiliser for the lawn.
The Husqvarna Automower 450X is the range-topping model for consumers, though as you'll see from our review, it's also entirely capable for many commercial applications, too. It retails for £3800.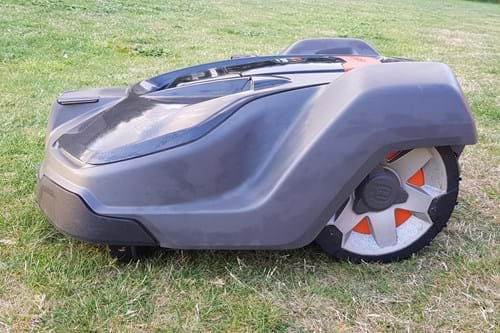 What's it like?
Straight out of the box, the 450X is a handsome-looking machine, with some of its design cues more in keeping with what you'd expect from a car manufacturer. Those LED headlights - which help you to spot where the Automower is when it's cutting at night - and front-end design are certainly a nod to the Bugatti Chiron.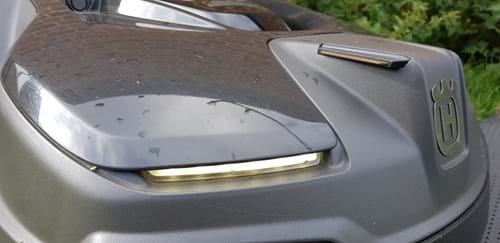 Set-up is best dealt with by someone who knows what they're doing and has all the correct equipment. In order to recognise the area to be mown, a boundary wire needs to be laid around the perimeter.
This can be done by pegging it to the ground, but it's much better to have a professional lay the boundary with a trenching machine to ensure that the wire is well buried, secure and away from rabbits who do have a habit of digging around them.
As well as the boundary wire, guide wires can be laid within the area to be mown, either to guide the Automower back to its charging point more efficiently (the charger also sends a radio signal), to navigate between obstacles or to set up separate mowing areas. Once the boundary wire has been laid, it's connected up to the docking station and connected to the mains via a three-pin plug - so a constant, reliable source of power is essential. Depending on how complicated the installation is, it should take between two and five hours.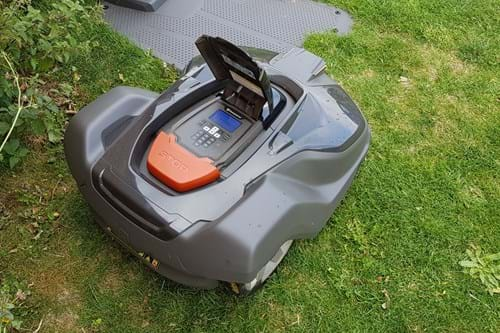 Once this is complete and the mower is powered up, it's time to pair it up with the app and make some fine adjustments. The app needs to be downloaded from either Apple or Android app stores (there's a US version, too, so make sure you pick the correct one), you then need to register the machine and connect it to your WiFi.
It's a simple process, which takes under ten minutes from start to finish. The app gives you almost total control over the Automower, from setting the timer and cutting height, battery status and where it has been cutting. It means that you can control - and check up on - the mower from anywhere in the world that you have a data connection.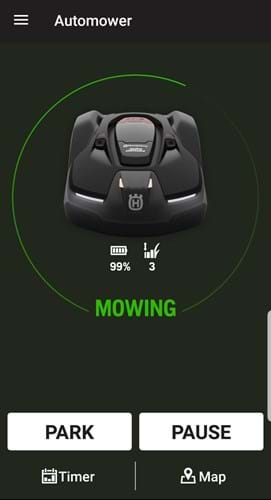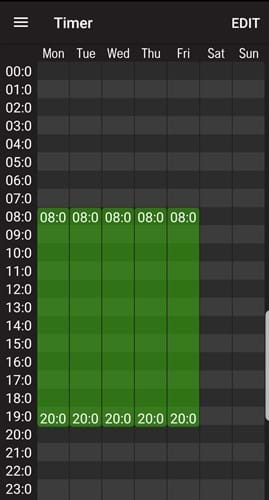 It's a slick, well developed, app that's easy to use. All that it's missing is a few stats, things like how many hours it's been mowing for, previous mowing maps etc - the kind of thing you get with Dyson's app for its 360 Eye robot vacuum cleaner.
What sets this robot mower apart from its nearest rivals is the addition of GPS. When you buy an Automower 450X, part of the package is a sim card that's pre-paid for 10 years and that gives it the ability to 'learn' your garden, find out where the obstacles are and adjust its routes accordingly.
This is all done automatically and Husqvarna recommends leaving it to continuously mow for the first 24 hours to map the lawn. Security is the other reason for GPS: if you've shelled-out more than £3000 on a mower, you're going to be keen to make sure that it stays where it should.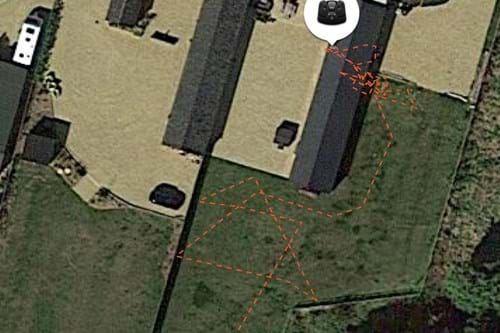 The 450X is protected in three main ways. The GPS acts as a tracker, so if the Automower is stolen, it can be found. Naturally, Husqvarna is coy about the details around this, but it has the ability to work with the police to track and locate the mower if it does go missing.
Secondly, it doesn't like to be picked up. Lift up the Automower 450X and sensors will register that it's off the ground and sound an ear-piercing alarm. After that, you will need to to input a four-digit PIN to unlock it. So, it's rendered useless if it is stolen and the GPS will ensure that that it can be tracked down, too.
And, finally, if that doesn't work, report it stolen to Husqvarna it will become blacklisted and won't ever be able to pair with a docking station in the future - similar to what happens to stolen mobile phones.
Onto the mow itself. Before the Automower starts its duties, it's a good idea to make sure that the grass is freshly-trimmed and at a height that won't cause it any problems. I started the mower on level four and brought it down to level three after about a week. This installation was carried out in the height of summer, with dry ground and grass.
If it's installed earlier in the season it should be started at a higher level (up to level 6) before working down (it's adjustable from 60mm down to 20mm) because it should benefit from softer ground.
Flip the Automower onto its back and you'll find a disk with three pivoting stainless steel razor blades - this is what does the mowing, shaving a small amount off the top of the grass regularly. It means the lawn always has that "just mown" look and never looks as though the grass has become overgrown.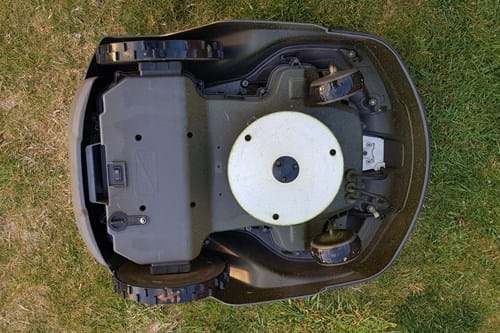 The Automower 450X certainly isn't a toy or a novelty - this is a serious and viable alternative to a ride-on mower. Fitted with a lithium-ion battery, it takes approximately an hour to charge and can then run for up to 270 minutes, which is four and a half hours if you don't want to do the maths. This means that the 450X is capable of covering areas up to 5000m2 - that's just over 1.2 acres.
As well as being ideal for those with larger gardens, it's also just the job for light commercial use, too: the 450X would be just as happy taking care of a hotel's lawn, for instance.
The quality of the cut is superb, with the Automower getting right up to the edges. There will still be areas that will require a strim - usually those around fences, but these are generally patches that you wouldn't be able to get to with a standard petrol or electric lawnmower anyway. If anything, the Automower's compact size means it can get into tighter areas than those conventional mowers.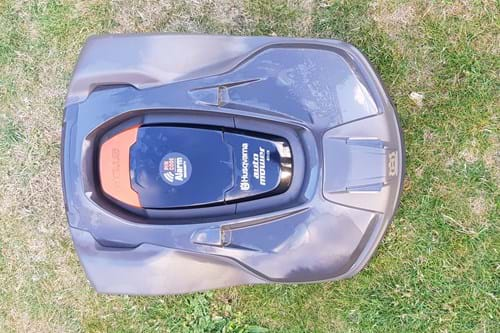 It's good on inclines, too, tackling slopes of up to 24 degrees/45 per cent. The 35W motor will power the mower at walking speed and is impressively quiet - you'll never hear more than a low-level hum. Plus its weather-proof, so come rain or shine it's out cutting the grass (though should be packed away for winter).
One downside is it won't do stripes - which will be a deal breaker for some - but the mulched grass clippings do have an effect on how lush the lawn is.
Safety is a key concern, not least if you have children and pets around. The Automower has this covered, too. Those three spinning razor blades may sound terrifying, but they retract when not in use and sit loosely on the spinning disc, making it very difficult to apply enough pressure to cut - even if the mower is upended.
It's also fitted with bump and lift sensors. That means that when it's running it will stop and turn around if it bumps into an obstacle and if lifted it shuts down immediately (and entirely) and needs a PIN to re-start. It will sound an alarm, too, and let you know via the app that it has been tampered with.
Although robot mowers are now gradually starting to take off in the UK - with many Johnny-come-lately brands available in recent years - Husqvarna is some something of veteran, so you get to benefit from the refinement and expertise that comes from more than 20 years of continuous development.
And here's something that may surprise you - in spite of the Swedish name - this is a product that's made in the UK, with more than one million Automowers rolling out of the factory in County Durham since 2006.
Should I buy one?
Like Honda's top-spec Miimo, this isn't a cheap robot mower, but it is one that makes good financial sense for those with larger gardens. In fact, it's a tough call between this and Honda's Miimo - both cut well and can be left to just get on with the job. The Automower 450X is more expensive, but can cut a larger area, plus GPS is a definite bonus when it comes to navigating its way around the garden - and gives additional peace of mind with security.
The £3200 price tag may make it look like an extravagance, but if your garden is large enough to justify buying a robot lawn mower of this spec, then you're probably in the market for a ride-on. Husqvarna's cheapest model at the time of this review is the R112 C, which starts at £2900 - just £300 less than the Automower 450X.
Yet, once fuel (£50-80 per year, against £12-£15 to charge the 450X) and higher servicing costs are taken into account, the Automower makes a convincing case for itself on costs alone. Even more so if you employ a gardener to cut the lawn and/or have solar panels providing the electricity.
The Automower 450X did not put a foot (or wheel) wrong during its test. From the moment it was set up, it was faultless. The results are impressive, too. If you're away from home a lot, or simply don't like mowing the grass, then this is for you.
Once set up, you can simply forget about it (it kept the grass trimmed while we were away on holiday with no complaints) and you quickly start to take a perfectly cut lawn for granted. It does take a bit of a leap of faith. While it's a similar price to a ride-on, it's nowhere near as substantial. A ride-on is a large piece of machinery and as a result might look like better value.
Don't let that put you off. The Automower may be modest in size, but it more than makes up for it in performance. Once you've made the switch to a robot mower - and this model in particular - it's very difficult to go back to conventional machines.