Top 10: Best sat navs of 2020
Buying a standalone sat nav might seem inadvisable these days. After all, there are myriad free or inexpensive mobile navigation apps out there that work extremely well. That said, there are still reasons you might want a bespoke sat nav – including avoiding reliance on your phone, or getting a unit with a bigger screen. There's no point splashing out on a sat nav if you get something less capable than Google Maps, Waze or CoPilot, however. So, to help you avoid any potential pitfalls, here are ten of the best sat navs on the market.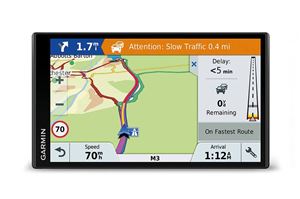 1
Garmin DriveSmart 61LMT-D
A large 6.95-inch screen makes this sat nav a standout choice. It's also not terrifyingly expensive and is packed with features – including European maps with lifetime updates, speed camera warnings, traffic alerts and spoken guidance that refers to easily identified landmarks. It also comes with in-built Wi-Fi and Bluetooth connectivity, as well as a voice control system to permit safe use on the move. Usefully, it can also be upgraded with a wireless reversing camera.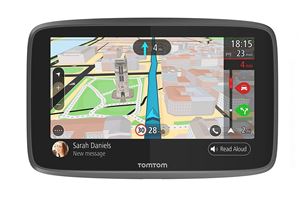 2
TomTom Go 6200
If rapid, accurate navigation and swift redirection around jams is key, then we'd suggest going for this top-flight TomTom unit. It packs a clear and vivid 6-inch screen, worldwide mapping with lifetime updates, Bluetooth and wireless connectivity, built-in traffic alerts and speed camera warnings. It can warn you of average speed limits, too, further cutting journey stress. Like the Garmin, the TomTom also features voice control – so you can keep your hands safely on the wheel.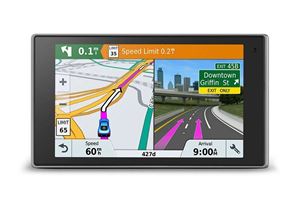 3
Garmin DriveLux 51LMT-D
This sat nav isn't cheap but its metal body and neat magnetic mount grant it a high-end feel and look. Besides a clear 5-inch screen, it also comes with European maps with lifetime updates, Bluetooth and Wi-Fi connectivity, safety camera warnings and live traffic. What's most appealing is the range of upgrades available, including a dash cam and a reversing camera, further expanding its capabilities and lifespan. Consequently, it could be an ideal solution for some.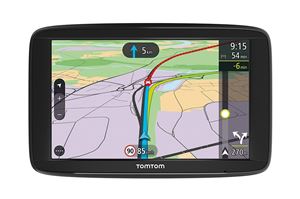 4
TomTom Via 62
If you're familiar with TomTom units but don't need all the advanced features offered in the Go 6200, consider this less costly Via 62. It still gets a six-inch screen but does away with Wi-Fi support and some of the phone connectivity functions, such as being able to talk to Siri or Google Now on your phone through the sat nav. It also doesn't receive traffic updates directly, relying on a phone connection for data instead.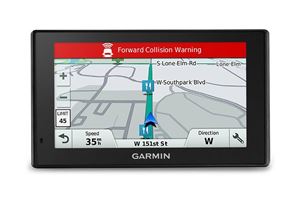 5
Garmin DriveAssist 51LMT-D
Tempted by the Garmin DriveLux's dash cam support but find the cost of the package a little steep? Then have a gander at this DriveAssist alternative. It's equipped in a similar fashion but does away with the DriveLux's sleek metal body and magnetic mount and, instead, comes with an integrated dash cam. As well as saving footage automatically in an incident, the dash cam also grants lane keeping assistance and a forward collision alert system.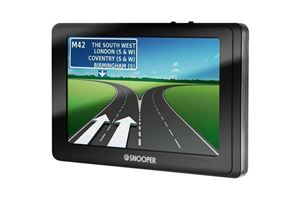 6
Snooper SC6800DVR Snooper Pro
This Snooper Pro sat nav is ideal for drivers covering lots of miles. For starters, it has a clear 5-inch screen, European maps, free lifetime updates and Bluetooth connectivity. Of more note, however, is its integrated dash cam, integrated traffic alerts with rerouting option, large speed alerts and an advanced speed trap warning database. You have to subscribe for speed camera updates, costing £29.99 a year, but that could save you a lot of grief and money.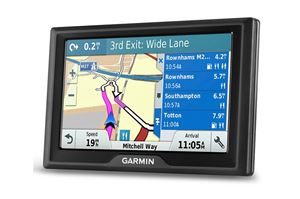 7
Garmin Drive 51LMT-S
Looking for an affordable sat nav from a familiar brand and don't plan on venturing far? This Garmin unit, which covers the UK and Ireland, could be just the ticket. It might be inexpensive but it packs a good 5-inch screen, speed and safety camera alerts, Garmin's more easily understood landmark-based voice guidance and free lifetime updates. If you connect your phone to it, via Bluetooth, you can also get free live traffic updates.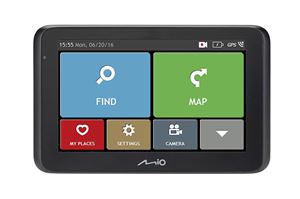 8
Mio MiVue Drive 50 LM
This Mio's ideal if you're looking for an affordable, feature-packed sat nav. As well as being a serviceable sat nav with maps of Europe and lifetime updates, and lifetime safety camera warning updates, it also features a high-quality dash cam. The camera will capture incidents automatically and also adds lane departure and collision warning features, further increasing the Mio's appeal. Usefully, it even comes with a 16GB memory card. A bigger, more expensive version is also available.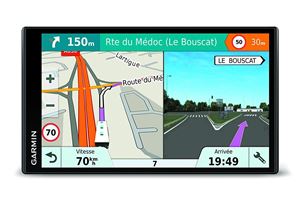 9
Garmin Camper 770LMT-D
If you've got a bigger vehicle, like a motorhome, then taking a longer trip can sometimes be a stressful experience. Fortunately, help is on hand in the form of Garmin's motorhome-focused 770LMT – which lets you input the size and weight of your vehicle, then delivers custom routing that should avoid unsuitable routes. It also has a 6.95-inch screen, European maps with lifetime updates, a campsite directory, speed limit and camera warnings, traffic updates and Bluetooth connectivity.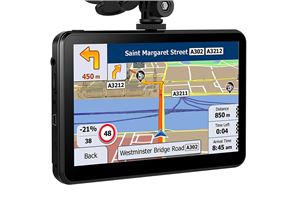 10
Shenen 7-inch sat nav
You might not expect much from a cheap sat nav but this off-brand unit performs very well. It has a substantial 7-inch screen, European maps – reputedly with lifetime updates – and speed limit warnings. The voice commands can be a little patchy, and for postcode entry to work you must include the space, but it's otherwise hard to fault for the money. It also looks good and, once you've acclimatised to it, it's easy to use.
Related Articles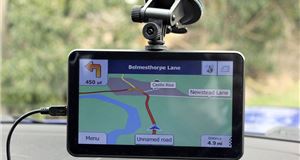 Sat navs
If you're looking at buying a sat nav it's easy to get baffled by the myriad options available. So, we've...