Top 10: Gadgets to modernise an older car 2019
In-car technology has progressed so rapidly the past five years that used cars just a few years old can feel like they're seriously lacking when it comes to gadgets. But if you want the latest infotainment, parking and connectivity options in your car then take a look at our top 10 aftermarket extras.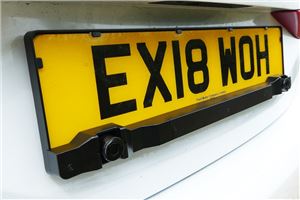 1
FenSens wireless parking sensor
The FenSens is very likeable - it's easy to install (mostly), fills a gap in the market and is genuinely cheaper than manufacturer parking sensors. The sensor screen on the connected smartphone shows distance by displaying arcing red, orange, yellow and green lines from the front or back of your car (dependent on where you put the FenSens).
We had some trouble with connecting parts of the device to our iPhone, though - once it's refined for iOs software - the FenSens parking sensors would be ideal for those who want parking sensors without the faff of getting them professionally fitted or needing to drill and wire bits and pieces into your car to get them working.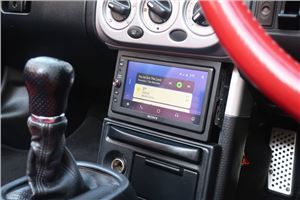 2
Sony XAV-AX100 Car Stereo with Apple CarPlay and Android Auto
£300 is a lot of money – but the Sony XAV-XA100 features Android Auto and Apple CarPlay functionality, so it can be linked to a smartphone and used to stream Spotify, make and receive calls and navigate with Google Maps. It fits a double DIN slot, so check with a car electrician if you're not sure if it's compatible with your car.
This system effectively replicates the same functionality you would get from a new car with the latest connectivity features, and it's very easy to use. Though installation can be tricky, so if you're not sure about in-car electrics then ask an auto-electrician or visit Halfords.
Buy it now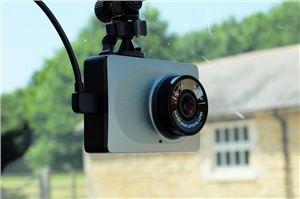 3
YI Smart dash camera
YI's Smart dash cam packs in all the most important features at a reasonable price of £40. With a maximum resolution of 1296p @ 30fps, an 'Advanced Driver Assistance System' and WiFi, it's one of the most cost-effective dash cams we've tested.
The YI doesn't have GPS, so it won't be able to map your journey or, more importantly, show your speed - if you want that feature then you'll need to look elsewhere. But it does have WiFi so you can review footage on your phone, edit it if you want, and then download it.
Buy it now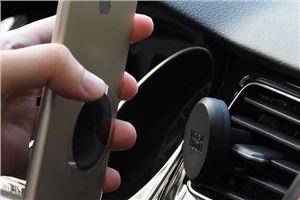 4
Magnetic smartphone holder
Smartphones used to be small and manageable, but these days they're almost too big to fit in a pocket, let alone an old-style, suction-mounted cradle. Fortunately, there's a neat solution – magnetic mounts which let you easily and conveniently attach and detach your phone.
This YOSH magnetic air vent mount keeps your phone firmly in place when driving, plus it's only £6.
Buy it now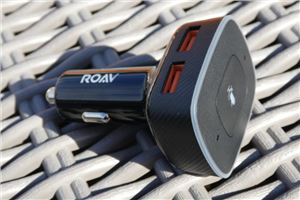 5
Anker Roav VIVA
The Anker Roav VIVA adds Alexa, Amazon's virtual assistant, integration into your car. The VIVA can ring contacts in your phone, tell you current road and weather conditions, charge your devices via two USB ports and a whole lot more. If you get a bit bored on your commute, you can also delve a little deeper and ask things like "Alexa, what's the meaning of life?".
If you have CarPlay or Android Auto in your car, then there isn't much that should sway you to buy the Anker Roav VIVA. It also can't offer more than your current virtual assistant, like Siri, can already do. However, if you have an older car that you can use Bluetooth or an aux input in, the VIVA can offer a very useful functionality to your journeys — like the ability to skip songs or turn up the volume handsfree.
Buy it now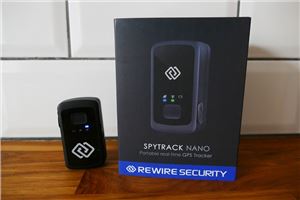 6
Rewire Security Spytrack Nano
The Spytrack Nano is a small tracker device for keeping tabs on any particular thing of your choice - be it a car, an object or a person. And it's very cost effective indeed when you consider that prices for car tracking by Tracker (the UK's leading company in that field) currently start at £249.
The app integrates Google Maps and the topography can utilise satellite imagery if you choose. Using the desktop site you can set up 'geofence zones' that allow you to place markers on the map so that if the tracker goes outside of them you'll be alerted.
Buy it now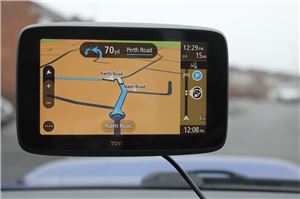 7
TomTom Go 5200 sat nav
In an effort to further combat increasing competition from other brands and mobile apps, this flagship model has been crammed full of advanced features. For starters, it packs a five-inch screen, worldwide maps with free updates, Wi-Fi and Bluetooth connectivity, speed camera alerts, integrated live traffic updates and voice control.
And if you connect your phone to it, it can also read out your text messages and provide hands-free calling - it's compatible with Siri and Google Now, so your electronic personal assistants can be used while on the move. It's also continually updated and has worldwide maps, it should last you a long time.
Buy it now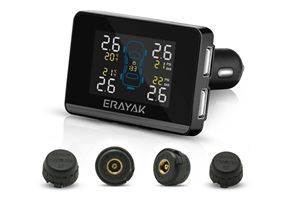 8
Tyre Pressure Monitoring System
The Erayak TPMS provides visual and audible warnings when the tyre pressure and temperature exceed your chosen alarm value. The LCD is compact and easy to read, showing the pressure and temperature of all four tyres at the same time to give you sensor data every three seconds.
The device has two mounting options; either in your car's 12v socket (adjustable angle) or with an adhesive mount. There's also two USB sockets on the side of the display to charge other devices - like your phone - while the lighter socket is in use. It isn't the cheapest TPMS on the market, but it's cheaper than replacing a tyre because you didn't know it had a puncture.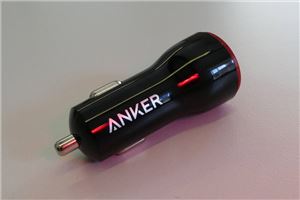 9
Anker 24W dual USB charger
If your car has a 12V socket rather than USB ports, this charger adaptor should be extremely useful. Cheap, but very well-reviewed, this Anker-made adaptor has two USB outlets capable of rapidly charging modern, power-hungry devices like phones and tablets.
It also has safety circuitry to prevent surges or overheating, plus it's sleek and neat, so won't clutter up the cabin. Factor in the price of less than £10 and the 18-month warranty and it's about the best buy a technology-lover can get for their car.
Buy it now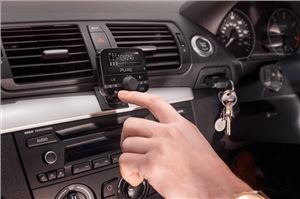 10
Pure Highway 600 DAB radio
The Pure Highway 600 is an aftermarket DAB/DAB+ radio receiver for your car that connects to your existing radio. If you pair it up to a phone you can also use it for music streaming services like Spotify, or as a hands-free system for making and receiving calls. At £150 it isn't cheap, but it packs lots of features and it's easier than installing a whole new audio system.
DAB+ is a newer version of standard DAB and has been used in some European countries for some time, meaning this device will work when you're abroad. DAB+ is also more efficient than DAB, allowing more stations to be broadcast and in higher quality. Though DAB+ sets are 'backwards-compatible', so you will receive both DAB and DAB+ stations.