What is it?
The Sony XAV-AX100 allows you to update your old car with a modern infotainment system featuring Apple CarPlay and Android Auto.
It's easy to see why Apple CarPlay and Android Auto are becoming increasingly popular on new cars. They provide a safe and easy way of accessing features certain features from your phone - such as maps and music - on the move. However, it's not available on all new cars - and if your car is more than a couple of years old it definitely won't have it.
This radio will replace your factory-fit radio and, as well as being able to mirror your phone on the dashboard, it can also provide access to AM/FM radio and display an image from your car's reversing camera (if fitted).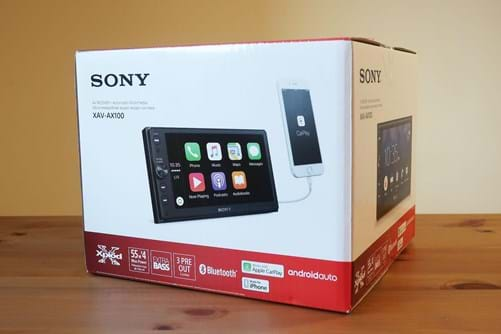 What is it like?
It's really slick to use. The interface is excellent - quick to respond to inputs and easy to navigate. We like the physical buttons rather than, like many rivals, having to rely on the touchscreen to perform simple tasks. Adjusting the volume can be done easily, for example, without having to take your eyes off the road ahead.
The 6.4-inch screen size is small compared to many of the systems offered in new cars, but that's because Sony's restricted by the standard double-DIN radio size in older cars. Most aftermarket Apple CarPlay/Android Auto units are this size, but it's worth noting that a double-DIN radio won't fit into all cars. Check the size of your current radio to see if there's space for this aftermarket unit.
There's no DAB radio, which is a shame, but you can stream radio stations via your phone - provided you've got a signal and can afford the data usage.
A plug-in microphone comes with the device too, allowing you to use voice commands via Apple CarPlay and Android Auto, as well as make hands-free phone calls. It can also function with a reversing camera if your car's fitted with one (or you choose to buy an aftermarket one).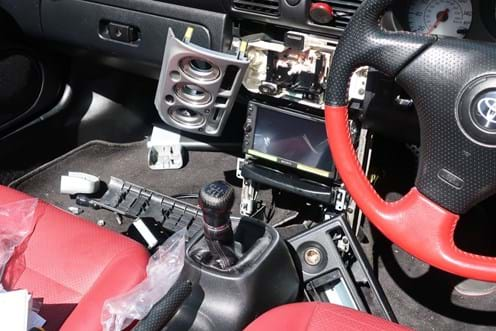 If you buy through Halfords, you can opt to use its WeFit service to install it, or most garages will be happy to fit it for a modest fee. Unless you're a keen amateur mechanic, it's probably worthwhile paying a trained professional to install the aftermarket unit.
It's not that it's particularly tricky - it's just that cars today are increasingly designed with the expectation that the radio will never be replaced, and there are a number of features of the XAV-AX100 which may catch you out.
For example, Android Auto requires your car's handbrake to be on for certain functions. A sensible safety device maybe, but that means you have to run a wire from the stereo to your car's handbrake which, depending on your car, might involve taking out large chunks of the interior.
We fitted the stereo to a 2005 Toyota MR2 and found it took several hours to wire in properly - and also required the purchase of an £11 harness adapter. Fitting the aftermarket microphone without leaving wires dangling everywhere might be problematic, too - but a perk of not featuring DAB is that it can use your existing car aerial.
Should I buy one?
If your car hasn't currently got Android Auto or Apple CarPlay, you may wonder what all the fuss is about. But mobile phone apps such as Google Maps and Waze are better than many car manufacturer navigation systems, while being able to access your music libraries on the move is also a huge bonus.
One downside is the list price, which is a fairly hefty £379 (though it's currently £300 on Amazon as of July 2018). At this cost, it's more than ticking the box for Apple CarPlay and Android Auto option on new cars.
You get what you pay for, though, and we think the Sony unit is particularly smart, looking less aftermarket than some alternatives. It's easy to use, and we like that it doesn't really solely on the touchscreen for access to certain features like adjusting volume.