What is it?
The Kenwood DMX8020DABS is a modern infotainment system that replaces the dated double-din stereo in your old car. It features a slick touchscreen display providing access to a wide range of features – including wireless Apple CarPlay and Android Auto, as well as DAB radio and even a reversing camera or dashcam (when fitted).
In the box, you'll find the stereo itself, as well as a wiring loom to connect to your car (you'll probably need an adapter as well). There's a microphone (for handsfree calls), a USB extension (for connecting your phone) and a GPS antenna for using Google Maps.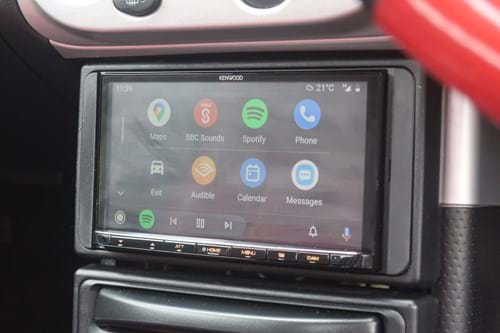 What's it like?
The key selling point of the Kenwood DMX8020DABS is its Apple CarPlay/Android Auto compatibility. If you haven't used these before, they're brilliant – just connect your phone (via Bluetooth or old-fashioned USB) and you can access all your favourite apps on the move. Or some of them, at least (Spotify, Google Maps and Waze to name a few).
We'd go as far as saying Apple CarPlay and Android Auto are must-have features on a new car, but now numerous big-name aftermarket audio firms provide compatible devices of some description. We tested Sony's option a few years ago and, while Kenwood's isn't a like-for-like alternative (technology moves fast and that review's now three years old), it is more advanced.
One particular area in which the Kenwood system impress compared to alternatives is that both Apple CarPlay and Android Auto are wireless. No need to faff around with wires – they'll work even with your phone in your pocket.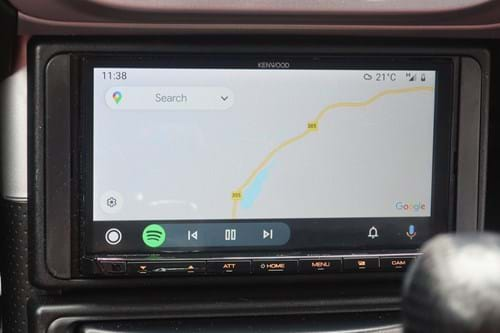 As well as Apple CarPlay and Android Auto, the Kenwood DMX8020DABS comes with a built-in DAB tuner – you'll soon wonder how you managed long drives without Planet Rock or Absolute 90s. And you can also connect a reversing camera (up to three, in fact) or even Kenwood's very own DRV-N520 dashcam, displaying a crystal-clear image on the seven-inch screen.
It also has an HDMI input (you could run a games console through the display if you wish), as well Bluetooth connectivity for both streaming music or making phone calls. It also has wireless screen mirroring for Android, which is great for watching videos (when parked up).
Should I buy one?
There's not a lot going against the Kenwood DMX8020DABS. There are cheaper options, but you kind of get what you pay for. Not only does it do pretty much everything you could possibly want from an aftermarket infotainment system, you can also rest easy in the knowledge that Kenwood is one of the biggest names in automotive audio tech.
As well as having a crystal clear screen, it also responds quickly and all the features work well. To our ears, music played through the stereo sounds pretty good (but what else would you expect from a name like Kenwood?).
Our biggest complaint is that the Sony we previously tested used an old-fashioned volume knob rather than buttons. We find this more intuitive to use than the Kenwood's buttons but, if your car has steering wheel controls (our 2005 Toyota MR2 test vehicle doesn't) they can be connected to the media system.
So, ultimately, yes you should buy a Kenwood DMX8020DABS. It's an easy way of getting modern infotainment into an old car and no, there aren't really any catches. It looks the part, is easy to operate and is well worth the investment.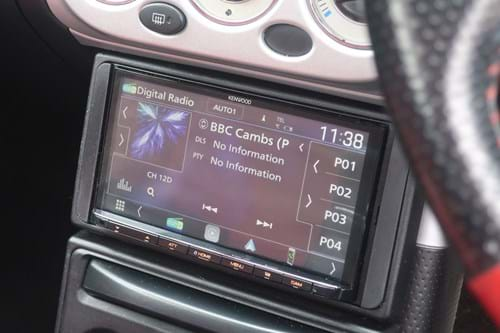 S