What are they?
For those that run, cycle etc - it can be tough to find the right balance between blocking out the world and remaining aware of your surroundings. This is where bone conduction headphones like the Aeropex come in, with Afterskokz being one of the biggest names on the market.
Its newest bone-conduction offering, Aeropex, are the smallest sleekest pair of exercise headphones it's launched to date and, as you've likely, gathered, they don't go in your ears. Instead, transducers push sound through your cheekbones. While that might sound odd, the transducers vibrate as the music plays just like a driver inside of an earbud does.
What are they like?
The Aeropex come in a smart, white box that includes a carrying case of accessories (two chargers and some earplugs). That's right, you get foam earplugs to block out external noise. This arguably defeats the point of not using headphones that block out external surroundings, so we opted not to use them much - but they are easier to put in and take out than in-ear headphones when we're crossing the road and want to listen for cars.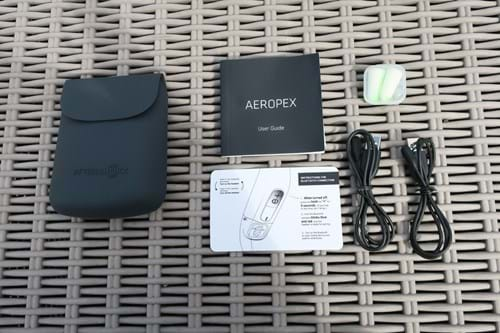 We personally like over-ear headphones for everyday use, and we've tried a variety of wired and wireless options when it comes to running and cycling - but we've yet to find ones that we find simple to use and truly comfortable on the move without constantly falling out (although the Anker Soundcore Spirit Pro are pretty good), until now.
Following on from the Trekz Air, the Aeropex are lighter (26g), slimmer and offer significantly less sound leakage than previous generations of Aftershokz bone-conduction headphones. The pair we're testing are Cosmic Black, but you can also get them in a lighter Lunar Grey (somebody on the marketing team likes space-themed colourways)...
Bone conduction tech is also good for people with hearing deficiencies because unlike traditional headphones, the eardrum doesn't vibrate to pass the information along to the cochlea. Instead, the vibrations head straight to the cochlea. But it isn't all positives.
Critiques have been levelled at bone conduction headphones because they don't transmit sound as well as traditional headphones. The fact that the Aeropex don't seal around or in your ear means sound isolation doesn't occur and - therefore - your music simply won't sound as good or as clear as it would with in-ear running headphones. When in a loud environment, like a busy street, we have to agree. Even turning them up didn't always mean we could clearly hear our music, and the increased volume means increased vibrations which tended to tickle our ears a bit. However, that's the sacrifice you make if you opt for bone conduction headphones.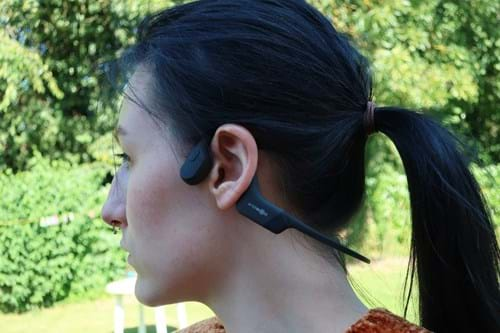 PremiumPitch 2.0+ aims to deliver more dynamic sound and louder volume than previous Aftershokz models, but the bass response, in particular, is very weak on the Aeropex. The thumping bass throughout Beyonce's Hold Up, for example, is barely audible at a normal listening volume.
Sound quality and volume aren't as compromised as we expected when we did some reading ahead of testing the Aeropex, but if we do have the headphones turned up loud - they block out a lot of the noise of the traffic on the residential road we run next to anyway. For the most part, it's about finding the balance that works for us, which is especially useful considering that a big element of the Aftershokz headphones are safety.
For those that feel wary while out running, like we do, the Aeropex also add an element of safety to our exercise routine. While we live in a relatively safe area, it's impossible not to be bombarded with news and stories of assaults on (mostly female) joggers/runners. In addition, summer is waning so we're already seeing later sunrises and earlier nights. We like that there's a growing number of options for us to feel like we're taking our safety into our own hands rather than having to give up running or listening to music on the go.
The headphones aren't fully waterproof, like the Aftershokz XTrainerz, but they do offer an IP67 water rating - which means they can withstand sweaty workouts and a light drizzle of rain. The headphones also vibrate and let out an audible beep if the charging pins or the proprietary charging cable (two included) are wet. Charging is simple with the cable - which replaces the previous Micro USB wire - magnetically clicking onto the Aeropex's charging ports.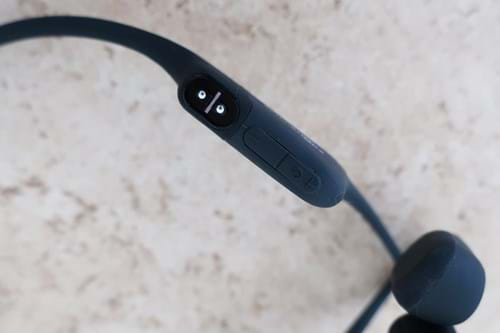 The headphones offer an eight-hour battery life from a full charge, which takes about two hours, and they can last 10 days in standby. A few small buttons on the right-hand side of the headphones control Bluetooth (which is very easy to pair), volume and power. On the left conduction pad, a multifunction button that we didn't see at first controls playing and pausing music, podcasts etc as well as using your phone's voice assistant and answering calls.
Speaking of calls, the dual noise-cancelling mics aim to minimise surrounding noise, but call quality is still pretty dire. When we took a call in a quiet office, the caller said we sounded like we were in an underwater cave. 
In terms of looks, we aren't completely sold on the Aeropex. They're better looking than previous Aftershokz headphones and the nimble rubber headband is pretty flexible so we aren't worried about breaking them even if they're dropped from a height (something we can't say for our Sennheiser PXC 550), but said headband isn't adjustable - meaning the band doesn't sit flush against the back of our head. The conduction pads also look a little strange sat on our cheekbones, but not enough to put us off buying them.
On the plus side, the Aeropex are very comfortable; we often forget we have them on if we aren't listening to anything at the time. And they've never budged either, so we don't worry that they'll fall off while we run. For some peace of mind, there's a two-year warranty as well.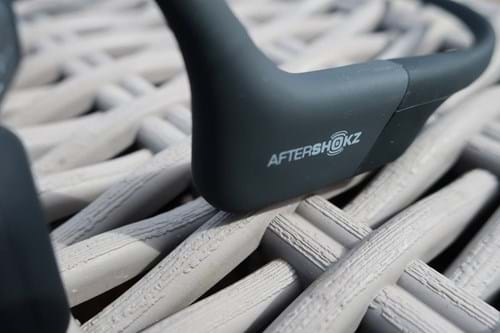 Should I buy them?
If you're in the market for open-air headphones, there are few products that offer what bone-conduction headphones can. Of course, we've heard good things about Bose's audio sunglasses, the Frames, but these cost a bit more and offer a shorter battery life (up to 3.5 hours). There are also limitations when it comes to wearing sunglasses in the gym or on a cloudy day.
Aftershokz Aeropex offer a great amount of versatility and despite a few gripes - like weak bass and a non-adjustable headband - the wearables are a lightweight solution for anyone who wants to be aware of their surroundings while they're out and about. Or, like us, anyone who hasn't yet found a truly comfortable pair of headphones for running. The £150 price tag is a bit steep, especially considering there's no app to adjust audio settings, but when it comes to a great all-rounder - it's hard not to recommend the Aftershokz Aeropex.