What are they?
Bone-conduction headphones have taken off in the athletics world in recent years, with Aftershokz being England Athletics official headphone partner. While many in-ear headphones are banned in races and it's not always safe to use them when training on roads, bone-conduction headphones like the Xtrainerz seem to have solved these problems.
To put it simply, bone-conduction can deliver stereophonic sound through your cheekbones to your inner ear. While that might sound odd, the transducers vibrate as the music plays just like a driver inside of an earbud does.
Aftershokz is leading the industry for bone-conduction technology with several different headphones on the market, including the Aeropex and the Xtrainerz, the latter of which have an IP68 waterproof rating meaning they can withstand both heavy perspiration and complete submersion in up to two meters of water for two hours making these the ideal model for swimmers.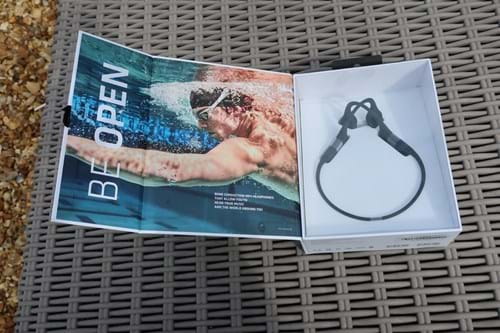 What are they like?
The Aftershokz Xtrainerz are slim, like the Aeropex version, with the main differences being that the Xtrainerz are waterproof and don't have Bluetooth. The pair we have are the Black Diamond colourway, but you can also get them in sapphire blue, ruby red and aquamarine.
The headphones arrived in a well packaged, sturdy white box, which includes a carry case, one charger and a set of earplugs. The earplugs may sound like an odd accessory for a bone-conduction headphone but as these are appealing to swimmers it makes a lot more sense. The earplugs look like mini trees and fit in the ear canal easily. They're also remarkably comfortable, but we're not sure we would use these unless we were swimming as they sort of defeat the idea of bone-conduction allowing you to hear your surroundings.
When the headphones arrived, the language was set to Chinese, so we had a quick flick through the instructions to work out the button combination to change language, which is very easy. For a set of headphones with only 3 buttons, there are a lot of commands you can do.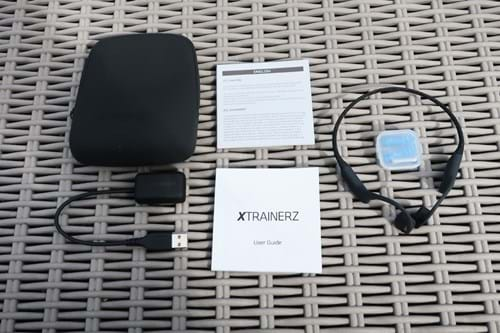 The headphones have a built-in MP3 player which, at first glance, seems like a good idea because it means you don't need to carry a mobile phone when out running and there are obvious advantages to use when swimming, however, we soon realised we don't own any MP3 files. These headphones don't have Bluetooth either so there's no ability to sync with anything - including books from Audible or music from GooglePlay/Spotify/Apple Music etc. We understand why they've been designed like this, but it still seems a bit archaic to need to download MP3 files.
As a lot of people now have subscription-based music, we had to dig out a CD to download some MP3 files before heading out for a run. We also loaded a couple of podcasts onto the Xtrainerz. Adding and removing of music/podcasts is very easy, you just open the file explorer on your computer and drag and drop. The memory in the headphones is 4GB, the equivalent of 1200 songs, and these can be categorised into folders and can be skipped through with a button combination.
Once loaded and ready to go, the headphones are very light (30g) and sit nicely over the top of the ears. They fit comfortably around the back of the neck and don't bounce when running. The headphones are light and non-obtrusive too, so after a while, we stopped being aware of them. The sound quality is really good for both music and talking, although we did have to turn the volume up when running down a busy high street.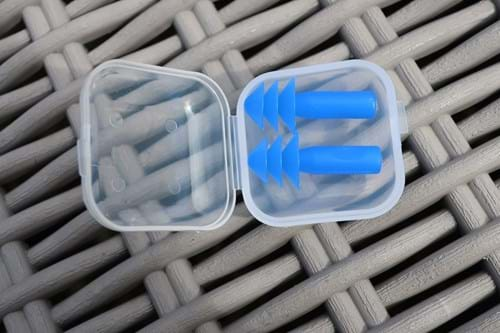 When we tested the headphones underwater we found the underwater sound quality great, we tested the headphones with and without the earplugs and just like whilst running, we preferred to leave them out. With being in a public pool, we preferred to be able to hear the people around us to avoid a collision. 
With just a two hour charge, the headphones have eight-hour battery life and can last up to 10 days on standby. We tested the headphones with 3 x 40 minute runs over the space of a week and the battery lasted the whole week.
Bone conduction technology is great for people with hearing difficulties as well because the vibrations go straight to the cochlea, bypassing the eardrum. We tested this out on a colleagues dad who wears hearing aids, which makes wearing over-ear, on-ear or in-ear headphones tricky. He said the sound quality was great and that they will definitely be going on his Christmas list.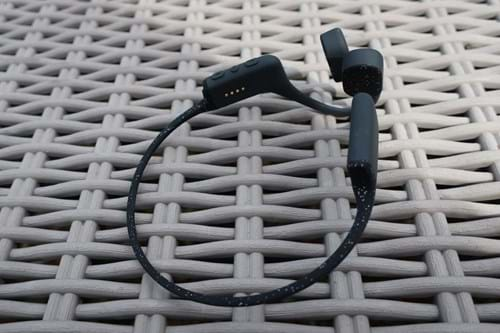 Should I buy them?
These headphones are a lightweight option for anyone looking for bone conduction, with the added benefit of being able to wear these both whilst swimming and in most England Athletics races, they make a great option for athletes as well as hobbyists.
At £140, these headphones are more expensive than some other waterproof headphones and downloading MP3 files will feel like an old-fashioned concept to many (especially younger buyers), however, with Aftershokz designing something that can be used in both water and on land - these are probably the best option on the market.