If you've ever doubted the thinking behind Triumph's range of classically styled modern motorcycles, pull up to a petrol station and wait a short while. You're almost guaranteed to have someone come over and compliment you on riding such a beautifully preserved old machine. And when you point out it's brand new but also a genuine Triumph, your new best friend will be equally delighted.
That's the thing with the Bonneville T100, it's a crowd pleaser in every sense. Where it's previous namesake was, well, a bit on the cheap side in the fit and finish stakes, as well as its clunky gearbox, this new model is damn near perfect. We mean that in the best possible way, too, as Triumph has managed to keep all the virtues of a classic bike yet without any of the downsides.
So, you can forget coming out to a wee oil spillage under the bike and cranking it for ages till it parps into life. Nope, this Bonnie kicks into life at the first prod of the electric starter and settles to a happy parallel twin burr. It's a smoothie when you give it a few revs, with just enough noise from the standard pea-shooter exhausts to give that trademark noise of old British twins.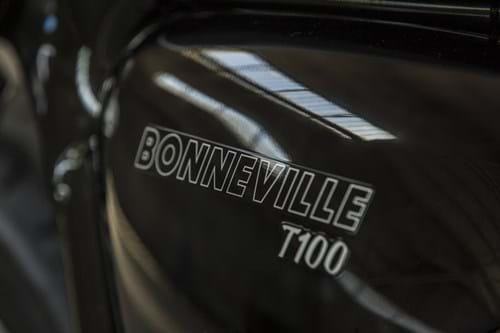 Some might find the engine a tad too refined, but you can option some louder exhausts to cure that. During our time in the saddle, we found the smoother nature of this latest T100 a real boon as you could spend all day in the saddle without vibrations numbing hands or backside. The seat is thickly padded and tapers towards the gorgeously detailed tank, so even those with shorter legs should be able to get a foot down at the lights. A saddle height of 790mm is pretty good, though not quite as low as the 750mm of Triumph's cheaper Street Twin. But you know what, the T100 is the far better bike so unless you really need that lower saddle, stick with the T100.
In front of the petrol tank lie twin round dials with chrome bezels that look just the ticket. They have clear warning lights and digital displays for odometer, trip, gear indicator and fuel incorporated, which are subtle nods to the fact this Bonneville is a product of the 21st century.
Further evidence of this comes with the light clutch action, which is backed up by a positive and easy to actuate gear lever. Along with the anti-stall device that raises the revs very slightly as you engage the clutch if you haven't applied enough throttle, it makes pulling away on the T100 effortless. Triumph also offers an A2 licence restriction kit to lower power below the 47bhp threshold, and it's easily removed again by a dealer when you gain a full A pass.
With no restrictions, the 900cc parallel twin generates a cuddly 54PS. Doesn't sound like much from a near-litre bike in this day and age, but the Bonneville makes the most of it through the five-speed gearbox. It has strong power in the low and mid ranges and it will also rev cleanly through to its red line at 7000rpm. That's sufficient to make the T100 feel sporty-ish on a sweeping back road and it's more than brisk enough for town riding. A single front disc maintains the classic look and offers enough stopping power.
The handling is stable and sure-footed with steering that reacts quickly to rider inputs. It inspired a lot of confidence from the get-go, so the T100 makes the ideal first big bike or for those A2 licence holders to gain more experience. When riding with a pillion, you might wish for the T120's extra power, but the additional cost of the more powerful machine will soon bring you back to enjoying the T100 for what it is.
Also helping the riding experience to be thoroughly modern are assistance from ABS anti-lock brakes, traction control, ride by wire throttle control for smooth inputs and an immobiliser to help keep the bike where you parked it. It has a USB connection under the seat to charge your smartphone or sat-nav, and cruise control and heated grips are optional extras worth having if you ride all year round or want to go touring.
Next to rivals from BMW, Ducati, Honda and Moto Guzzi, Triumph has nailed the modern classic motorcycle with the Bonneville T100. It's such a good looker, with all of the wires and pipes hidden away to give a clean appearance, that many will mistake it for a 1960s bike. That's the point of these machines and - combined with all of the modern tech - the T100 is cracking value that helps you make new friends every time you fill up with fuel.