What is it?
As with most Chinese-built bikes that come to the UK, you'll find folks in the motorcycle community that love them and those that would laugh at the thought of putting their money into one. There's a good case to both sides of the argument, which we went into in this feature about whether or not to buy a cheap new bike - so if you're thinking about it then it's probably worth having a read of that.
The MASH Black Seven 125 is — as the name suggests — a 125cc motorcycle from French retro bike brand MASH. It's Euro 4 compliant, meaning it features fuel injection, combined braking and a noticeably higher price than you might expect. So, it only makes sense to compare the Black Seven to another Chinese brand's 125, like the Lexmoto Tempest 125.
What's it like?
The MASH's looks will very much depend on whether you like classic bikes. We personally favour the styling cues of classic and modern classic motorbikes, so we see the appeal - especially with touches like the dark brown cafe racer seat, low slung stainless steel exhaust, gaitered forks and simple dual dials. However, when you take more than a quick glance at the MASH, you can see where money has been saved - which is a bit of a shame.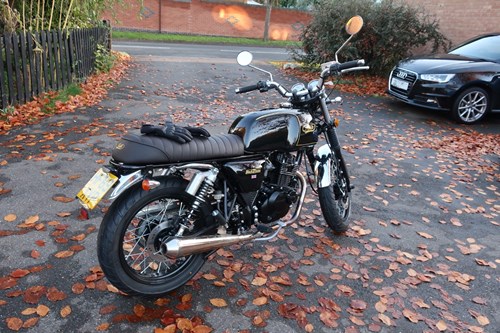 It's never going to have the quality or the cult status of a Honda Monkey 125 at this price, but we think the Lexmoto Tempest 125 is a more impressive beast (and it's a few hundred bob cheaper, too). Then again, the learners that this little bike is aimed at aren't going to want for the premium things it's missing.
The Chinese-built Black Seven 125 offers an impressive 11.6PS @ 8750rpm (a big step above the Tempest's 9.5PS), which is more than enough to get around town with enough oomph to get off the line quickly at traffic lights and such. It's also very lightweight at 112kg, meaning its easy to push around (both when we're sat on it and when we're pushing it around our garage). That's an important point for learners or new riders who aren't so confident and will almost certainly have some worries about dropping their first bike.
For shorter riders (like myself; 5'7"), the bike is also reassuringly small with a seat height of 780mm. Filtering shouldn't cause too much anxiety with a bike this narrow (720mm wide) either. Unfortunately, when it comes to taking the MASH out of urban areas, its flaws start to show themselves more. Namely, the vibrating when we reach about 6500rpm.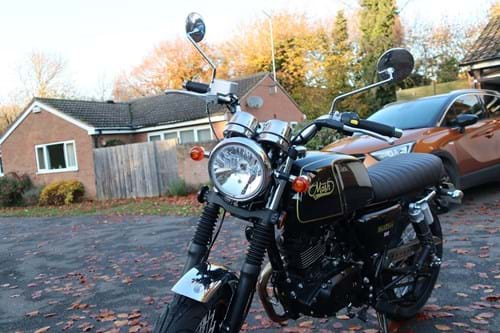 We didn't try to hit the top speed, although we'd imagine it's in the upper sixties. As soon as we hit 61/62mph, we decided that's where the bike started to feel out of its depth. For city dwellers, it's fine. For those that have stretches of country roads or motorway on their commutes or regular routes, the Black Seven doesn't give us too much confidence.
When it comes to the linked brakes, it's a 70/30 split of front/rear discs together. It works alright but for hard stops, we really had to give the front brakes a good squeeze to get the amount of braking we wanted. In terms of steering and handling, the bike feels lovely and light at low speeds all the way up to around 50mph, although the Seven needs to be revved like mad to get the most out of it.
It's reasonably comfortable with the seat and suspension both offering plenty of give, although it doesn't manage so well on potholed, uneven roads. The five-speed gearbox can be a bit touchy at times, too, dropping into false neutrals and sometimes feeling a little tricky when upshifting quickly to build speed - which is why we'd say the Lexmoto has the edge when it comes to ease of riding.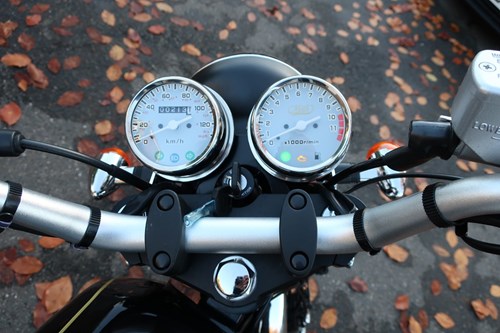 Should I buy one?
If the MASH Black Seven 125 (£2449) was priced in line with the Lexmoto Tempest 125 (£1800), it would be a closer call between the two - especially considering the MASH offers a higher power output and an arguably better dash. However, for us, it can be boiled down to the bike we looked forward to getting back on more and that was, without a doubt, the Lexmoto.
Although, both the bikes suffer unsurprising build quality issues after a very short amount of time; the paint chipping on the Tempest (which you can read about in our review) and the gold MASH logo rubbing off the back of the seat on the Black Seven - which you can see below.
If you're wanting a cheap and cheerful 125cc motorbike, the MASH is worth considering. It's a bit basic, but it's styled well for the most part and has no big issues getting us around town or along back roads. However, there are lots of big brand name 125s about that you can get for £2k or less if you keep an eye out and don't mind buying secondhand. Just make sure you check out any used bikes thoroughly and get all the necessary paperwork.