What is it?
A bloomin' bargain is what the Zontes T310 is. It costs from £3999, which makes it cheap even by A2 licence bike standards, but don't confuse cheap with nasty. Zontes has worked very hard to move the T310 on a great distance from the low-grade machines that used to come out of China. As we've seen with other Chinese-made bikes recently, they have got their act together.
The T310 is also staggering value thanks to the mountainous pile of equipment that comes as standard. How about keyless ignition, electrically adjustable screen, USB port, dual riding modes, fuel tank cover and crash bars? Not only does this add to the rugged adventure bike appeal, but it also makes the T310 a very practical machine for anyone looking at a cost-effective commuter and new A2 licence holders who want a bike they can hang onto after they've got the hang of more power.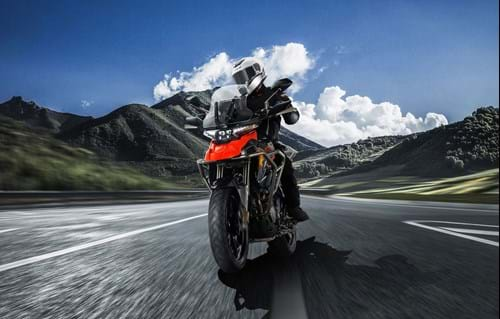 What's it like?
As you walk towards the Zontes T310, it gives every impression of being a classy, large adventure bike. Okay, it's not quite as imposing as BMW GS or Ducati Multistrada, but it has all of the feel of a substantial bike and that is a big part of the appeal of this type of machine. There's also a host of details to take in, such as the high-level exhaust pipes designed to keep heat away from pillion's legs and luggage. Or the sturdy crash bars, diamond-cut aluminium wheels, 37mm upside-down forks, electrically adjustable screen and comfy-looking seat.
Let's start with that seat. It has a height of 840mm, which makes it higher than many commuter bikes but lower than a lot of adventure offerings. This test rider is 5ft 10in tall and could swing a shorty leg over the saddle with ease and get both feet on the ground. Normally, that's vital for confidence with this sort of bike, but the Zontes tips the scales dry at 149kg, so it's a doddle to push around the garage or forecourt when filling up with petrol.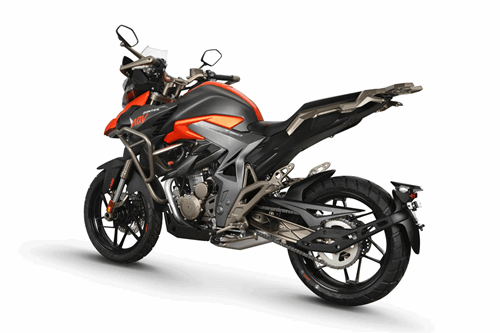 The petrol cap is hidden under a pop-up flap in the broad tank, another cue that gives the impression of girth when the T310 is actually very easy to handle at any speed. Wide bars also help with manoeuvring the Zontes at a slow pace and the controls are grouped as you'd expect. What you don't reckon on is the subtle red backlighting for the buttons or electric steering lock and seat release or keyless ignition. This last is much better and simpler to use than any other we've encountered and is the first of its type that we can see as being better than a good old-fashioned key in a barrel. This is because it wakes up the bike quickly and also locks it all down when you walk away with the key in your pocket so long as you've turned off the ignition using the kill switch.
With the 312cc water-cooled motor fired up, there's a typically single-cylinder note to the exhaust. There's just enough noise to let you know when to change up without having to look at the TFT screen display used for speed, revs, fuel and gear indicator. Just as well as this can be difficult to read in bright sunlight. On the move, the motor is smooth thanks to a balancer shaft damping out any vibration, while the six-speed gearbox ticks from one ratio to the next sweetly and with no danger of a false neutral. All very confidence-inspiring.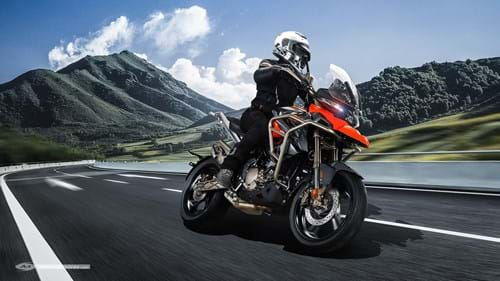 You do need to drop down a gear or two for brisk overtaking, as you'd expect of a bike of this engine capacity. Even so, the T310 makes decent progress along country roads and it's very at home in town where the high riding position gives excellent forward vision to plan your path through traffic. On the motorway, there's very little wind buffeting with the screen in its higher position and the seat is supportive for longer distances. We also found the Zontes happy to cruise at 70mph, but higher speeds at continental autoroute pace begin to feel a little strained.
As for off-road riding, the Zontes T310 is probably best kept to the occasional foray up a farm track rather than green-laning. The 17-in front wheel restricts any riding in the rough stuff, but the T310 looks the part for the urban jungle and the ride is happily supple even though there's no adjustment in the suspension. With a pillion onboard, this can make the bike a little wallowy, but not enough to deter us from giving a friend a lift or even two-up touring with the optional hard luggage fitted.
If you're going to burden the T310 with that sort of weight, you'll be glad to hear the 260mm single front disc gives strong, fuss-free stopping power-assisted by the 210mm rear disc and ABS anti-locking.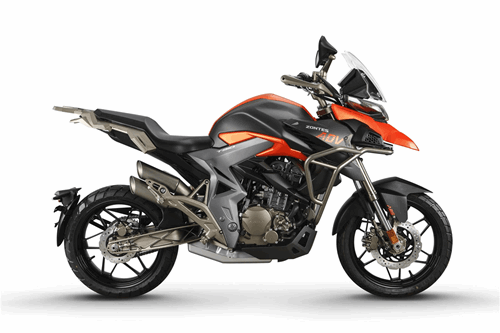 Should I buy one?
The initial appeal of the Zontes T310 might lie in its extremely keen pricing. However, our time with the bike shows it has a much broader and deeper spread of talents. It's easy to ride for new A2 licence holders yet has enough in the handling and performance departments to keep more experienced riders happy.
The T310 also looks great and comes with a whole host of standard equipment that makes the price look like sensational value. Time will tell if the finish retains its new bike lustre, but at a price way below most rivals, it's hard to fault the Zontes.