What is it?
In the overcrowded Bluetooth speaker market, it takes something special to stand out. Marshall leans heavily on rocker styling with its speakers, including the Kilburn II, which is designed to look like a guitar amp. But fortunately, this isn't just a gimmick because the looks are also paired with an excellent sound signature (much like the Marshall Major III that won our Headphones of the Year award).
The Kilburn II offers more features and functionality than its predecessor, the best-selling Kilburn, with a more contemporary appearance to match. In terms of practicality, the speaker isn't fully waterproof, but it does offer over 20 hours of playtime on a full charge - which takes around two and a half hours - and it's the loudest speaker in its class according to Marshall.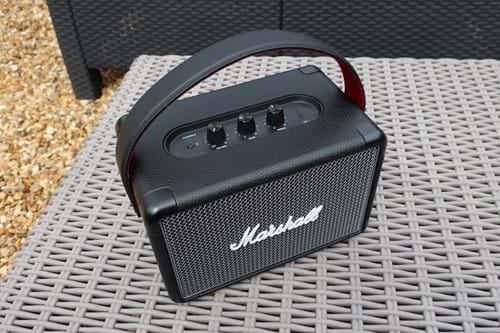 What's it like?
The first thing worth noting about the Kilburn II is its size. While most of the portable Bluetooth speakers on the market are a fair bit smaller, Marshall has opted to make the Kilburn, which is the mid-size speaker in its new range, a larger alternative. The Stockwell II (smaller) and Tufton II (larger) bookend the Kilburn II - with the Tufton II being considerably bigger, one of the biggest Bluetooth speakers we've seen in fact.
The dimensions of Marshall's Kilburn II make it slightly less portable considering it can't easily fit into a backpack, but we had no trouble carrying it to friends' BBQs and parties over a recent Bank Holiday weekend. Weighing in at 2.5kg/5.5lbs, it isn't very heavy - and the size makes it a nice feature on a kitchen counter or a coffee table. We had a number of people actually ask if it was a guitar amp as well, so the retro amp-inspired styling is clearly working.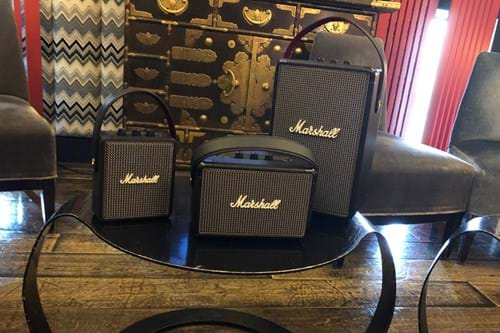 The chrome detailing has been pared back on the second generation Kilburn, with the sockets and buttons that crowded the first Kilburn speaker being removed to give it a cleaner, more minimalistic feel. The classic Marshall logo sits on the front of the unit, backed by a microphone-inspired mesh grill. A red and black velvet carrying strap that's held in place by gold screws is undoubtedly reminiscent of a guitar strap so you can pretend you're in The Who...
On the top, there's a small button for Bluetooth pairing and three dials for adjusting volume, bass and treble levels. The flickable on/off switch of the previous Kilburn no longer exists - which does make the speaker look cleaner, but some will miss the extra design touch from this new unit (including us). The AUX port is still there, although this has been moved to the back. The battery life bar looks very cool too, having been styled to look like the lights above the volume fader on a mixing console.
The new Kilburn II also features Bluetooth 5.0 aptX, which offers multi-host functionality, with a 30-foot range. That means two devices can connect at once so you and your friends can take turns choosing music on your own phone. Strangely though, there's no voice assistant connectivity, so no Google Assistant, Amazon Echo (Alexa) etc. For that, you'd need to move up to the far pricier Marshall Stanmore II (£370). Not so great when you're forking out £229 for the Kilburn II...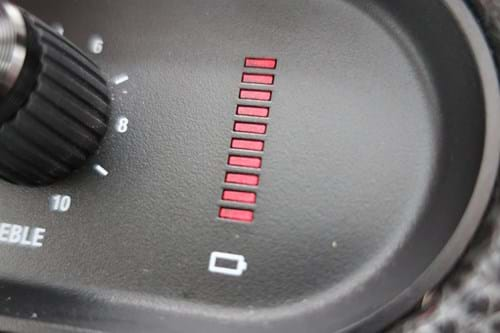 Plastic end caps protect each corner of the faux-leather covering in case you accidentally bash it against a doorway, with four rubber feet to keep it from sliding around. An IPX2 rating means the speaker will be protected against dripping water, but nothing heavier - so it's definitely not one to bring outside if there's a chance of rain and no cover to shield it.
The battery will last for about 20 hours of use, but this is obviously dependent on how loudly you have it playing. A full charge takes two and a half hours and the speaker can play while it's plugged in. A 20-minute charge should give about 3 hours of use.
We've been using the Kilburn II for about two weeks and we've only fully charged it once - so it really is fantastic on that front. Annoyingly, however, is the unusual type of power cord - it's not got a typical micro USB port. Losing a power plug usually means digging around for another one that'll charge your speaker, but in the case of the Kilburn II - you're likely to have to buy another one, so don't lose it.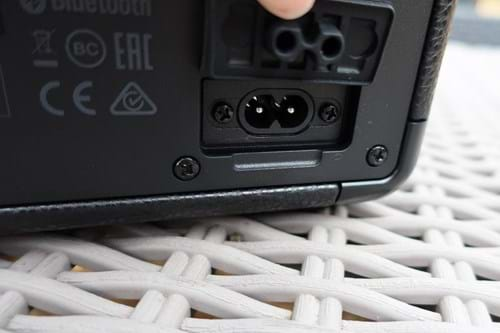 Marshall claims that the Kilburn II has much sound quality compared to the original Kilburn and we can definitely attest to that. For a relatively small speaker, it packs a big punch. The front and rear tweeters (two 8 Watt Class D amplifiers), which produce multi-directional sound, alongside a bass reflex system mean that music played through the Kilburn II is really clear and room-filling. There's also a single 20-watt class D amp for the woofer.
Bass is rich and thumping, but those who listen to mostly hip hop, R&B or house music will likely prefer a speaker with a sound that's less tuned towards Rock. While all the music we've listened to on the speaker sounds excellent - rock, alternative and indie music sound wonderfully crisp and punchy with the mids and highs of guitars, high-hats and vocals sounding lush and expressive.
Overall, the Kilburn II is a speaker that's really impressed us with a well-balanced sound that's perfect for family get-togethers and parties, or just dancing along to some tunes while you do the washing up.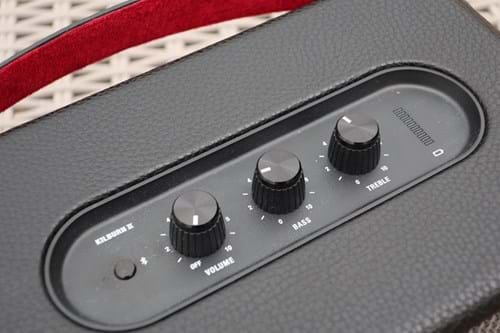 Should I buy one?
The Kilburn II definitely isn't a wallflower. If you're looking for a speaker you can proudly stand on a desk, coffee table or bookshelf then this is a great option. The retro unit is reasonably portable, sounds fantastic and definitely has a cool factor to it that many other speakers on the market lack, but all that comes at a high price.
The Ultimate Ears Megaboom 3 is considerably cheaper and more rugged (fully waterproof) with the same claimed battery life, although the sound is nowhere near as rich or expansive. For those with less cash to spend, the Megaboom is a fantastic option - but the Kilburn II is far more mature in terms of sound and styling.
At the end of the day, it's really about whether you want a speaker to take out and about without worrying it'll get damaged or something pricier that'll mostly sit at home. For example, we wouldn't risk taking the Marshall Kilburn II to the beach or a festival, but it would probably be our choice of the two because we always have music playing at our house.