What is it?
The Dyson Cyclone V10 Total Clean (yes, that's its actual name) is the newest, most powerful vacuum in the Dyson range. And, while Dyson claims the V10 is the one vac to rule them all - there's been some contention, mainly surrounding the runtime.
Can the V10 really replace our corded, upright vac — or are the complaints about battery range founded? Let's take you through it...
What's it like?
The Total clean is the top-of-the-range trim in the V10 lineup, meaning you get five attachments (a crevice tool for narrow gaps and corners, combination tool, mini motorised head for things like stairs, extension hose, mattress tool and 'up-top adaptor' — which connect tools to the wand at different angles).
These attachments make the Total Clean £50 more expensive than the mid-range V10 Absolute, which doesn't come with a quick release up-top adaptor or extension hose. It's also £100 more expensive than the V10 Animal which doesn't come with a soft roller cleaner head for hard floors.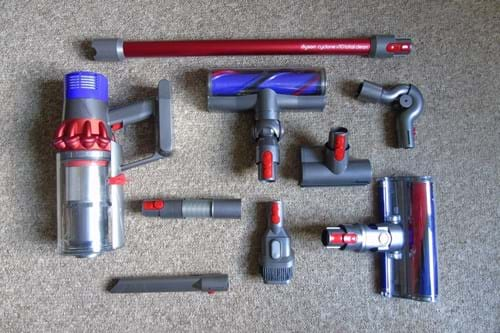 The Cyclone V10 has benefitted from a redesign, which sees the bin move from a downward position, like it did on the Dyson V8, to a forward-facing placement in line with the motor to improve airflow. The attachments all connect directly onto the bin via a round port, although this means the attachment needs removing for the bin to be emptied.
The V10 also has a new motor, new battery and redesigned impeller (the fan bit to you and me...) — which makes the 1.65kg unit slightly heavier than its predecessors even though it doesn't feel particularly weighty. Fully fitted with the tube and Direct Drive cleaner head, it weighs in at 2.68kg — which is less than the average moggy.
And where lifting your cat above your head Lion King-style might be a bit of a bicep workout, getting cobwebs from corners and lampshades above head height isn't back-breaking work with the V10.
Dyson's new motor in the V10 is also 20 per cent lighter and 20 per cent more powerful than the motor fitted to the V8. At maximum power the V10 spins at 125,000rpm, which — when combined with the redesigned shape — results in much better suction than previous models.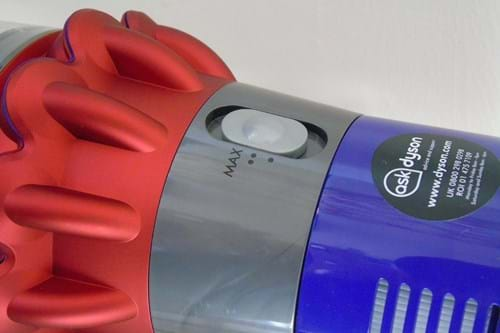 But what about runtime? Dyson claims the V10 can achieve up to 60 minutes runtime on a full charge, but this is on the basis that your V10 is in suction mode 1, using non-motorised attachments. When using motorised attachments, on the max suction setting, the runtime is actually as short as six minutes — although Dyson says this setting is for quick spot cleaning or tough jobs, not cleaning your entire house.
And, if we're being honest, suction mode 2 does a good enough job not to need max power mode unless you want to do a thorough clean of your carpets. Plus, max power mode is considerably louder than suction mode 2.
We achieved around 20 minutes of cleaning our carpeted lounge and part of our carpeted stairs in suction mode 2 with the direct drive cleaner head. It would make sense for the battery to be replaceable so we could just swap one out when it ran out of charge to extend our tidying session (so we could finish our stairs).
But, there's no such luck with the V10. The battery sits at the bottom of the handle and can't be removed. And, to fully charge the V10, we had to leave it for three and a half hours, which wasn't ideal when we were trying to spend the morning cleaning before we had some friends over for a BBQ.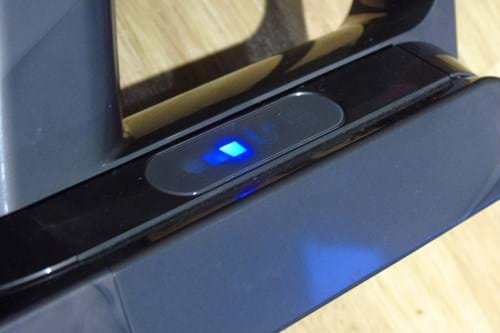 Three blue LEDs sit along the battery at the bottom of the handle as it charges. The machine indicates its level of charge as you go and there's also an indicator for blockages and a dirty filter.
However, something that is slightly irritating with Dyson's new unit is needing to hold the trigger when we want to use it — rather than an on/off switch. It's not a huge complaint, but it can be quite uncomfortable after a few minutes. Although, Dyson says this feature is to save power when moving between rooms.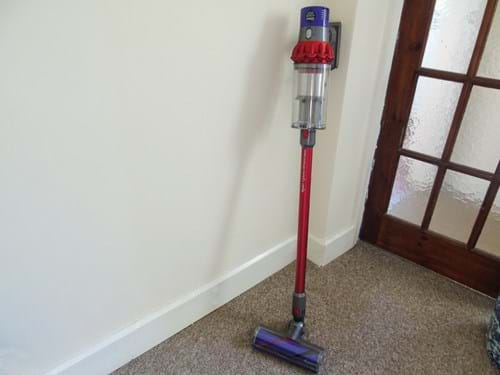 With a capacity of 0.76-litres, the new model is around 40 per cent larger than the Dyson V8, which means it can hold a lot more dust and debris. As such, it needs emptying much less frequently. You can see the comparison with the V7 below (and that the V10 looks a bit like a blaster gun from Star Wars). However, the capacity still falls short of the two or three litres of space you can get with vacuums that still use bags.
Emptying the bin is a fairly simple manoeuvre. With the barrel sliding forward and opening with a push of the red lever. However, we had to stick our hand into the barrel a few times to extract hairballs (ew). The bin also gets fairly dirty with things like breadcrumbs sticking to the transparent barrel, so we were cleaning it about once a week because it was looking a bit gross.
The core filter at the back of the unit is bigger than on previous models. It twists off and is fully washable. The last thing to mention isn't really a positive or negative of the Total Clean, more so just an observation. After we let go of the trigger, there's a quiet noise that sounds like a spring being released. While it isn't unpleasant, it sounds like a very small gong being hit, and it surprised us the first few times it happened.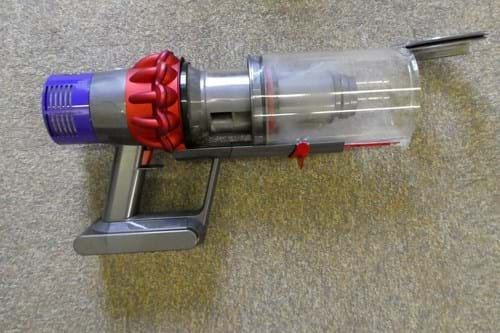 Should I buy one?
If you have a flat or a small house that doesn't have that much carpet, the V10 could very well replace an upright vacuum cleaner. In all honesty, it's absolutely excellent. However, for those with larger homes, it's a bit unrealistic to say that's a real possibility.
While the Dyson V10 is an excellent vacuum (powerful, light, good range of attachments), the battery life still lets it down. Even if you mostly do 20 minutes of cleaning per day rather than an hour or so on a quiet Sunday evening — which is the V10's purpose — it's a no-go if you want to vacuum your whole house meticulously.
In a lower power setting, the V10 had enough juice for us to do our lounge, kitchen and stairs if we were quick. But there's no looking past the price tag, which is what will prevent a lot of buyers from buying one. Although, Dyson reputation for reliability should go as far as to at least convince you that buying a V10 is a worthwhile investment that will likely last you a number of years. And, if you can spare a painful £400 instead of £500, you could get yourself the V10 Animal — which just comes with fewer fancy attachments.