A dog guard is a must-have for any driver who owns a dog. Without a barrier, many dogs will leap into the cabin of the car. This not only risks damaging upholstery with mud and claw scratches but can also be very dangerous and can potentially cause an accident.
What is it?
The Travall Guard is a custom fit barrier that slots in behind the back seats of your vehicle. It's designed to be easy to install, fit perfectly and be rattle-free. But at £110, does the quality justify the price?
We tested the Travall on our Skoda Fabia with a very energetic, 11-year-old chocolate Labrador named Hershey.
What's it like?
In the box comes the dog guard - in three separate parts, assembly instructions, nuts and bolts, plus a small spanner. The instructions aren't very detailed, but they don't need to be as the assembly is quite self-explanatory.
Once the metal legs are attached to either side of the guard, it just slots securely over the hooks which click the rear seats into place. While positioning the barrier for fitting is possible with one person, it's definitely a task made easier with two.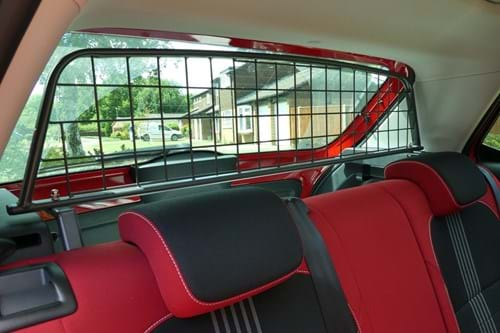 It takes about 15 minutes to install and is even quicker to remove, it's just a case of moving the seats forward and sliding it out. The guard has no sharp edges, so scratching yourself, your car or your dog won't be an issue. 
Once in place, the guard is stable and doesn't rattle while driving, even over potholed country roads. For me, this is especially important because I leave the guard in there permanently, even when the dog isn't in the car.
Another benefit is that the parcel shelf can still fit into place with the guard installed. However, the shelf has to be put in first in the Fabia, otherwise, it can't slot into place with the guard attached first. The steel frame is coated in a grey nylon powder coating, which makes it three times thicker than most other guards. The matt coating also stops any shiny metal creating glare in the rear view mirror.
An advantage that the Travall has over others is that it's designed to be vehicle specific. Travall claims their guards are made for more vehicle makes and models than any other company in the world. So regardless of whether your car is old or new, hatchback or estate or has a panoramic glass roof - there should be no issue with finding a guard to fit your car.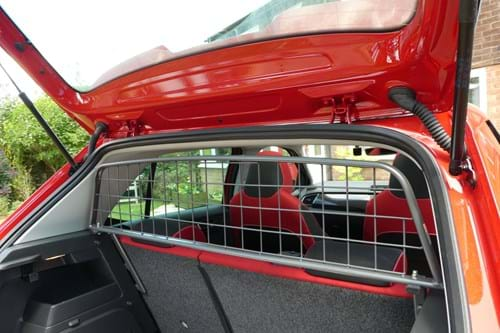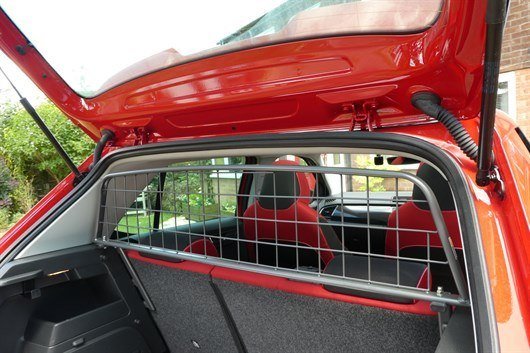 The metal legs slot in behind the rear seats, which hold it in place
The barrier also doubles as protection against potentially dangerous items, like luggage being thrown from the boot into the back seat. It has been tested to ensure that it can withstand being hit by heavy objects - like a 42kg Labrador.
Despite Hershey being quite a large dog, the Travall guard was sturdy enough not to budge when he pushed his face against it. The coating on the guard is also scratchproof, so there were no bite marks left after his escape attempts.
Travall is so confident with the guard that they offer a lifetime guarantee against any manufacturing defects, so if anything does go wrong you're covered.
One issue is that the guard doesn't cover the entirety of the back seats. My dog is very needy, so when he realised he wouldn't be able to jump over the seats and distract me as usual, he wasn't a happy chappy. After trying unsuccessfully to force his face through the mesh, he started to scratch at the unprotected section of the rear seats, which wasn't ideal.
He did stop after a while, mostly because he tired himself out. But if you do have a dog that's likely to do this then it's something to bear in mind, especially before forking out over £100.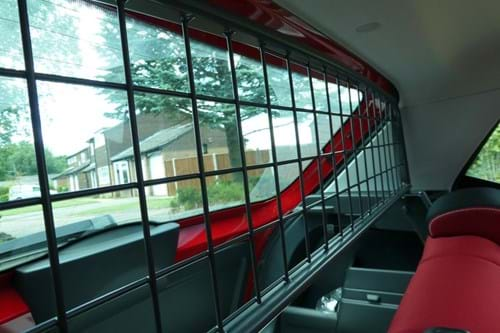 Should I buy one?
The Travall Guard is a quality product. It's lightweight, easy to install and doesn't rattle - but it's also at the top end of the price scale for dog guards. There are various cheaper guard options, many of which are universal for all vehicles and will do the job.
However, if you want a sturdy barrier that isn't complicated to install and will keep your dog from creating havoc in the cabin of your car, then the Travall Guard fits the bill. And it's ideal if you've booked to take your dog into kennels and your transporting him/her there.