What is it?
A pop-up, two-person tent that takes seconds to pitch and is available in a variety of colours - perfect for festivals and weekend camping.
What's it like?
Pop-up tents are nothing new, but this one couldn't be easier to pitch. During our test, we arrived at a campsite just as it was going dark, and had the tent ready to sleep in within minutes.
All you have to do is remove it from the bag and it pops up instantly. There's no messing around with poles, and everything is integrated - the waterproof groundsheet, the fibreglass poles and the mesh door. The time-consuming bit is walking around it and pegging it into the ground, but that's no real hardship (pegs are included in a handy little bag).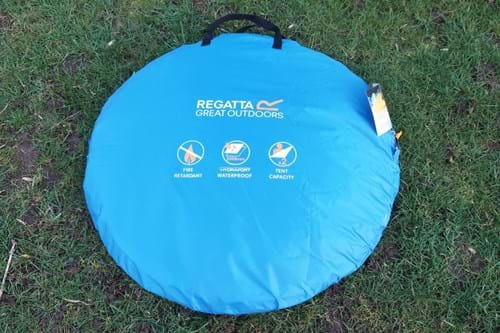 Once up, it's one of the more spacious two-person tents. You won't be able to stand up in it and, if you have lots of luggage, it'll be quite cosy. We used it as a single-person tent and it was ideal. There are some useful storage pockets on each side and a small window to help to air out the tent.
As you'd expect for an affordable pop-up tent, there are compromises. There's no porch area, for a start, which can be problematic in poor weather - we found ourselves treading mud into the tent.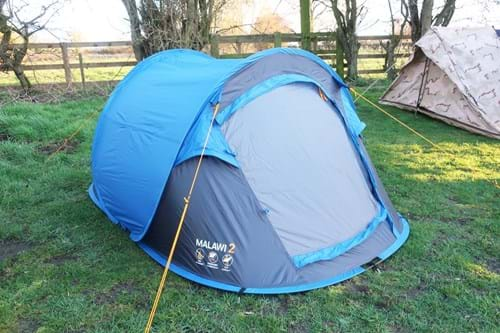 It's also what's called a 'single skin' tent. While more expensive tents have two layers - an outer and an inner - the Malawi 2 has just one. That means condensation can form and, if you tap the tent from inside, you will get a bit wet. Of course, an extra layer adds to the complexity of the tent and would make it more difficult to put up. In the case of the Malawi 2, everything is integrated - including the waterproof groundsheet - keeping the process simple.
Anyone who's ever used a pop-up tent will tell you the most difficult bit is folding it away back into its bags - that's why so many people just leave them at festivals. There's a knack to it with the Malawi 2 but, once you've grasped the concept, it's easier than other pop-up tents we've used. It's easy to do on your own, too - so perfect if you're planning a solo camping trip.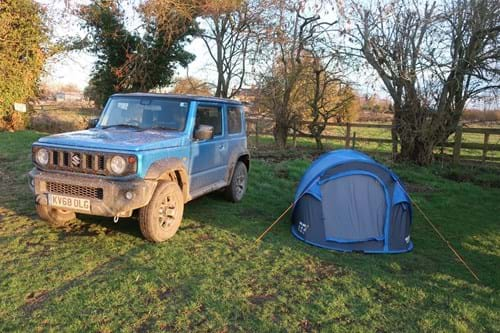 Should I buy one?
If you're a casual weekend camper or festival goer, the Malawi 2 is a great tent for you. It has its drawbacks - its relatively bulky dimensions when it's packed away means it can't be squeezed into a rucksack and the lack of a second layer or a porch is a compromise - but they're the sacrifices you make for a budget pop-up tent.
Pitching it is easy, as is folding it back away - not always a given for tents like this. There's also a surprising amount of space inside for a two-person tent and the variety of colours available adds to its appeal. Assuming you don't pay the full retail price, it's well-priced for a tent from a well-known brand like Regatta.