What is it?
If you grew up in the 1970s and 80s (and possibly even 90s) there was probably one of two things in your house, a Hornby train set or a Scalextric. While a train set was seen as a bit dull and old-fashioned by many, the Scalextric in comparison was fast, fun and exciting.
Scalextric may not be as popular as it once was, but the brand has embraced technology to bring a whole new element to its sets. Called ARC (App Race Control), which wirelessly combines an app on your phone or tablet with the Scalextric set.
The American Classics set is the cheapest ARC set from Scalextric and is part of the ARC One range. The ARC Air and ARC Pro ranges come with more features, but are more expensive with the top ARC Pro set costing an eye-watering £600.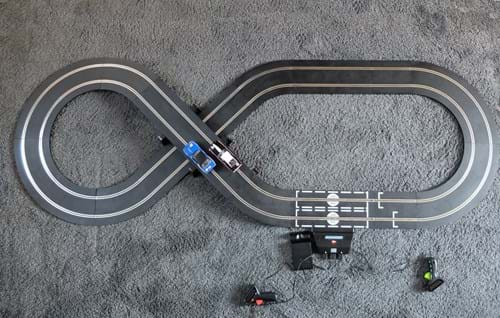 What's it like?
Getting our Scalextric out of the box did bring back memories of the excitement of Christmas Day 1985, but there was a reservation that this wouldn't be as good as the traditional Scalextric sets of that era. Thankfully, the opposite is the case. While many modern versions of classic toys feel cheaply made, Scalextric is still reassuringly well built. In fact, it's a toy that seems to have improved over time.
The track slots together in a similar fashion and is actually a bit easier to do, although it's not something you'll want to be doing on a regular basis as taking it apart is a little fiddly. It does require some space too because it's about two metres in length, which is important to consider if you don't want to be tripping over it on the living room floor...
There are nine different tracks you can construct from this set, giving you plenty of variety and play life. We used a standard figure of 8 (ish) complete with a bridge in the middle. There's the main ARC One powerbase, which you simply slot in the power cable along with the two controllers. From start to finish, setting up takes all of 10 minutes.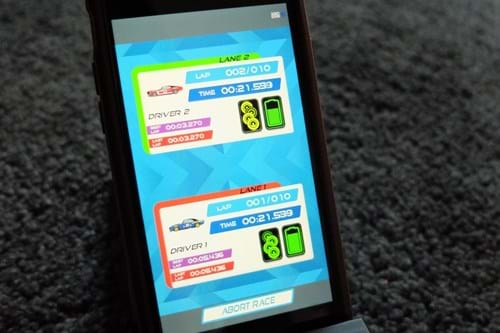 The two cars in the American Classics set — the 1969 Chevrolet Camaro and Ford Mustang Boss from the same year — are part of the Scalextric High Detail range and look superb. There's lovely attention to detail too, from the decals down the sides to the roll cages. 
Modern Scalextric cars are lighter than before, which means better performance. But to help keep them on the track, there's a magnetic system called Magnatraction by Scalextric. It essentially keeps the rear of the car stuck to the road so you can take corners faster.
And talking of speed, Scalextric still has that. You can alter the power of the controllers using a little dial, but even on the minimum, they're very fast. Quick enough to easily fly off corners anyway. It means the days of just holding down the trigger on the controller and letting your car whizz around continually are long gone. There's a real skill involved, especially if you turn the speed control dials up to the max.
So is Scalextric just watching cars go round and round a track? Well traditionally, yes, but that's where ARC comes in. The free ARC app has six modes (there's more if you have an ARC Air or ARC Pro set), from a quick race to a Grand Prix or a tournament. It connects to the powerbase through Bluetooth and adds a whole new element to the racing.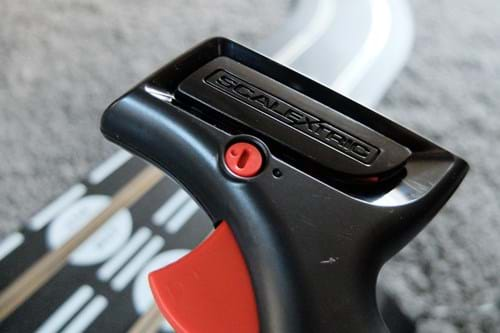 One of our favourite features is the F1-style starting lights (complete with your reaction time). As well as highlighting who is in the lead and what lap you're on, it also shows fuel level and tyre wear. So during a race, you'll need a pit stop while you wait for your car to be refuelled (and get new tyres) before continuing.
Don't do that and you'll end up with a DNF, bringing tactics into your Scalextric racing. You can also display your speed in MPH, real or to scale, while at the end of a race it will give you a breakdown of your stats.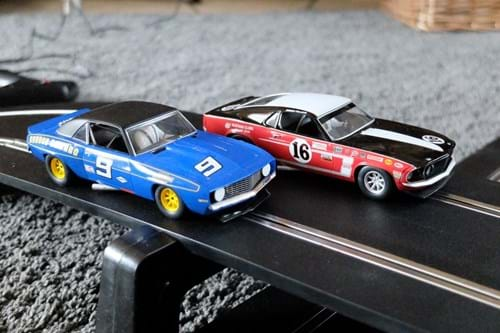 You can, of course, add extra track to the standard layout of this set either with individual sections or track sets. Plus there are scores of cars you can buy if you get bored of the same two, including plenty of other muscle cars (which we've now got our eyes on). Each cost around £40.
Should I buy one?
While going for an ARC set over a standard Scalextric kit pushes the price up, we think it's definitely worth it. You can buy an ARC One powerbase on its own (if you're upgrading an existing track) for £56, so getting the whole set including two cars, looks decent value. As a comparison, the latest standard set with two BTTC Cars is £100.
While ARC Air and ARC Pro sets get more features like wireless controllers and a braking button, the ARC One is still really good fun for the price. The app adds an extra element which should give this plenty of life over the years. While the iPad and PS4 rule, there's still nothing as enjoyable as a Scalextric set — it's something that even the best gaming can't recreate.