What is it?
Vantrue is fast gaining a reputation for making high-quality dash cams and the OnDash N1 Pro is one of its smallest models, measuring just 6cm x 4cm. It films in 1080p at 30fps — a standard we've now come to expect from all but the cheapest dashcams — and features a Sony sensor, designed to make footage at night better, along with a 160-degree wide angle lens. 
What it doesn't have is GPS as standard. So if you want your speed displayed on the footage you have to buy a different mount for an extra £20 on top of the £65 for the dash cam itself. There's also no WiFi so the only way to view footage and transfer it is via a PC or Mac using the micro SD card.
Other features include a 24-hour parking mode, although you need to hardwire it to the car battery for this to work, collision detection when turned off, a G-sensor which will automatically save and lock any footage following a collision or any sudden movements, such as swerving or hard braking. Interestingly it also has a time-lapse function, where the camera will automatically take photos at specified intervals and edit them together into a video clip, like the Garmin 55 dash cam we reviewed.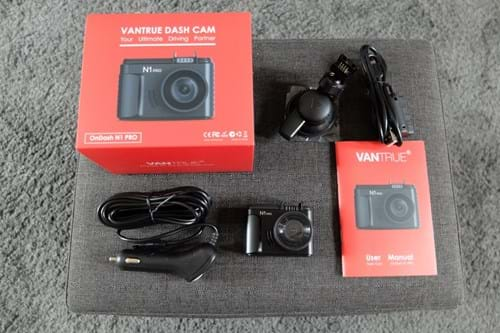 What's it like?
The compact size of the N1 doesn't mean this isn't a well-made unit, it has a solid finish and the buttons operate with a reassuring click. Yes, it's light, but it doesn't feel cheap or flimsy. It's a very small unit compared to dashcams from the likes of Mio and Nextbase — not much bigger than a box of matches in fact — which is handy if you want something less obtrusive in your windscreen.
Fixing it is simple thanks to a suction mount, which we much prefer to an adhesive mount because it's much easier to remove. The camera is powered through the mount and easily clips off, so you don't have to leave it on display. It's also useful when you want to take the SD card out as you don't need to reposition the mount afterwards. 
Once you've slotted in the micro SD card, the Vantrue is ready to go. It will start recording immediately (although you may have to format the SD card if it's been used previously). But this is where the small size works slightly against it. The screen is tiny at only around 3cm wide and consequently, the menus are hard to read, especially if you're trying to change settings when it's in situ on your windscreen.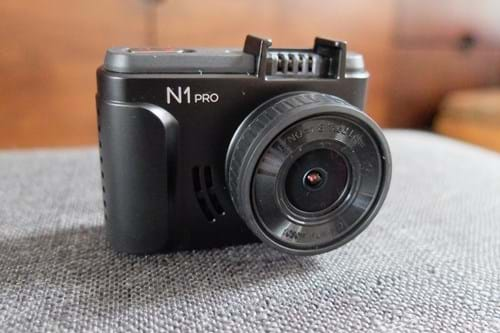 The buttons on the right aren't that obvious either, for instance, the one marked as the 'on' button actually gets you into the menus. This could be a lot more intuitive. This wouldn't be too much of a problem if you didn't have to regularly access the menus.
With most dashcams, once you've set it up, there's rarely a need to play with the settings. But our N1 unit has a very annoying habit of resetting the time and date back to the 1st of Jan 2018. So we are constantly having to go back in and set the date and time so it was correct on the footage. 
There's no GPS with the N1 either (kind of). You can get a GPS-enabled mount but it costs an extra £20. Without it, there's no way of recording your speed, which is often critical for insurance purposes or if you're submitting footage to the police. There's also no WiFi, so you can't download or view footage on to your phone. That's perhaps not as critical, but many dashcams at this price have both WiFi and GPS.
What we can't argue with is the footage. While 1080p is pretty much the norm for dash cams these days, the fact the Vantrue has a Sony sensor makes a significant difference in the quality and sharpness of that footage as you can see below.
The camera deals well with bright conditions and from changes between light and dark, for instance when you're going in and out of shadow plus number plates are clear enough to be easy to read. As ever, YouTube often defaults to a lower resolution, so it's worth changing it to appreciate the actual quality of the footage.
We found the G-sensor in the Vantrue a little over-sensitive, so much so that it locks seemingly innocuous clips that involve going around a roundabout or stopping at a junction. It also randomly records lots of short clips of several seconds at night when the car was parked. You can change the sensitivity but we have simply turned it off. There is, after all, a button on top of the unit that allows you to save and lock a clip.
The issue of resetting the date aside, the Vantrue has been proving very reliable. We've had no crashes or freezes, so haven't had to reset the camera once. It's been using a Samsung 64GB Pro Plus micro SD card with no problems at all. In fact, the N1 can have an SD card up to 256GB in size, which is a huge amount of recording time. Many dash cams are limited to half or less than that. You can see what we think are the best SD cards for dash cams here.
There are also some other useful touches with the Vantrue. It may have a moulded 12V power adaptor, which we're not fans of, but cleverly a cover slides to expose a USB charging port — so you can power other devices when the dash cam is plugged into the 12V socket. Simple, but very handy.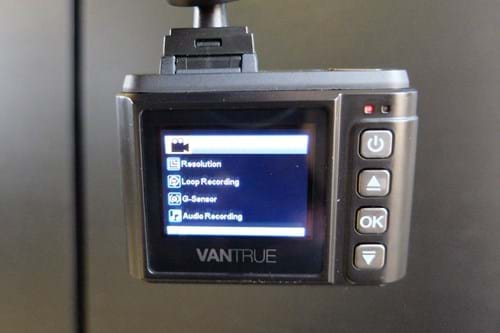 Should I buy one?
The small dimensions of the N1 make it ideal if you want an unobtrusive dash cam, but it is not without its faults. The fact that it keeps resetting the date is annoying, while the small screen and rather unintuitive menus often make it fiddly to use. But it's the price that's harder to swallow.
While we like the look and feel of the N1 - and we certainly have no complaints about the footage - the £65 price tag combined with a lack of GPS and WiFi means it's hard to recommend. True you can add GPS, but it's an extra £20.
There are plenty of dash cams that record in the same (or an even higher) resolution for considerably less money. The YI Smart immediately springs to mind while the Azdome GS63H is not only cheaper but also comes with more features as standard.