What is it?
The 55 is Garmin's mid-range dash camera, sitting between the 45 and 65W. It offers 1440p resolution footage, forward collision and lane departure warnings, alerts for red light and speed cameras, WiFi and voice-controlled features like Travelapse.
Priced at £150 on Garmin's website, though it can be found for £130 at retailers like Curry's, it costs slightly less than the Mio MiVue 792 WiFi Pro or Nextbase 512GW. However, it costs more than the Vantrue N2 OnDash, even when you add Vantrue's optional £22 GPS/speed tracking mount.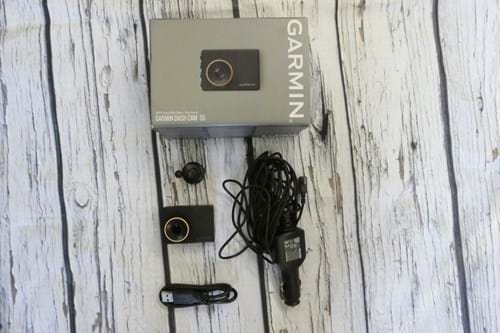 What's it like?
It's pretty simple to set up, as dash cams should be. And it's tiny; 60g in weight and easily fitting in the palm of your hand (you can find the measurements in the specs below). It also comes with a very useful magnetic mount so you can remove the camera quickly and easily to keep it away from prying eyes when you aren't in your car.
Just ensure you know exactly where you want the dash camera to go before you fix the sticky side of the magnetic attachment to your windscreen. Otherwise, as we did, you might find yourself trying very hard to remove the tiny mount to move it elsewhere.
Upon setup, the dash cam asks if it will be mounted on the left, right or centrally on the windscreen. You don't need to set the date and time though because this will be obtained from the GPS signal.
The GPS also provides location and speed data, which many insurers now request when reviewing footage in the event of liability disputes over an accident. When watching footage on a computer, you'll get latitude, longitude, date, time and speed readings.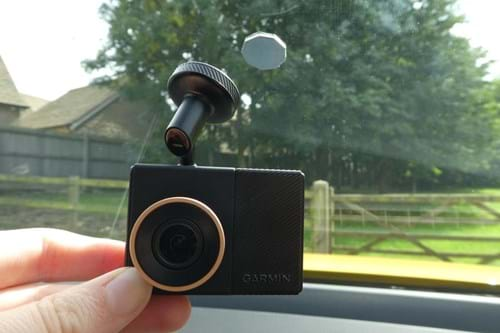 The menus are easy to operate and setting it up takes minimal time, we didn't even open the manual. The 55 has a G-Sensor so when an incident is detected, the camera will save the current, last and next recordings so you have a complete record of the event. You can also remove the camera to take photos at the scene. But seeing as most people have smartphones with high-quality cameras, this isn't a hugely a necessary feature.
Like most dash cameras, it records in a continuous loop - so you'll need to save any footage you want to keep or it'll be overwritten by new footage. This can then be viewed on the dash camera itself or on a computer later. Annoyingly though, the device will only record at one-minute increments. And usually incidents will span more time than a minute, so you'll have to open a few files to view the entire situation.
You can also share and save videos to your phone via WiFi using the Garmin VIRB smartphone app (which is free). Just go to Gallery on the dash cam, click to share the gallery and then select Garmin's WiFi network in our phone's WiFi settings. The videos and pictures will then appear in the VIRB app once you enter the WiFi network's password, which is provided on the screen. The app is pretty limited, only allowing you to browse and download images or videos, but it's a minor detraction.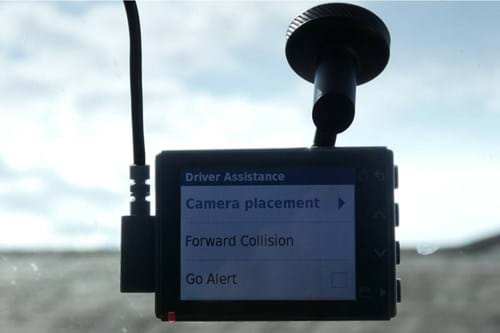 The device can be voice-controlled too. Saying "Okay Garmin" lets the device know you're about to give it a command, and then you can tell it to save videos or pictures, turn audio on or off, turn on Travelapse etc. This system works well, but if you have the radio on the dash cam sometimes seems to think it's heard a command. For example, it recorded part of my drive to work as a Travelapse video when I didn't ask it to.
Footage quality is great thanks to the powerful 3.7-megapixel camera, which records an impressive 2560 x 1440 (at 30fps) maximum resolution. The camera also shoots video at 1080p at 60fps or 1080p at 30fps with HDR enabled. Shooting in lower resolution can save space, so sometimes it's worth lowering the quality if you're on a long drive.
Sadly, nighttime footage isn't as good as daytime footage. Once it gets dark the lens tries to enhance any light source it finds, so headlights are exaggerated and block number plates.
It's good enough for evidence in the event of an accident, but sadly we couldn't read the registration plate of the van that sped through a red light in the video below. And that meant we couldn't submit our footage to the police. Yet, this is more of a general issue than a problem specific to the Garmin 55. You'll need a dash cam that records in 4k with a polarising lens for the best possible nighttime quality. You can buy a polarising lens from Garmin's own site for about £18, though.
The Travelapse feature (timelapse to most of us) takes still images as you drive and stitches these into a movie that will show you a quick version of your journey as if you're fast-forwarding through a video. This isn't exactly a useful feature, but it's a fun option for those that might want to catch the sun going down on a scenic drive.
The Garmin 55 also offers plenty of driver assistance systems. These include forward collision warning alerts if you drive too closely to the car ahead, lane departure warnings, red light camera warnings and Go alerts - which notify you when traffic ahead of your vehicle is moving again. Not that you should need to be told that anyway...
The dash cam also provides safety camera alerts based on where mobile speed cameras have previously been located. Though, I turned this feature off after a couple of days of repeated beeping because I just didn't find it that helpful.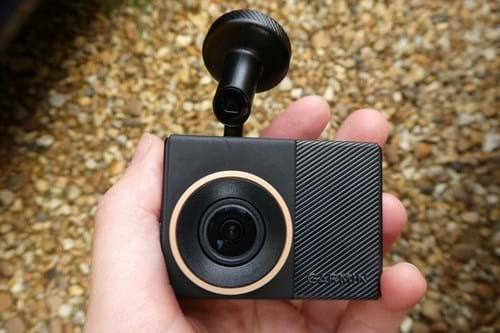 A very useful feature of this dash cam is the 30-minute battery. This may not sound long, but it is when compared to most dash cameras - which turn off after a minute or two. This extra 30 minutes means if your car is bumped or scratched in the first 30 minutes after you've parked, you might catch who did it.
As for video storage, the camera comes with a microSD card included (class 10 of 8GB that allows at least 56 minutes of recording). This dash cam will take any Class 10 microSD up to 64GB.
Should I buy one?
If you're looking for a top of the line, feature-packed dash cam then the Garmin 55 definitely fits the bill. Footage quality is excellent, as are the driver assistance systems you get included. And because it doesn't record in 4k resolution, it isn't quite as expensive as dash cams like the Nextbase 612GW.
With the addition of WiFi, GPS and the microSD card, the price tag definitely starts to make sense. Yes, there are definitely cheaper rivals that do the job, but the lower footage quality and lack of GPS signal (to show speed and location) discount some of these from providing viable footage to insurers in the case of an accident. If you can afford it, the Garmin 55 is a superb choice.
For £20 less you can get the Garmin 45, which offers roughly the same specs (slightly lower resolution at 1080p and no voice control capabilities).