Top 10: Best sat navs for under £100
Having a sat nav is a sure-fire way to cut the stress of a long drive. Besides letting you pay more attention to what's going on around you, using a sat nav also makes it far easier to reach your destination. You won't have to worry about changes to your route, either, with most simply redirecting you along whichever road you've stumbled onto – which can be extremely useful if you're trying to avoid a jam. Buying a sat nav doesn't necessarily entail breaking the bank, however, and you've still got lots of options if you're spending under £100. So, here are ten of the best budget sat nav buys.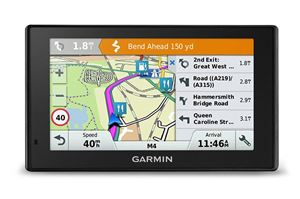 1
Garmin Drive 51LMT-S – from around £89.00
This is a great choice if you want an affordable brand-name unit that covers just the UK and Ireland. It has a clear 5-inch screen, lifetime map updates, speed limit warnings and a whole host of other useful options. Install Garmin's app on your phone, and fire up your Bluetooth connection, and it can even give you live traffic updates. A more expensive version with lifetime European maps, costing an additional £38, is also available.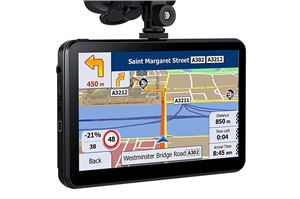 2
Shenen 7-inch sat nav – from around £57.99
This off-brand 'Shenen' unit packs a big 7-inch touchscreen and a decent list of features, including UK and European mapping, speed limit warnings, a point of interest database and a postcode search. It's not perfect but, for the money, it's hard to fault. You may also see this sold under different brands, as is often the case with these off-brand units – so keep an eye out for other, potentially cheaper sat navs with the same look and interface.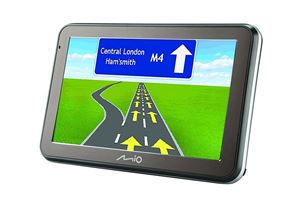 3
Mio Spirit 7500 LM – from around £77.98
If you're in the market for a simple, effective unit then this 5-inch Mio unit is worth a gander. The neatly designed sat nav comes with European maps with lifetime updates, for starters, and it's ideal for those routinely driving in cities or towns – as it has a near-destination parking space locator and can even remember where you've parked. It also displays speed limit information and there's an optional truck mode for HGV drivers.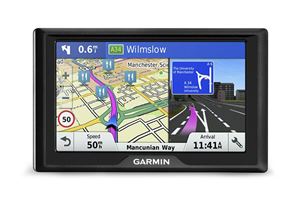 4
Garmin Drive 40LM – from around £73.99
If you're not looking for a cutting-edge option then you should have a look at this older Garmin unit. It has a 4.3-inch screen and comes with maps of the UK and Ireland, lifetime updates and a postcode search. You also get many of Garmin's stress-reducing features, such as junction view, lane assistance and 'real directions' – which refer to obvious landmarks when giving spoken instructions, cutting confusion. No live traffic, unsurprisingly, but otherwise competent and capable.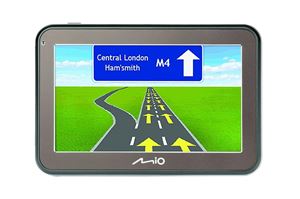 5
Mio Spirit 5400 – from around £64.99
You might expect Mio's entry-level 5400 sat nav to be devoid of features, given its price, but it's surprisingly well equipped. It has Western European maps, lifetime updates, a 4.3-inch touchscreen, postcode support, a trip planner, road speed guidance and a parking space database. It doesn't have live traffic support but it's nevertheless a good choice if you don't fancy the bigger, more expensive 7500LM. Customer support seems reasonable, too, so you should have few issues.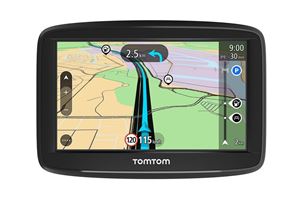 6
TomTom Start 42 Full Europe – from around £79.99
This is one of TomTom's more affordable units and, besides offering brand-name piece of mind, this 4.3-inch sat nav comes with European maps and free lifetime updates. There's no Bluetooth connection or live traffic, which is no surprise given the price, but you do get speed limit advice and camera warnings. Several similar versions are also available, with bigger screens and different maps; some users report issues with postcode entry, however, so tread carefully.
Buy it now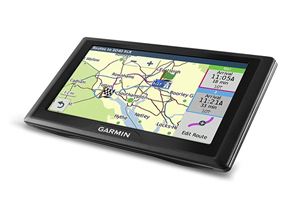 7
Garmin Drive 50LM – from around £97.94
As you may have guessed from the name, this is a bigger version of the 40LM. The £23.95 premium bumps the screen size from 4.3-inches to 5-inches, giving you a clearer, less cluttered view of the route ahead. Consequently, if you're going to be using it lots or find smaller screens a pain, it's probably worth opting for. You can also get more expensive versions with maps of Western Europe, or all of Europe, too.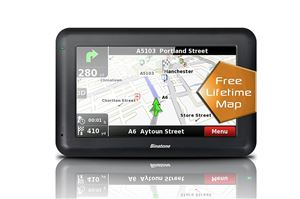 8
Binatone U435 – from around £59.99
You get a lot for your money with this 4.3-inch touchscreen sat nav, despite its low price. It comes with maps of the UK and Republic of Ireland, with lifetime updates, and a points of interest database. Usefully, it also comes with desirable speed camera alert system and lane guidance, easing journey stress. There are some reports of missing postcodes and sluggish responses, though, but if you're not happy it shouldn't be hard to return.
Buy it now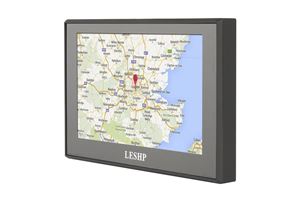 9
Leshp 5-inch sat nav – from around £49.99
This is one of the cheapest sat-nav units on the market. You won't be surprised, as a result, to find out that it's also not one of the slickest or most intuitive systems around. A few issues have also been reported but, once you get the hang of it, it should do the job. It also comes with UK and European mapping, reputedly with lifetime updates, speed camera alerts and a points of interest database.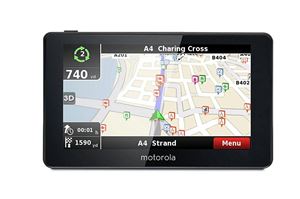 10
Motorola 6-inch sat nav – from around £79.99
Seeking a big-screen bargain but want one from a familiar brand name? This 6-inch Motorola unit could be just the ticket. It's not the quickest or smartest sat navs but it comes with UK and Republic of Ireland maps, with lifetime updates, and a substantial points of interest database. It doesn't have live traffic updates, like most in this price range, but it does benefit from speed limit warnings. Additional maps are available, too.
Related Articles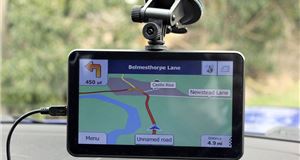 Sat navs
If you're looking at buying a sat nav it's easy to get baffled by the myriad options available. So, we've...