Sat nav buying advice guide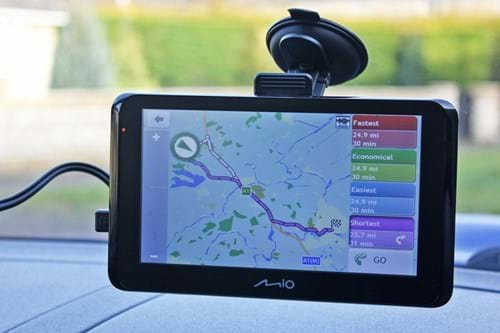 Why do I need a sat nav?
These days, it only takes a few simple clicks to download a perfectly serviceable sat nav app onto your mobile phone.
There are a few things worth considering, however. These apps often rely on your mobile's data connection for mapping and traffic information, so if you've no mobile signal then they won't work.
Using your phone as a navigation device also burns through its battery. That's no problem if you have a charger to hand – but if you haven't, you could find yourself stuck. Similarly, if you lose your phone, or it breaks, you'll have nothing to fall back on.
Many standalone sat navs also feature bigger screens and more straightforward interfaces, making them easier to use. Consequently, there are reasons to justify buying a standalone sat nav.
What should I look for in a sat nav?
Firstly, you need to look at which maps the unit comes with. The options are typically UK, Western Europe, Europe and worldwide maps. Simply pick which applies to your planned usage but, in any case, check the list of covered countries – just in case the one you want isn't featured.
Next, you need to see if map updates are included. After all, roads do change and a sat nav without current maps could send you in the wrong direction; it will usually be clearly stated if the device includes free lifetime updates. Otherwise, you'll have to check the cost and frequency of updates.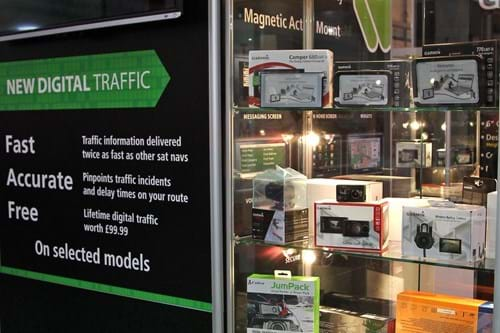 Screen size is another important factor. Most budget units have a four-inch touchscreen, with the more expensive ones featuring five- and six-inch screens. A bigger screen gives you a clearer view of the route making it easier to see what's going on at a glance.
Lastly, if you intend to travel a lot, it's worth picking up a unit with live traffic updates. This will allow the sat nav to warn you of delays and reroute you to help avoid jams. Be wary though that, while some units claim to offer this, it's done through a Bluetooth connection and an app on your phone.
What are the basic sat nav features I need?
Postcode search: This is practically standard these days but it's always worth checking it's included. This lets you put in a postcode and get on your way, rather than having to fuss about with street names and house numbers.
Turn-by-turn guidance: A common feature where visual and spoken instructions keep you updated on how to stay on the desired route. Virtually all devices feature this.
Points of interest: Most sat navs have a 'POI' database, which includes the location of facilities such as petrol stations, hotels, museums and so on. This makes it easy to find your way to, say, a petrol station if you're running low on fuel.
What other features might I want to look out for?
Speed limits: Not sure what the current speed limit is? This can help you out by showing what the posted limit is for where you're driving. Many sat navs also show your current speed.

Speed cameras: These automatic alerts will highlight when you're approaching a speed camera site, potentially helping you avoid a penalty.

Live traffic: Continual updates that will help the sat nav offer up the quickest, least busy route. Can also be used to redirect you around nasty jams.

3D views: A three-dimensional view of the route can make it easier to interpret. Some units also display 3D buildings and landmarks, making navigation less complicated.

Junction view: This clearly displays the junction or lane you need to be in before a turn, cutting stress and complication. Sometimes called 'advanced lane guidance'.

Route planning: Want to stop at several places on the way to your destination? This function will let you do just that.
How much should I pay for a sat nav?
The least expensive sat navs start at around £50, rising to around £150 for a mid-range unit. Expect to pay between £250-£350 for a top-spec sat nav, though. Keep an eye out for units from Garmin, Mio and TomTom, as these are generally the best and most common.