What is it?
The 66W is the top of the range dash cam in Garmin's newest range. Along with the basic Gamin Mini dash cam (which we'll be reviewing soon), the new range also includes the 46 and 56 - which is the upgraded version of the Garmin 55. 
The range-topping 66W model features an extra-wide 180-degree field of view, 1440p resolution footage, voice control and safety speed camera alerts. The diminutive unit is a neatly designed little thing, but how does it compare to Nextbase's new - and cheaper - top of the range 522GW dash cam? And, more importantly, does the Garmin 66W justify its high price?
What's it like?
We rated the Garmin 55 dash cam very highly, so we had high hopes for the 66W. Fortunately, straight off the bat, the new Garmin model impressed us. Smaller dash cams are much easier to hide behind your mirror, keeping them out of your eyeline and keeping you within the law - which states that it doesn't intrude more than 40mm into the area covered by the sweep of the wipers. Upon setup, the dash cam asks if it will be mounted on the left, right or centrally on the windscreen.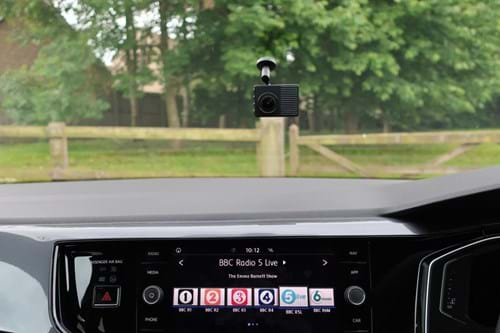 The camera is charged via USB - which means it can be charged using your car's USB port or you can use the USB-to-12v adapter supplied in the box to plug it in via the 12v socket. In the box, you get two different length USB cables - 4m and 1.5m. The magnetic mount is also a great addition, meaning you can remove the camera quickly and easily to keep it away from prying eyes when you aren't in your car.
While the adhesive mount is very strong and there's no issue attaching it to the windscreen, the mount is very difficult to remove once it's stuck on. So, ensure you know exactly where you want the dash camera to go before you fix the sticky side of the magnetic attachment to your windscreen. With that in mind, the standard Garmin mount isn't ideal if you want to regularly move the dash cam between vehicles. Fortunately, you can buy a suction cup mount from Garmin's website for £12. Or from Amazon, but it costs more.
The Garmin films in various different resolutions, with an impressive 1440p at 30fps (frames per second) High Definition being the highest. At a higher frame rate, the 66W records in 1080p at 60fps - which means the footage will be smoother but lower quality. The camera also films in 1080p @ 30fps HDR and 720p @ 30fps HDR - with Garmin's Clarity HDR increasing detail in low-light situations.
Shooting in lower resolution can save space, so sometimes it's worth lowering the quality if you're on a long drive and don't want the camera to overwrite footage from the start of the journey. Or you could just get a big microSD card, like 64GB. Another plus with this dash cam is the 180-degree wide-angle view. It gives a bit of a fisheye effect but we don't mind that.
Essentially, it means the 66W can capture footage of four lanes at once - which is a good thing if someone swings across a roundabout or crosses multiple lanes on the motorway and hits your car. If you do get into a collision, the dash cam will also automatically save a video if the G-sensor detects an incident.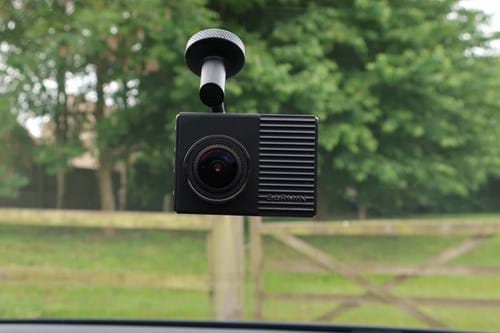 Like most dash cameras, it records in a continuous loop - so you'll need to save any footage you want to keep or it will be overwritten by new footage. You can also share and save videos to your phone via WiFi using the Garmin Drive smartphone app (which is free and much improved over Garmin's previous VIRB app). The app is pretty limited, only allowing you to browse and download images or videos, but it serves that function well enough.
As with the Garmin 55, the menus on the 66W are very intuitive to operate using the four buttons along the side, allowing us to change settings, set up voice control, connect the app etc. The 2-inch screen isn't a touchscreen, so whether or not you see that as a pro or con will just be personal preference. The dash camera's GPS provides location and speed data, which many insurers now request when reviewing footage in the event of liability disputes over an accident.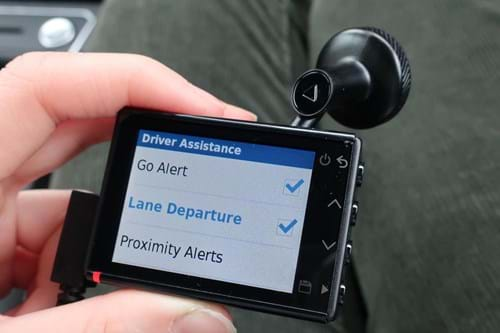 The device can be voice-controlled saying, "Okay Garmin". This lets the device know you're about to give it a command, and then you can tell it to save videos or pictures, turn audio on or off, turn on Travelapse etc. This system works well, albeit for limited commands, but if you have the radio on the dash cam sometimes thinks it's heard an instruction and will mistakenly carry out said command - like recording your journey in Travelapse mode.
The Travelapse feature takes still images as you drive and stitches these into a movie that will show you a quick version of your journey as if you're fast-forwarding through a video. This isn't exactly a useful feature, but it's a fun option for those that might want to catch the sun going down on a scenic drive. It's a nifty feature, but not one that we think many people will use and, thus, not one we think is worth paying a premium for.
The Garmin 55 also offers plenty of driver assistance systems. These include forward collision warning alerts if you drive too closely to the car ahead, lane departure warnings and Go alerts - which notify you when traffic ahead of your vehicle is moving again. The dash cam also provides speed camera and red light camera alerts via subscription-free updates on the Garmin Drive app. It beeps if you go over the speed limit too.
As with most dash cameras, the Garmin 66W doesn't include a microSD so you'll need to buy one separately if you want to use it straight out of the box. The dash camera accepts at least 8GB microSDHC cards (class 10 required), like this SanDisk Ultra 16GB microSDHC or this slightly cheaper Kingston 8GB microSDHC with an SD adapter.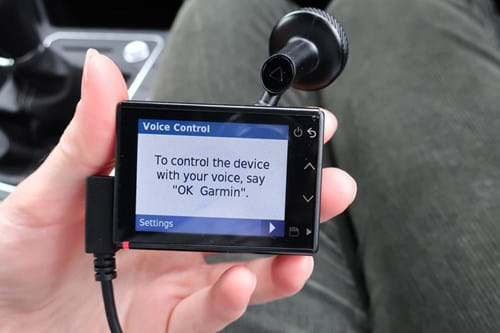 Should I buy one?
Like the Nextbase 522GW dash cam, which is about £50 cheaper, the Garmin 66W packs a lot of features into this new dash camera. However, the Garmin 66W only offers voice control where the Nextbase offers Amazon's voice assistant - Alexa. Alexa is an impressive feature, especially considering the Nextbase range are the only dash cams to have it. However, that depends on how interested you are in voice assistants.
The Garmin does have an advantage in offering alerts to warn you of speed cameras and red light cameras, but the Nextbase offers Emergency SOS - which alerts local ambulances if it detects that you've been in a collision. Which feature you'd prefer to have is quite subjective, so that's a choice we'll leave you to make.
Unfortunately, the Garmin 66W's price tag isn't as small as it is - and that's possibly the downfall of this dash camera. While footage quality is excellent, as are the driver assistance systems, the range-topping 66W doesn't record in 4k resolution - meaning we can't see why it sits at the £200 mark. When you factor in the 25% discount on a Sure Thing insurance policy with any Series 2 Nextbase dash camera, the Garmin doesn't make so much financial sense.
Bottom line: If you can afford it, the Garmin 66W is a superb choice - but the features it offers may not appeal to you as much as those in rivalling, premium dash cams. Or, for £120 (at the time of writing), you can get the Garmin 45 dash cam, which offers slightly lower resolution at 1080p and no voice control capabilities but is still very good.