What is it?
Alongside its main sets, Scalextric produces a huge range of individual cars you can buy, with everything from classic Le Mans racers to American muscle cars. The Rusty Rides set has a Volkswagen Beetle and T1 Camper van, both finished in a distressed 'rat look', which come in a posh presentation box and are limited to a run of 1800 units. You even get a little card to tell you what number your set is.
Priced at £85.99, the set works on any Scalextric track and both cars come with 'xenon effect' headlights along with rear lights, plus of course plenty of high detailing including rusty paintwork and proper door mirrors.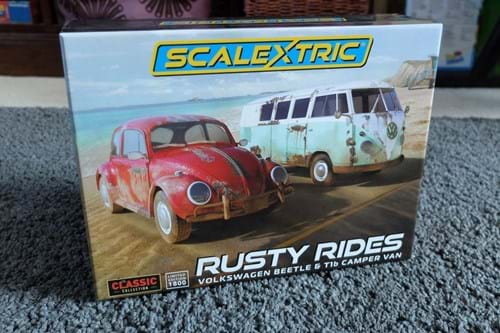 What's it like?
We're used to Scalextric models being all glossy and looking brand new, like our American Classics set, so the Rusty Rides set immediately stands out. It comes in a nice solid presentation box, so it's something you'll want to look after. In fact, both cars are so good to look at, we were almost reluctant to remove them and get them on track.
These are Scalextric 'high-detail' models so you get things like proper door mirrors along with the weather-beaten paint look and even rusty bumpers. They look superb, but that does mean there's more to break. The wing mirrors are particularly susceptible to coming off (tip - don't let a three-year-old help you test them out...) - so these are cars you want to take care with.
We also had a few quality issues with one of our cars. The rear screen of the red Beetle doesn't fit properly and we haven't been able to get it to sit right, which is disappointing on a limited edition set costing this much.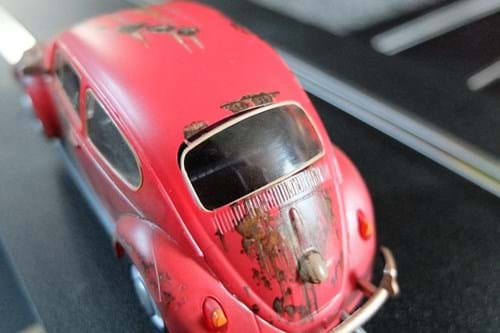 On the plus side, both the Beetle and T1b Camper come with working lights, front and rear. Scalextric calls the headlights 'xenon effect', which means they're bright white LEDs. Along with the rat look, this gives both that extra character over standard cars but even better is the fact that they somehow actually sound like classic Volkswagen's with a hint of that flat-four engine as they whizz around the track. 
The T1 Camper stood out as our favourite in the set, probably because it's rare to see a van on a Scalextric track. The rusty and worn rat look works better on the white and light blue paintwork, although we're still a little confused as to why it's left-hand drive when the Beetle is a right-hand drive. But maybe we've been looking at them too much...
Both come with Magnatraction magnetic system, so it's easy to build up a fair bit of speed with both without them losing traction in corners, although as you'd expect it's the camper van which is the first to slide around, the quicker you go.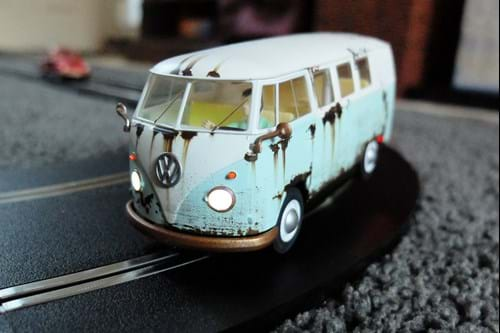 Should I buy one?
The Rusty Rides set is not cheap at more than £85, but that's the going rate for Scalextric cars so it's not much more expensive than standard cars you can buy individually. Given that they're a limited edition, we think this set is a good investment for any Scalextric fan and the presentation box is a lovely place to display them. The look is very different from the usual Scalextric racing cars so if you want something that stands out, this set is ideal.
The working lights are a neat extra and the fact they even manage to sound like that characteristic Volkswagen flat-four engine is impressive. While there's no shortage of models for Scalextric buyers to choose from, both new and old, we think these stand out as something a bit special. Scalextric also sells other T1 camper and van models and is launching a rusty yellow Beetle this year.