What is it?
Set in the heart of Cumbria, Appleby Castle is a heritage site nestled in the Eden Valley along the outskirts of the Lake District and steeped in history. As one of the country's few remaining Norman keeps, this motte and bailey castle boasts a selection of characterful guest rooms, decorated with artefacts and antique furniture.
This voucher from Buy a Gift includes a continental breakfast with your overnight stay for two and a selection of rooms including Thanet (superking or twin), De Morville (double), Atkinson (superking) or Sackville (double). The voucher is valid for 10 months, however, there's a supplementary fee of £20 per booking per night that applies to overnight stays on Fridays and Saturdays during the months of June and September. The voucher also excludes public holidays, school holidays and the months of July and August.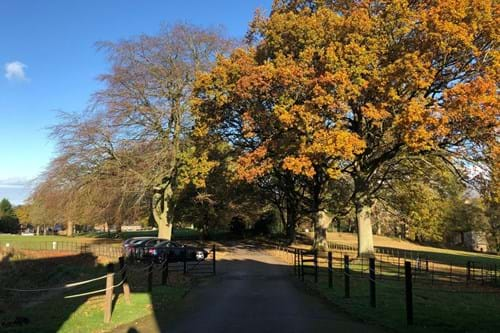 The smaller car park is near the castle's reception
What's it like?
Arriving at the castle is quite an experience. We undertook the trip in early November, which meant it was dark when we arrived around 5pm. Although, arriving in the dark won't be an entirely unusual occurrence for voucher holders considering the stipulations on booking certain summer months and the fact that check-in is at 3pm.
Parking is split into a small gravel area near the castle entrance, which fits four cars and was full upon arrival, and a slightly larger car park set near the entrance gates. The castle also isn't well lit, so carrying our bags up the long driveway in the dark and cold of November wasn't exactly an ideal start to the experience. For those planning to take heavier bags that don't have wheels, rethink that move. You'll thank us if you end up staying on the third floor like we did, considering there are multiple flights of stairs to traverse.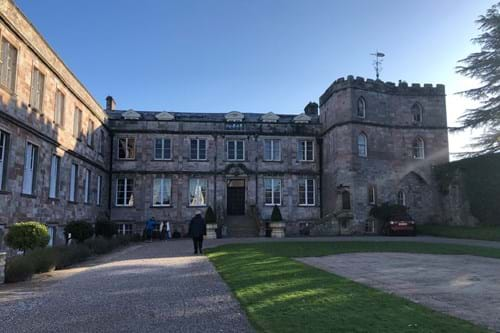 Reception is tucked away in the left corner
Upon reaching the entrance, which is a little bit difficult to find in complete darkness, there's a doorbell that a member of staff needs to come to answer to let you in. There's usually someone on the front desk, but the instruction email that we were sent before our stay does advise you to let staff know if you plan to be out later than 11pm so they can ensure someone is there to let you back in. 
Checking-in was very easy with the staff being helpful and friendly. The castle itself is lovely inside, although needs a little bit of TLC in our opinion. There were some unusual quirks to the place, too. For example, when we were taken to our room, we were told that we could use any of the leisure rooms on the second floor to relax in. We took them up on the offer after unpacking our bags and sat in what seemed to be a reading room of sorts, but there was some tension with staff hanging about waiting for us to want something. While friendly, there is a bit of a disconnect - meaning the stay wasn't what we'd call relaxing.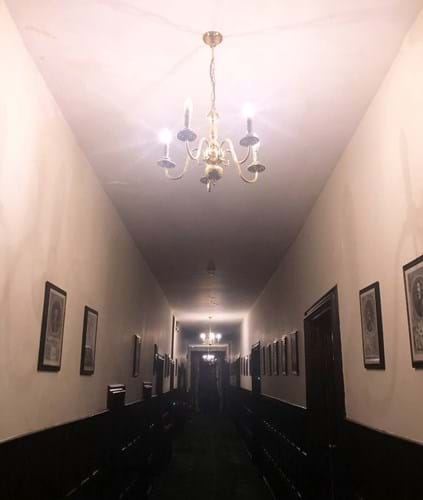 The castle is steeped in history but could use some sprucing up
The rooms themselves are nice, although - again - could use some minor renovation considering its about £160 per night to stay. The bathroom and shower in our room were great and there are interesting antiques placed around, but the general look of Appleby Castle's interior is a bit scruffy with furniture being placed randomly around in certain rooms. The games room, for example, has one light inside which made playing snooker, darts or skittles (all of which had missing or broken pieces) almost impossible at nighttime.
We went to a pub in town and stayed there for a few hours before heading back to the castle. Even at 10pm, the path up the castle isn't lit at all. Therefore, we had to use the torch on our phones to light the way back, which aside from being vaguely terrifying, is just another small detail that unfortunately made the stay a bit of a hassle in ways it shouldn't be.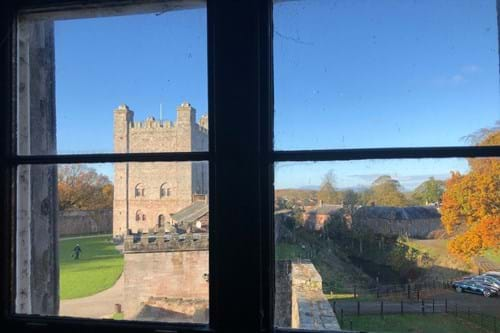 The view from our room, the Hothfield
Upon returning, the staff were friendly, offering us drinks and welcoming us to sit and enjoy a piano player that was entertaining that evening. While we didn't stay for dinner, we heard from other guests that the food and candlelit ambience of the dining room are lovely - so it's probably a good investment to add to your stay if it's a couples trip. The staff also offer tours of the castle and grounds, however, it's only about an hour long and only allows access to one, otherwise unseen, room in Appleby Castle.
Leaving the castle in the morning is an entirely different experience from arriving, with the gorgeous autumnal colours really brightening up the grounds. We were blessed with a rare day of clear, sunny November weather - which was perfect for a morning stroll and made trekking back down the winding pathway to our car far easier and more pleasant. 
The town of Appleby-in-Westmoreland is expectedly quaint and full of small-town charm with features like a local toy store, cafes and easy to find tourist information centre undoubtedly appealing to city folk who fancy a weekend getaway to the countryside. The location of the castle is also excellently close to the Lake District. We reached Ambleside, which is definitely worth a trip if you go to Appleby, in about an hour of setting off from the castle. There are multiple places worth stopping for a walk or to take photos of the view along the scenic roads, too.
Should I buy it?
As enjoyable as the weekend was, the niggles of the stay coupled with the price makes it hard to whole-heartedly recommend. If you're planning a romantic excursion up to the Lake District and want to stay in a real-life castle, this experience is perfect. However, for the same money, we'd probably recommend booking a nice Air BnB, bed and breakfast or hotel and a fancy dinner considering the abundance of beautiful options around the area.