What is it?
The first official history of the iconic Aston Martin DB5 which has become synonymous with James Bond, this oversized coffee table book is 280 pages long and features more than 300 photos charting the history of the various Aston Martin DB5 cars used in the Bond films since its first appearance in 1964's Goldfinger.
The book has been researched in collaboration with both Eon Productions and Aston Martin, while it includes a foreword from Daniel Craig along with Aston Martin's Chief Creative Officer, Marek Reichman and James Bond producer, Michael G. Wilson.
It includes storyboards, diagrams, design materials plus rare behind the scenes photographs of the car during filming.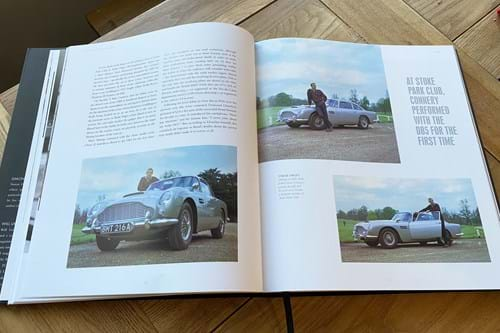 What's it like?
There's a new Bond film out this year if you haven't heard. Maybe you've been living under a rock. A new 007 film always creates huge interest but No Time To Die is extra special as Daniel Craig's final outing as Bond. Many critics suggest he's the best actor to play Bond since the great Sean Connery and who are we to argue. Even if we do miss those now cringeworthy quips from Roger Moore.
And a new Bond film always means plenty of 007 related merchandise - especially as No Time To Die sees another outing for Bond's iconic Aston Martin DB5 which first debuted in Goldfinger. Bond aficionados will of course point out that 007 drove a Bentley Blower in several of the books, but lets not open that can of worms here.
What's special about this book is that it's the first official history of the Bond Aston Martin DB5 and includes a foreword by the aforementioned Mr Craig no less. It's not the longest foreword ever but still. More interesting to Bond fans will be the 300 plus pictures which cover the history of the Bond DB5 (did you know BMT 216A was originally red?) including the modifications made before its first appearance in Goldfinger.
There are some of the great pictures of the original sketches showing how they created the famous control panel, the machine guns in the headlights and of course the ejector seat button. It also points out how to tell the 'real' customised DB5 from the one used for high-speed driving scenes (side indicators and number plate font if you're wondering).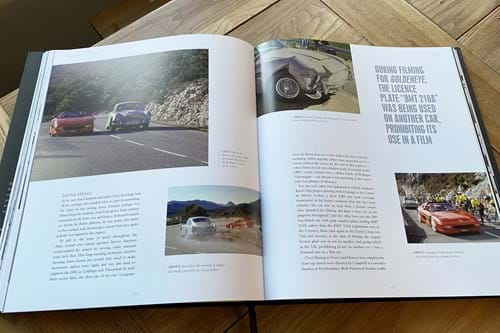 Bond geeks will revel in the details about the various Bond DB5s used for filming, their subsequent ownership and where they all ended up. One replica is residing in a restaurant in Vancouver of all places while a 23-year-old Anthony Bamford, who went on to be chairman of JCB, bought two for £1500 in 1969, complete with gadgets.
Post Thunderball, the book then charts the return of the DB5 in 1995's Goldeneye, this time with Pierce Brosnan behind the wheel, no doubt seductively grunting out some lines of dialogue. Before bringing things up to date with its appearances in Casino Royale, Skyfall, SPECTRE and No Time To Die.
In between there are lots of the official pictures of the DB5, which some may find a little dull. Do we need to see the shock absorbers? But we can't deny that this is a nuts and bolts look at the car, we just prefer the behind scenes pictures.
There are also chapters on DB5 toys, like the Corgi model everyone wanted and Bond's other Aston Martin cars like the DBS in On Her Majesty's Secret Service and the V8 that Timothy Dalton drove in The Living Daylights (surely one of the most underrated Bond films).
The book itself has lovely glossy pages and a quality finish. It's definitely one to savour and to sit proudly in your bookcase.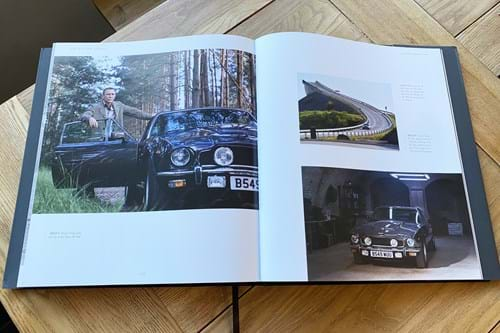 Should I buy one?
If you're a Bond fan or know one, then most certainly yes. Not only does it have some beautiful and rare photographs but it's full of fascinating facts about the various DB5 models that have been used throughout the history of the Bond films, from its early appearances in Goldfinger and Thunderball to its return in Goldeneye.
It's a very interesting read but you can also easily dip in and out of it, while those with a passing interest can enjoy the pictures. It retails for £40 but we've seen it on Amazon.co.uk for £24 which we think is a bargain.