Quick note: We've got a brand-new motorcycle and scooter expert on Honest John Kit, so if you have any questions about licences, riding kit, what moped or motorbike to choose, or anything else - head on over to Ask HJ.
If you're a young rider looking for a cheap commuting motorbike, Lexmoto should be your first port of call. The Exeter-based firm sells 18 different motorcycles and 13 scooters, yet nothing in its Chinese-built range exceeds 125cc or £2000. Not even the Viper 125, which is one of its pricer models. 
Chinese bikes have had a tough time in recent years. Ask any seasoned biker and they'll warn you off. "Those Chinese bikes are no good", they'll tell you – even if you go for the Viper 125, tested here. Ten years ago they would have been right. Really, the cheap Chinese imports of the time were just scrap metal arranged to look a motorbike from the early 1980s. Now though, things are looking a whole lot better. When the Viper was delivered to our office, expectations weren't exactly high but the first impression was surprisingly good. The styling is modern, with a 'beak' mudguard and LED tail lights giving a nod to pricier, full-sized machines.
It looks like a modern machine – and it feels like one. The most important up-to-date addition is fuel injection, versus the simple but unreliable carburetion (especially in cold weather) used in earlier Lexmoto bikes. It works, too – thumb the starter and the Viper fires up without any drama and is very smooth and quiet at idle. The engine is a simple, single-cylinder four-stroke with only around 11PS, but so is pretty much everything else this price.
So you shouldn't expect fireworks. But there are five gears and there's a surprising punch up to 30mph. Above that, the engine needs to be worked quite hard and progress is slow, but you can keep up with traffic on a 60mph road if you're patient. The clutch is smooth, the gear selector is light and the bike is so manageable that any beginner will find it welcoming – and that's exactly how a 125cc bike should be.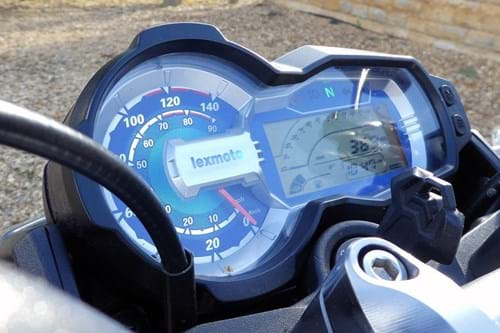 If you're an urban rider, fitting through gaps and sprinting away from traffic lights is easy and the bike has just about enough road presence to be noticed by car drivers – though whether they'll respect your L plates is a different matter. Take to a twisting road and the Viper is a decent ride – the suspension soaks up the worst bumps, while the bars give plenty of leverage.
That, along with quite narrow wheels, makes the Viper quick to turn into corners and effortlessly easy. That said, don't expect mountains of grip from the budget tyres, nor the most potent performance from the brakes. There is no ABS, but since the Viper complies with Euro IV regulations it does have a linked braking system, with the front brake lever operating lightly on the rear brake as well - and vice-versa.
It works imperceptibly and will provide some improved stability on slippery surfaces. For low capacity bikes, ABS is not a requirement of recent Euro IV bike legislation but it definitely does a better job than linked brakes in really bad conditions, so if you're a year-round rider bear that in mind. ABS is a feature of some 125cc bikes, if you're willing to spend more for something like a Yamaha MT-125.
Something else you'll need to worry about if you ride all year and in all weather is build quality, which has always been questionable on Chinese-made bikes. It's an area we can't comment on, since we didn't get to ride a ragged, two-year-old Viper, but things do seem at least fairly well constructed and well put together, so there's hope it'll see you through road salt and sleet - but keep an eye on parts like the exhaust. Fortunately, spares are easy to get hold of and cheap.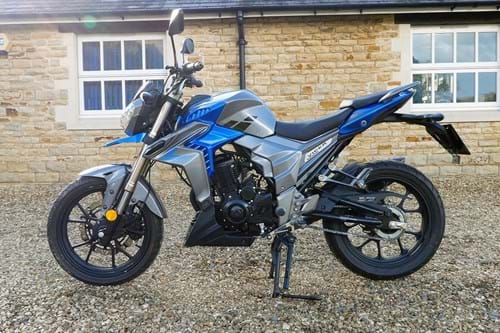 It's not just a basic bike – there are some useful extras. There's a gear indicator, along with a digital tachometer so you can get to grips with changing gears more easily as a new rider. There's also a fuel gauge, a surprisingly uncommon feature on motorcycles, that should keep you from getting stranded. Not that you'll need fuel very often. Economy isn't quoted, but expect around 100mpg.
The Viper has a little trick up its sleeve too. There is a space under the pillion seat for a smartphone and there's a USB connector, so you can charge your gadgets. Not only that, you can also play music from a USB stick or via a built-in FM radio. It's a gimmicky feature, really, since at any more than walking pace you can barely hear it and the audio quality is downright bad. Still, it's there and it works when you're parked up or crawling through traffic.
There are a few question marks – the footpegs aren't spring loaded so will sometimes get wedged up when pulling away, leading to awkward leg-flailing, while the controls for the audio system don't have the same fit or finish as the switches and levers on the bars. The analogue speedo seems a bit optimistic too. But really, it's par for the course. This isn't an expensive bike and, for the price, there's more to like than to pick fault with.
If you're a new rider and you want to get onto two wheels without picking up a boring scooter or a dull, plain commuter bike then it's hard to fault the Viper. It might not have the handling or pace of the Yamaha MT-125 but it costs half as much and definitely isn't only half as good. If you're on a budget or you're young and want to save a bit of cash towards a bigger bike in a few years, it's a great place to start.