What is it?
The Holwell 1.0 is a classically styled, textile motorcycle jacket from Oxford Products with CE Level 1 protectors in the shoulders and elbows, as well as a short connection zip for attaching riding trousers. The wet-waxed cotton jacket comes in black, red or green with sizes ranging from S to 5XL.
What's it like?
The Holwell is produced by British Millerain, a waxed cotton and outerwear specialist based in Lancashire. The collar features a rolled neoprene finish and corduroy facing on the inside as do the cuffs, adding big style points. It has a big YKK No10 zipper at the front with metal closure studs, zipped pockets on both sides, chest pockets on both sides (although, none of the pockets are very deep) and an interior pocket.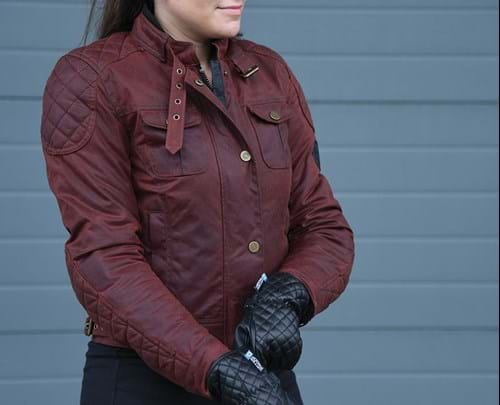 Inside, it has a breathable membrane and a comfortable, quilted Oxford Products lining - which is completely removable for warmer days. There's also a short connection zip for attaching riding trousers. Our jacket (size small) fits well and doesn't feel exceptionally bulky. It kept us toasty warm on a chilly October ride along some rural roads and we really like the styling. The green jacket looks especially appealing, in our humble opinion.
We paired the jacket with Oxford's Mondial Advanced Pants, although on a warmer day we'd definitely go with a sleeker pair of trousers (style and all that). However, the salopettes design of the Mondial trousers means they sit quite high up, so it compensates for the fact that the Holwell 1.0 is a reasonably short jacket. Not too short that we felt cold, but definitely not a jacket for the coldest riding months.
There are zip adjustments on the sleeves and metal stud closures too. And, of course, there's provision for a back protector of your choice (Oxford level 2 protection OB101) and CE Level 1 protectors to shoulders and elbows as standard. The whole jacket is CE approved to level A.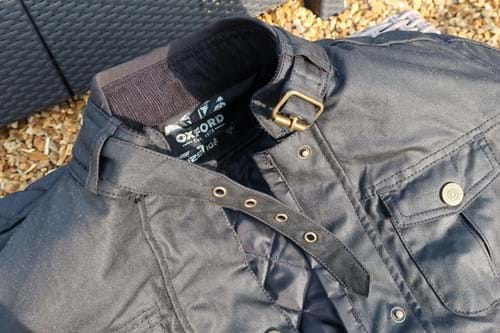 Should I buy one?
Pricing isn't too bad, with the Holwell 1.0 retailing at around £200. Although, there are plenty of good, cheaper options around - with brands like Weise and Spada offering decent alternatives for sub-£100. We've helpfully rounded up some of our favourite budgets buys here for you.
With the Oxford Holwell 1.0, however, you're paying for the quality and the style. We have a few riding jackets but we almost always opt for our Oxford Mondial simply because it's such good quality and very practical. And, with the Holwell 1.0, we've probably found our go-to jacket for the summer.
Saying that, if you're looking for a winter jacket (arguably, less style-focused than the Holwell) - the Mondial jacket is currently sat at about £250 on Amazon. That's quite the steal considering it retails at around £400. 
Click here to buy now from Sports Bike Shop