What is it?
The RTC200 is Ring's new, analogue tyre compressor. The new machine signals a big departure away from Ring's previous tyre compressors, with the new flat-to-the-ground design improving stability. Ring claims the RTC200 can inflate a 13-inch tyre from 0 to 35PSI in less than 4.5 minutes, powered straight from the in-car 12V socket.
What's it like?
The RTC200 comes in a box that's barely bigger than the tyre inflator, which also includes a user manual. The main feature on the tyre inflator is the circular analogue dial, which displays pressure in PSI, bar, KPA and kg/cm2. The large on/off button sitting at the bottom of the device makes starting it with your foot a doddle.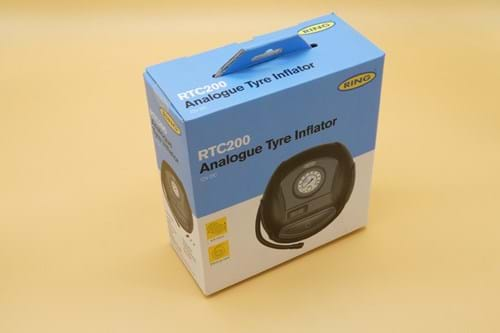 The cable and air line are neatly stored within the inflator, while the three attachments for bikes, air beds and other inflatables are clipped into place near the 12v wire. Like most simple tyre inflators, there's no set up required with the RTC200; it's simply a case of plugging the 12v end into your car's cigarette lighter and attaching the compressor nozzle to the tyre's valve.
Turn your car on and hey presto, you're ready to go. The Ring RTC200 inflates a 13-inch tyre from flat to 35PSI in less than 4.5 minutes. The air hose does the job well enough and looks reasonably sturdy, but it's a bit shorter than we'd like at 50cm. The power cable is usefully long (3m), though, so it's not a big issue.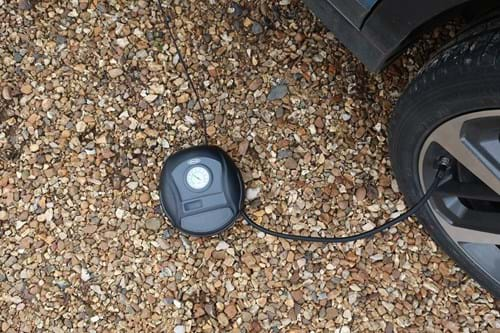 However, a bigger problem was that of the 12v wire. It was difficult to actually plug into the 12v socket in our car. We've not faced this issue before, having tried multiple dash cams and sat navs in the same vehicle. We did eventually get it plugged in, but we had to shove it quite hard into the 12v socket to get the compressor to turn on.
It was effortlessly easy to use once we'd got the machine switched on, and the cable and air line wind back into the RTC200 with a spinning dial quickly for tidy storage.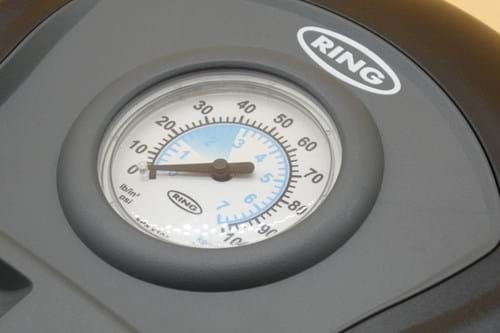 Should I buy one?
Obviously, extras like a light or a digital display would make a tyre pressure far more useful. However, at this price, Ring's offering does exactly what it says on the tin.
It's not going to change your life, but this budget, no-fuss approach could be your saving grace considering the potholed state of roads in the UK right now. It's a smart idea to buy one - even if you never end up needing to use it.