Top 10: Best Sat Navs to suit all budgets 2020
A navigation system is more or less essential equipment for any modern motorist – after all, who wants to read a map when a computer will do it for you? Built-in navigation systems are expensive, though, leaving many motorists little option but to get an aftermarket system.
But with so many options across such a broad price range, what do you pick? Here is our run down of ten options, ranging from free to rather expensive. And if you're baffled by sat nav terminology you'll find out jargon buster page here.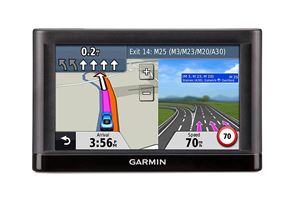 1
Garmin Nuvi 42 – from around £60
The Nuvi 42 is one of the simplest navigation units Garmin offers, providing the very basics and nothing more. There are two versions – one covering the UK and Ireland and another, for around £10 more, that encompasses western Europe.
It includes speed camera locations where legal, plus it has a lane assistance function to help pick the correct lane when leaving a motorway or approaching a large roundabout. Aside from that, there's not much to it – but it's cheap, easy-to-use and reliable.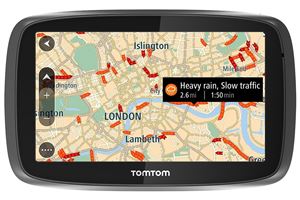 2
TomTom Go 6000 – from around £250
The Go 6000 is TomTom's best navigation system. It has a large, six-inch capacitive touchscreen and uses built-in connectivity for its advanced functions, meaning you don't have to pair it to your smartphone to get things like traffic alerts.
The larger size and built-in connectivity aside, the Go 6000 is largely the same as the Go 5000, albeit with an inch of extra screen. But if you really want to go all out with your dedicated navigation system this is probably the best way to do it.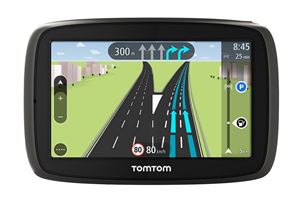 3
TomTom Start 40 – from around £80
40 refers to the size of this TomTom navigation unit, which has a four-inch screen. The 50 has a five-inch screen and the 60 a six-inch screen. Otherwise, functionality is the same across all three – all get lifetime map updates for free, but they do without live traffic information.
They also lack Bluetooth connectivity, so can't be used to make handsfree calls. But if you want a fuss-free navigation with up-to-date maps, the Start series – particularly the smallest Start 40 – makes a good case for itself and can be bought fairly cheaply.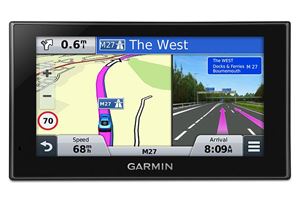 4
Garmin Nuvi 2519LM – from around £100
If you want some of the advanced functionality usually reserved for pricier navigation units, but your budget is restricted, the Garmin Nuvi 2519LM is ideal. If you pair up a mobile phone via Bluetooth it will display traffic information, plus it has 'Real Directions', using landmarks to help with directions.
For example, the navigation will say "turn left at the petrol station," rather than "turn left onto the B1283" to make navigation easier. The 5.0-inch screen is large and clear and can be oriented in both landscape and portrait formats. Mapping covers the UK and Ireland but not Europe.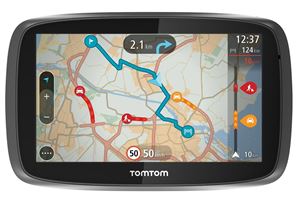 5
TomTom Go 50 – from around £120
Unlike the TomTom Start series, the Go series supports Bluetooth connectivity. This opens up extra functions, including traffic alerts. It has 3D mapping with landmarks to help out when driving in towns and cities and includes lifetime map updates.
Some models come with UK and Ireland mapping, others with all of Western Europe, so be sure to check.  Like the Start series, the Go series is available in a range of sizes from 4.3-inches to six inches, but we think the 50, with its five inch screen, offers the best blend of price and screen size.
Buy it now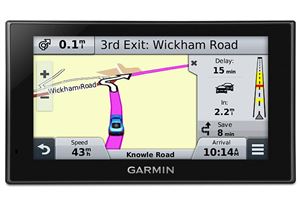 6
Garmin Nuvi 2599LMT-D – from around £150
At the pricier end of the navigation scale, the Nuvi 2599 LMT-D includes traffic alerts out of the box, meaning there is no need to pair up a smartphone. You can pair up if you want to, though, enabling hands-free telephone calls. Mapping supports all of western Europe, with lifetime updates. 
Compared to the TomTom Go 6000 next in our list, this Garmin has a smaller screen, but otherwise functionality is fairly similar. If possible, we'd recommend comparing the two, since some people will find the user interface of one brand easier than another.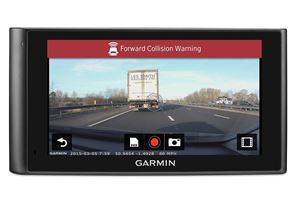 7
Garmin Nuvicam –from around £250
As a navigation system, the Nuvicam packs all the functionality you'd expect of a high-end sat nav, including traffic updates - but it also doubles as a dash camera. With the boom in dash camera sales, combining one with a navigation system is a great idea and it works very well. 
Footage quality is very good, plus the GPS functionality means location and speed information is recorded. The Nuvicam will even provide lane assistance and warnings when too close to the car ahead, so it's much more than a simple sat nav. It's very easy to recommend, even at £250.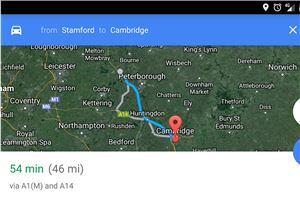 8
Google/Apple Maps – Free
Most people have a smartphone these days – and it'll almost certainly come preloaded with a mapping app such as Google Maps or Apple Maps. These offer free, turn-by-turn navigation and it is usually pretty good.
There are downsides, though. If you're in an area with no signal you won't be able to programme your route - and navigating will eat through your battery quickly if your phone isn't plugged in. You'll also need a phone cradle to make the most of a phone-based nav system.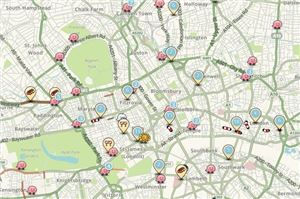 9
Waze – Free
Another smartphone or tablet option is Waze, but it's a little different to the typical navigation system because it shows other Waze users on the map. Waze encourages drivers to use the app at all times by giving out achievements for covering certain distances or reporting incidents.
It's an entertaining, free alternative to a dedicated navigation system that is at its best on shorter, local journeys, since it will keep you up to date and might even make your boring commute a little more fun or a little quicker based on the conditions.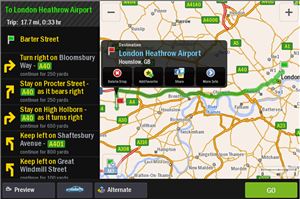 10
CoPilot Pro – from free
Again, this system is phone-based, but it works offline and offers more advanced functionality than free navigation systems like Google Maps. One nice extra feature is lane assistance to help out on motorways and at roundabouts. 
You do have to pay to get the best features, but prices are cheaper than a dedicated nav system. Handy features include marked nearby points of interest, which you can navigate to by simply tapping on them. There are drawbacks of course – the biggest of which is battery drain.
Related Articles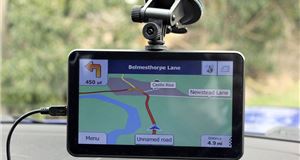 Sat navs
If you're looking at buying a sat nav it's easy to get baffled by the myriad options available. So, we've...