Top 10: Best car seats for babies
Choosing the first seat for your baby can be a headache all round. Get through the jargon and the legalities with our pick of the ten best currently on the market.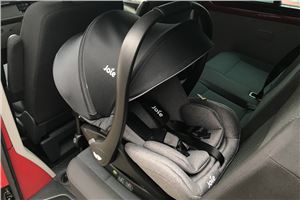 1
Joie i-Level
Weight range: Birth to 13kg
i-Size compliant: Yes
Price: £250 (including base)
Many baby seats clip onto a travel system, making them handy for when you are out and about and don't have room to take a full pram with you. One of the issues with some baby seats is the seating position – it isn't ideal for newborns for hours on end, and they are better off lying flat.
The i-Level is one of the latest breed of seats that allows you to adjust the angle at which the baby sits, so they can be upright and seated when in the car, and flat when you are pushing them around. As well as being better for them, it is also more likely to help them sleep, which is never a bad thing. At £250 it is not the cheapest, but this includes a base and all the latest i-Size safety tech.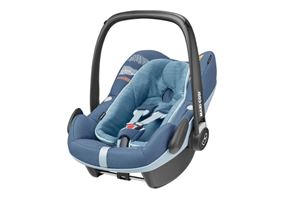 2
Maxi Cosi Pebble Plus
Size range: Birth to 75cm
i-Size compliant: Yes
Price: £199
Maxi Cosi makes both the Pebble and the Pebble Plus, but of the two the Plus is the better option – it is an upgraded version of the popular seat, with the necessary extra side protection and safety features to conform to the i-Size regulations.
The range comes with an integrated sun cover and a wide selection of accessories, and can be secured in the car with a three-point belt if you need to pop it into a vehicle without Isofix for a short trip. At £199 plus the cost of the base, it is quite pricey, but you can upgrade to a bigger Maxi Cosi seat and keep the same base at least.
Buy it now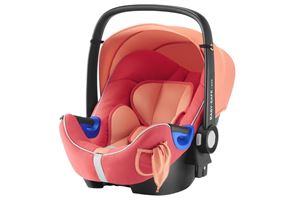 3
Britax Römer Baby Safe i-Size
Weight range: Birth to 13kg/40-83cm
i-Size compliant: Yes
Price: £345 (including base)
Like the Joie i-Level, the Britax Römer Baby Safe offers the ability to lay your baby flatter when you take it out of the car and slot it into a travel system, which is better for their posture and might well help them sleep better on longer days in the seat.
This is one of the reasons for what might seem to be a fairly high price, but this is also Britax's first i-Size seat, so comes with more in the way of side-impact protection. Other tricks of note include a quick removable cover, which can be taken off without removing the harness from the seat, which will be a bonus for any parents with little ones that are prone to travel sickness. There are also lots of different colours and designs to choose from.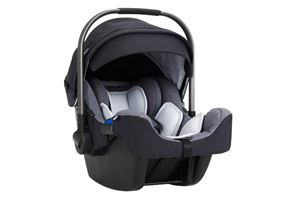 4
Nuna Pipa Icon
Weight range: Birth to 13kg
i-Size compliant: Yes
Price: £170 (not including base)
The Nuna range of car seats is not the biggest - in fact there are only a handful - but that does mean it's easy to understand which is the right seat for what age. And if you want a car seat for a new baby - the Pipa is the one to go for. There are in fact two versions of the Pipa - the second being the Pipa Lite, which as its name suggests is the lightweight version. Like other Nuna seats, the Icon feels a high quality product and comes with an integrated all-seasons canopy with two positions and a flip-out eyeshade.
It can be fitted with a seatbelt, but we'd always recommend using the Isofix base. It's safer, quicker to fit and lot easier all round. You'll often find the Pipafix Isofix base bundled together as a deal - we've seen it online at Mothercare for £250.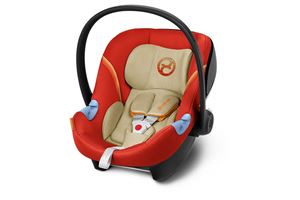 5
Cybex Aton M
Weight range: Birth to 13kg
i-Size compliant: Yes
Price: £160 (not including base)
The Aton M is the newest seat in Cybex's range, and is another that can be used on a base that can accommodate a bigger seat, meaning you don't need to buy a second base as your child grows (so long as you buy another Cybex of course).
It's chunky, at 4.6kg, but that is pretty much par for the class. Although it isn't designed to take a child any heavier than 13kg, there is a wide range of adjustment in the headrest – it can be put in one of 11 positions.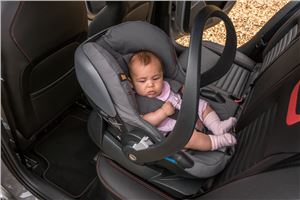 6
BeSafe iZi Go
Weight range: Birth to 13kg
i-Size compliant: Yes
Price: £199
Norwegian company BeSafe says that the iZi Go goes beyond the latest i-Size safety requirements, with extra padding increasing its side impact protection. Some parents have said this makes it seem as though the baby's head is quite snugly contained, but it should ensure that they are kept still and this shouldn't be an issue unless your little one has a problem with their head being held a little closer while driving.
The iZi Go is a relatively lightweight seat, at just 3.5kg, but it still boasts a five-point harness with a magnetic belt holder to help keep the clips out of the way while popping the little one in and out. The same seat is sold branded as a Stokke.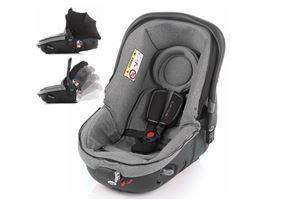 7
Jane Matrix Light 2
Weight range: Birth to 13kg
i-Size compliant: Yes
Price: £300 (Not including base)
The Jane Matrix claims to be a truly flexible option, as it can be folded totally flat and can even be used as a carrycot for overnight sleeping if you pop the right mattress in. Unlike many other flat-folding seats, it is possible to have your baby flat while you are on the move, too. Oddly, this needs you to turn the seat sideways so it takes up both the side and the middle seat.
All this versatility comes at a cost, though, both financially and weight wise. Despite its name, it weighs in at 5.25kg and costs a hefty £300 without the base.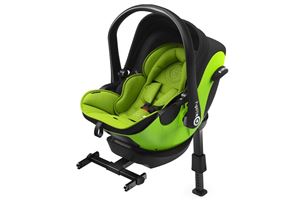 8
Kiddy Evoluna
Weight range: Birth to 13kg
i-Size compliant: Yes
Price: £389 (base included)
The Evoluna boasts a system called 'KLF'. Sadly, this has nothing to do with the 1990s electronic band, and instead stands for 'Kiddy Lie Flat'. As that suggests, it helps the infant lie totally flat, either in or out of the car. Kiddy also says that the seat was developed with newborns and premature babies in mind, as it offers a large amount of support around the head area.
With prices starting close to £400 (sales might bring it down a fair bit, so shop around) it is not a cheap option, but you do get the base included, and a choice between some garish and funky colours.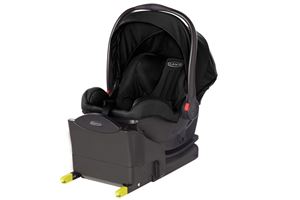 9
Graco SnugRide i-Size
Weight range: Birth to 13kg
i-Size compliant: Yes
Price: £325 (including base)
Most i-Size compliant infant car seats are good for children until they are about 15 months old, but the Graco goes a bit further thanks to an adjustable head rest. This means you can keep using it if your little one is tall and lightweight. So long as they stay under the 13kg weight limit, they should be able to stay in the SnugRide until they are about 18 months old.
The Isofix base comes with adjustability, too, with seven different positions available to help give your little one a little more leg room as they grow and start kicking the seat back cushion.
Buy it now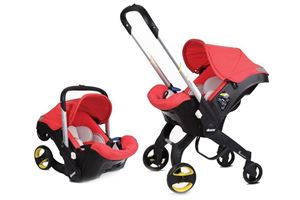 10
Simple Parenting Doona
Weight range: Birth to 13kg
i-Size compliant: No
Price: £279.99
Lots of car seats sell themselves on their ability to be paired with a travel system, meaning you can leave the top part of a pram at home and slot the seat onto the base while out and about.
The Doona goes several steps further and is both car seat and pram in one. It has integrated wheels, which fold up underneath it when you are using it as a car seat, and then flip down to turn into a basic pram while you are out.
As you'd expect, it isn't the perfect solution, as it isn't the sturdiest pram, and as a car seat can only be affixed by the seat belt rather than an Isofix base, making it a compromise on both fronts rather than the best of both worlds.
Similar Products
Related Articles
Child seats