Top 10: Best car child seats 2020
There are hundreds of child seats on the market, but we reckon these are the 10 best you can buy right now, across a variety of different sizes and price ranges.
Don't forget to check the compatibility of your own car by using our unique Car Seat Chooser.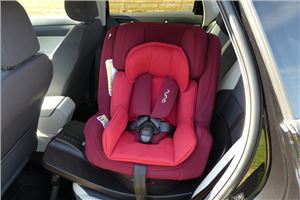 1
Nuna REBL Plus
The reigning Honest John child Car Seat of the Year is a fine unit that will see your child all the way through from the day they are born until they hit 18.5kg, which is likely to be at around four years old. It's hefty, at 16kg, but this is partly because of its increased solidity and the improvement to the side protection that Nuna brought in with its release.
Its swivelling nature means it is possible to keep your child facing backwards for longer, which is recommended as being safer, without swapping them into different seats. The details are what make the Rebl Plus stand out, though and we love the pockets to tuck the strap ends into, the fabric buckle cover and the hardwearing cover.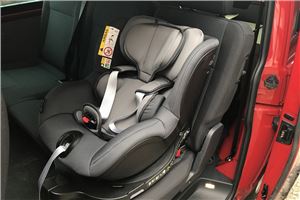 2
Britax Römer Dualfix i-Size
The Römer Dualfix i-Size is the latest version of Britax's swivelling car seat, and it is a solid and easily adjustable unit that will last through the first four years of a child's life. It comes with a reassuringly solid infant insert that means you can pop a newborn in with confidence, but is easily adjusted to take a much bigger child without too much effort.
It's well thought out all round, with the plastic buckles, shoulder pads and quick release adjuster all created with small arms and legs in mind. It's a serious investment, but it should last for a fair while to justify the outlay.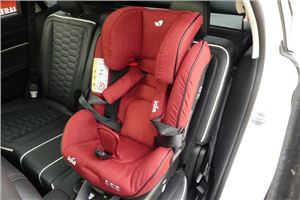 3
Joie Stages Isofix
The Joie Stages Isofix is a bit of a rarity in that it is designed to be used all the way from birth until a child is around seven years old – around three years longer than most adaptable seats. It sits facing backwards to start off with and then can be turned around to face forwards from around 18 months onwards. While it isn't quite as easy to flip it from facing backwards to looking forward as a rotating seat, it isn't far off as the process is very simple.
It's covered in a hardwearing material, which is available in a choice of four colours, that should see it last through its long life expectancy. The seven recline positions mean that it can be tilted backwards for smaller ones that drift off in the car. The £300 price might seem a lot, but not when you consider how long this seat will be a part of your child's life.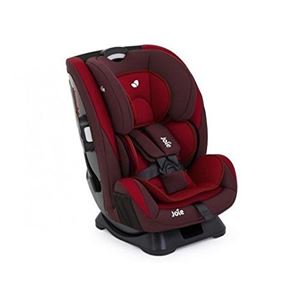 4
Joie Every Stage FX
Joie's taken what might be seen as an odd business approach with the Every Stage FX, as it only wants to sell you the one car seat for the entirety of your child's life. This seat will take you all the way from birth through to when your child tips the scales at 36kg and can dispense with a seat entirely. It can be secured in place with either Isofix arms or the seatbelt, so can be popped into an older car without the requisite hoops.
It doesn't match up to the latest i-Size safety requirements, but it is still fully compliant with the previous, still legal, testing. Partly as a result of this, it is slightly cheaper than it might otherwise be, coming in at just £240.
Buy it now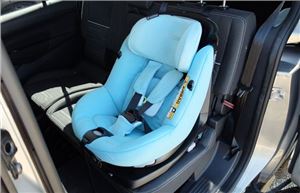 5
Maxi-Cosi Axissfix Air i-Size
Maxi Cosi's Axissfix Air has a claim to be the most technologically advanced child seat, as it is the first of its kind to provide built-in airbags to support and protect the child's head and neck. This improves safety by around 55 per cent versus other Maxi-Cosi seats, but the added technology adds a hefty amount to the price too – the seat comes in at £550.
The seat itself is set on an Isofix base, which conforms to the latest i-Size safety rules, and rotates through 360 degrees so it can be used facing backwards or forwards up to the age of four. It isn't a total solution, though, as Maxi-Cosi says it is only suitable from the age of nine months upwards so isn't designed for newborns.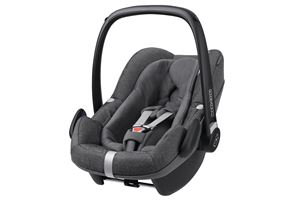 6
Maxi-Cosi Pebble Plus
The Pebble Plus is an update of the very popular Maxi-Cosi Pebble, featuring impact-absorbing side protection, new harness system and a two-year guarantee. The 2wayFix base, which is essentially an ISOFIX base that's sold separately from the seat, allows the Pebble Plus to be used until your baby is around 12 months old. If you then move onto the 2wayPearl car seat with the same 2wayFix base, the i-Size seat can be used rear-facing and forward-facing till your child is four.
The new harness can be adjusted in two ways – shoulder sections move up and down the base of the seat, while the straps can be lengthened or shortened. The seat also comes with the baby-hugger newborn inlay, which is really well cushioned. As a standalone car seat, the Pebble Plus is at the upper end of the Group 0+ market, so it really depends if you plan to move onto the 2wayPearl car seat.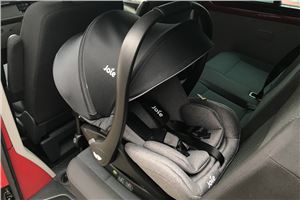 7
Joie i-Level
Many baby seats clip onto a travel system, making them handy for when you are out and about and don't have room to take a full pram with you. One of the issues with some baby seats is the seating position – it isn't ideal for newborns for hours on end, and they are better off lying flat. 
The i-Level is one of the latest breed of seats that allows you to adjust the angle at which the baby sits, so they can be upright and seated when in the car, and flat when you are pushing them around. As well as being better for them, it is also more likely to help them sleep, which is never a bad thing. At £250 it is not the cheapest model around, but this includes a base and all the latest i-Size safety tech.
Buy it now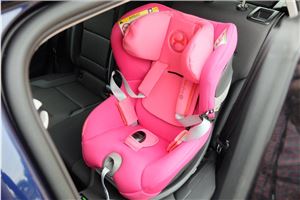 8
Cybex Sirona S i-Size
With a price tag that's less than the Nuna REBL and Maxi-Cosi AxissFix, the Sirona S is a good investment and one that's easy to recommend. The independent Isofix arms make it easier to fit than many too, while we like the softness of the material and the double seatbelt covers. If you've got a young baby, you'll certainly appreciate this.
The Sirona S offers impeccable build quality and a lovely finish to the material with strong stitching. It certainly feels like a high quality seat and one that's a match for any of the competition.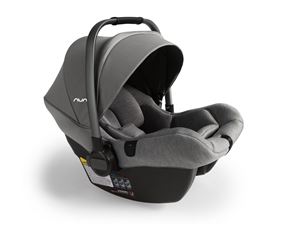 9
Nuna Pipa Lite LX
The Pipa Lite LX builds on the existing Pipa Lite, but it weighs just 2.6kg despite adding a selection of side-impact protection and a heavy-duty shell. It also gets a plush part-merino wool cover and a leatherette carry handle.
Welcome touches include the sun cover, which offers UPF50+ sun protection and stretches all the way over the seat to keep your baby's eyes totally shielded if you so need. It also has a built-in crumple zone in the leg support, which helps absorb some of the impact in the case of a crash. As you'd hope, it also pairs with all of Nuna's pushchairs to create a full travel system.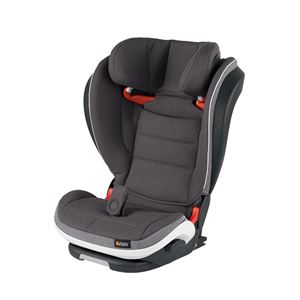 10
BeSafe iZi Flex Fix i-Size
The iZi Flex Fix is the first seat from Norwegian firm BeSafe to conform to the very latest set of safety requirements – the second phase of the i-Size laws. While the first phase concentrated on baby seats, the second set looks at seats for older kids. The changes mean increased side-impact protection, as this is now part of the new crash testing procedure.
It's also designed to be a slim seat overall, so that it takes up less space in the car meaning other passengers have a bit more elbow room, while still giving the child in the seat enough room to be comfortable.