Top 10: Car seats of 2020
There are lots of car child seats on the market, but we reckon these are the 10 best you can buy right now, across a variety of different sizes and price ranges.
Don't forget to check the compatibility of your own car by using our unique Car Seat Chooser.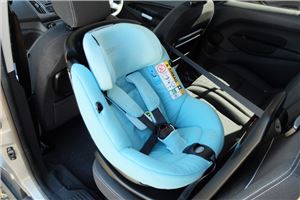 1
Maxi-Cosi AxissFix Air
Airbags can do more harm than good to babies and toddlers, so the advice is to turn them off. The Axissfix Air is the first car seat to extend the benefits of airbags to the smallest passengers, as it comes with a pair of airbags built in that support and protect the child's head and neck. This makes the seat up to 55 per cent safer than the brand's other forward-facing seats, according to Maxi-Cosi, but the added technology adds a hefty amount to the price too.
The seat itself is set on an Isofix base, which conforms to the latest i-Size safety rules, and rotates through 360 degrees so it can be used facing backwards or forwards up to the age of four. It isn't a total solution, though, as Maxi-Cosi says it is only suitable from the age of four months upwards so isn't designed for newborns.
2
Maxi-Cosi Titan
Maxi-Cosi's latest addition is a seat that's designed to grow with your child from around nine months through to 12 years old. The mid-range seat will set you back about £250, and comes with built-in Isofix fittings and a five-point harness for younger children. It can then be used with the car's own three-point belt once they get older.
The Titan comes with a wide range of adjustment, and can be reclined into as many as five different positions, which should make it more comfortable for kids that tend to sleep on longer journeys.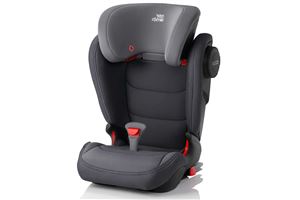 3
Britax Kidfix III M
The Kidfix III M is the latest in Britax's range for growing children, and it aims to boost comfort over its predecessor, the Kidfix II XP SICT, and its rivals. This comes in part thanks to a longer seating section, with a soft front section that allows children of different sizes to find a comfortable position.
The backrest is wider and V-shaped to allow more space as the child grows, but still allows a snug fit.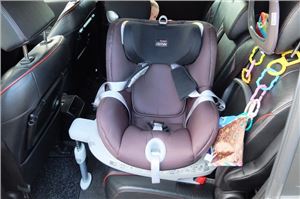 4
Britax Romer Dualfix i-Size
The Römer Dualfix i-Size is the latest version of Britax's swivelling car seat, and it is a solid and easily adjustable unit that will last through the first four years of a child's life. It comes with a reassuringly solid infant insert that means you can pop a newborn in with confidence, but is easily adjusted to take a much bigger child without too much effort.
It's well thought out all round, with the plastic buckles, shoulder pads and quick release adjuster all created with small arms and legs in mind. It's a serious investment, but it should last for a fair while to justify the outlay.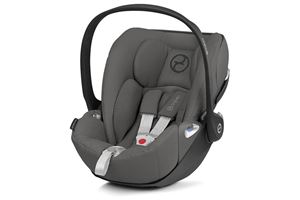 5
Cybex Cloud Z i-Size
The Cloud Z is set to replace the Cloud Q, and aims to offer an upgrade on the newborn car seat. Not only is the Z lighter than the Q by around 15%, it also offers the ability to lie totally flat, although only when the seat is out of the car.
The new base will also offer parents the opportunity to rotate the seat to make it easier to get their little one in and out of the car. It also has inserts to accommodate tiny or premature babies, and has a large adjustable hood that offers sun protection.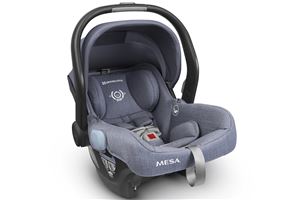 6
Uppababy Mesa i-Size
Uppababy is more known for its buggies and strollers, but the American company is expanding its offering with the Mesa car seat. Designed to take babies from birth up to around 15kg or 15 months, the seat is, as you would expect, fully i-Size compliant. It is also able to take tiny babies weighing as little as four pounds, or 1.8kg.
As you would expect from a company that is primarily a pushchair maker, the Mesa fits onto the brand's buggy bases. It can also, says Uppababy, be released from the buggy by pressing a single button, which is a simpler method than most travel systems.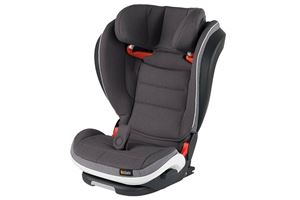 7
BeSafe iZi Flex Fix i-Size
The i-Size regulations have had a huge impact on the baby car seat market, and the second phase of the requirements focuses on seats aimed at older children. They were only announced in July 2017, so most seats haven't caught up yet.
The iZi Flex Fix is the first seat from Norwegian firm BeSafe to conform to the requirements. It adds increased side-impact protection, which is now part of the crash testing procedure. It's also designed to be narrow overall, so that it takes up less space in the car while still giving the child enough room to be comfortable.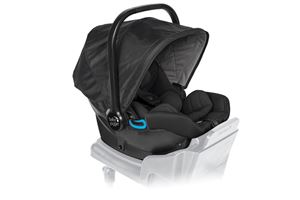 8
Baby Jogger City Go i-Size
Baby Jogger is another firm that fancied breaking into the world of car seats in recent years, and the City Go was the result. To start off with it didn't match up to the new i-Size regulations, but that has been updated for 2018.
The extra safety kit – more side impact protection and Isofix fittings – add a chunk to the price, taking the City Go up by just under £100. It's worth bearing in mind that you need to buy the Isofix base, too, though. Given the buggy background of the company, it's no surprise that the City Go will pair up with Baby Jogger's other products to create a total travel system.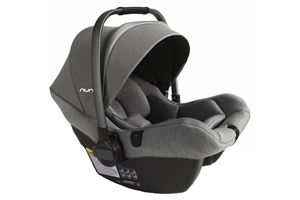 9
Nuna Pipa Lite LX
The makers of the excellent Rebl are releasing a new newborn baby car seat mid-way through 2018, in the form of this Pipa Lite LX. As you'd imagine, it builds on the existing Pipa Lite, but it weighs just 2.6kg. This is marginally more than the standard Lite, but still very lightweight.
Welcome touches include the sun cover, which offers UPF50+ sun protection and stretches all the way over the seat to keep your baby's eyes totally shielded if you so need. It also has a built-in crumple zone in the leg support, which helps absorb some of the impact in the case of a crash.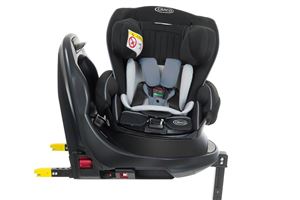 10
Graco Turn2Reach
Graco is the latest to join the spin party, with the new Turn2Reach. It is on a fixed base and offers a little more versatility than some rotating rivals as it also has a lie-flat mode for smaller babies.
As you'd expect of a rotating seat, you can also set it facing forwards or backwards. Oddly for a relatively new seat, the Turn2Reach doesn't appear to conform to i-Size safety standards. It is still perfectly legal, though, and it does mean that it is a bit cheaper than some other rotating seats, and there are savings to be had if you look around – we found a £75 saving on Amazon for example.