Top 10: Child car safety products
The week of June 6 is Child Safety Week in the UK – so we've picked 10 products that can improve not only the safety of children travelling in a car, but the adults sharing with them. Some might be obvious, others less so – but all of these items should make driving with children in the car easier and safer.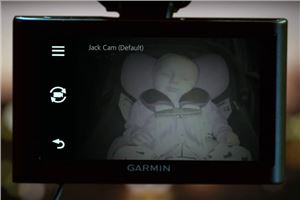 1
Garmin BabyCam - £160
Garmin is well-known for navigation systems and dash cameras – and now it makes a camera aimed specifically at drivers with young children. It fits to the rear headrest and connects wirelessly to a Garmin navigation system, so drivers can see how their infant is getting on at a glance.
It gives a great view into a rear-facing child seat and even has a low-light setting, so can be used when driving at night. It means drivers can spend more time concentrating on the road ahead, since a quick glance at the navigation system is all that's needed to check up on baby.
Buy it now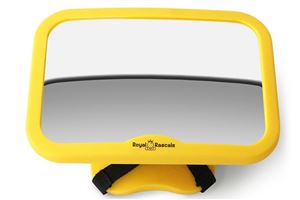 2
Baby-view mirror - £15
A much cheaper alternative to the BabyCam, this wide-angle mirror does broadly the same thing. It clips onto the rear headrest and gives a view into a rear-facing child seat. We chose this Royal Rascals example because it is well-rated by owners, plus it is shatter-proof should something go wrong on the road.
The manufacturer claims its yellow colour has been chosen because human eyes are drawn to it more readily than any other colour, which means a quick glance in the rear-view mirror is all that's needed to have a good look at what your little on is doing. Hopefully sleeping!
3
Nextbase Universal Tablet Mount - £50
Keeping little ones occupied on a long journey is important – it prevents them from distracting the driver, which in turn reduces the chance of having an accident. A tablet PC is obviously an ideal device to have in the car for that purpose, since it can play videos and is easy to use.
This Nextbase mount straps seven to 10-inch tablets to the back of the front head rests, plus it can be wired up so the device never runs out of battery when the car is running. As a means of keeping a tablet in a safe place it's ideal, but the downside is that the tablet can't really be used for anything but videos, since it's out of reach.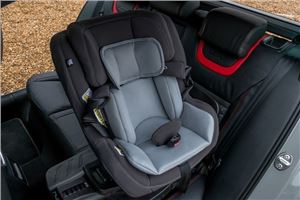 4
Nuna Rebl Plus - £400
This 360-degree car seat is suitable for children from birth right the way up to four years so, while it might be expensive, it's probably going to last quite some time. It exceeds the latest i-size standards, so it's exceptionally safe, plus there's loads of adjustments to keep babies and children comfortable.
It does have a few downsides – it's bulky and it doesn't attach to a pushchair, for example – but when we tested it earlier in the year we were very impressed with its overall quality, as well as the fact it can last parents as long as four years.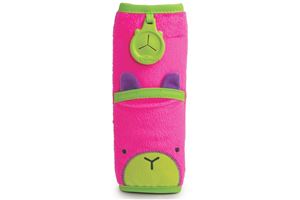 5
Trunki Snoozihedz seatbelt pad - £5
Lots of children fall asleep in the car, which provides parents with some helpful peace when driving. But sleeping comfortably in a car is hard work for anyone, no matter how big or small, which is why this product by Trunki is so handy.
Essentially a soft pad that wraps around the seat belt or harness, it provides a soft, comfortable little pillow. It also has a storage pocket for an iPod with a hole for headphones, so if kids need some soothing music to help them nod off there's a safe, secure place to keep the audio player.
Buy it now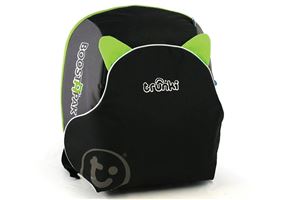 6
Trunki BoostApak - £40
This Trunki product is both a back pack and a booster seat. It's not meant for use as an everyday car seat, rather as a temporary car seat for parents hiring vehicles. It's particularly handy when on holiday, since hiring a booster seat can be tricky and expensive.
It's meant for children from 15-36kg, so of roughly four to 12 years, and is certified to European and United States safety standards. It's also suitable for use as carry-on luggage for aircraft and has space for spare clothing or toys and travel games. Several different colours are available including pink and green.  
Buy it now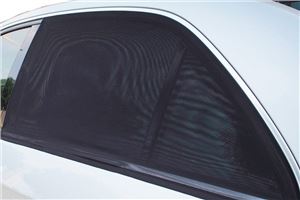 7
Sun shade – from £3
Keeping children safe in a car usually means keeping them occupied and happy or asleep – since an irritable child is a distraction to the driver. A very easy way to keep children comfortable and to help them sleep is to buy some sun blinds to reduce glare and reduce the chances of sun burn.
There are obviously lots of brands vying for attention, but we would recommend a sun shade that entirely covers the rear window, leaving no gaps. There are various designs to choose from, including some that wrap around the whole upper half of the door, meaning the windows can be wound down with the sun shade in place.
Buy it now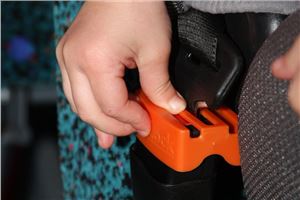 8
BeltLock - £10.50
They say the devil makes work for idle thumbs – work like unbuckling seat belts while on the motorway at 70mph. Fortunately there's a clever little product that prevents children from undoing their seat belt – only an adult with a car key can take it off.
It's meant for the standard manufacturer-fitted buckle, so won't work on the harnesses in child-seats for younger children. But if you have issues with children freeing themselves while on the move this should quickly and easily solve the problem.
Buy it now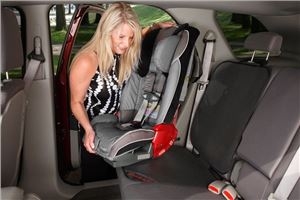 9
Grip It - £20
Designed to keep car seats from moving around, this simple, cheap material not only stops a child seat or booster seat from sliding back and forth or side to side, but it also protects the upholstery in the car.
Obviously it's far from the most vital bit of safety equipment a driver can install, but it's cheap and, particularly for booster seats, it could spell the difference between a child sliding around on a surprisingly tight corner or staying put.
Buy it now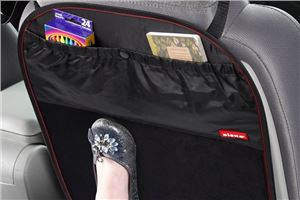 10
Stuff n Scuff - £7
Another item that won't directly improve safety, but can nonetheless make travelling with children just that little bit easier and less stressful. This simple gadget protects the front seat backs from kicking little feet or whatever else a child might hurl or rub on car upholstery.
It also has a handy storage pocket at the top, which means things like toys, wipes and drinks can be kept safely out of reach – and therefore not thrown around the cabin of a car in a tantrum.
Buy it now