What is it?
The 650 GT from CF Moto is just about the most affordable way into middleweight touring as you're going to get when buying a new bike. While some might still snicker at the thought of a bike built in China competing on anything other than price, the 650 GT has a whole lot of other reasons to tempt buyers. Prime among those lures are a low seat height, cost-effective optional hard luggage and strong fuel economy.
The 650 GT builds on that lot with a two-year warranty, a decent spread of standard kit and a healthy dose of practicality. What you don't get is a huge amount of excitement, but then this is motorcycle aimed at those wanting to cover big miles or to commute in comfort. All this at a price that undercuts the opposition by as much as £1600.
What's it like?
Spend any time with the CF Moto 650 GT and one of the first topics that comes up when chatting to other motorcyclists is build quality. Some are dismissive, but most want to know how well the bike is made and how it stands up to regular use. We'd have to use one for months or years to give a definitive answer, but it's clear the GT has been well put together. There's lots of evidence of careful thought and construction, such as the finish around the engine, fixtures and plastics. Rather than making excuses for the bike based on its price, we found ourselves feeling quite smug at riding a machine so well put together that comes with a keen price.
As for the engine, it's a well-proven unit from CF Moto and is used in several of its other bikes. In this guide, it has a relatively lazy 61PS and 58Nm of torque. The engine can fluff a little just above tickover, but keep the parallel-twin motor whirring above 4000rpm and it feels strong and happy. You're ably assisted in this endeavour by the six-speed transmission that clicks from one ratio to the next easily and cleanly. It's also simple to find neutral, so newer riders won't have to go through the embarrassment of stamping on the gear lever many times to eventually get the bike out of gear.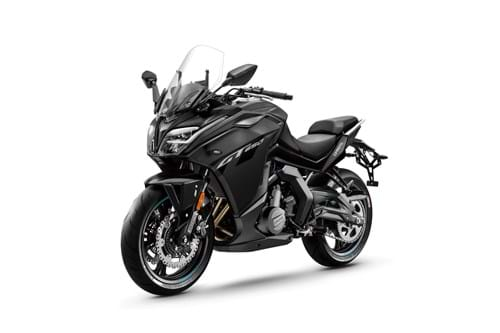 Controlling the engine and gearbox are just as satisfying as the clutch has a light action that makes town riding a cinch, while the throttle has just the right amount of resistance to help meter out power responsibly. Stopping power is more than up to the job with the rider onboard and the panniers filled up thanks to twin discs are the front and a single disc at the back. Fully loaded for touring might tax the anchors a little more, but they offer assured retardation and the ABS comes in smoothly when required.
The controls are easy to reach and mirror the excellent riding position of the 650 GT. It has a natural seating position and well-padded seat that means you can spend long hours on the go without fidgeting. Just as well as the 19-litre fuel tank and excellent economy mean 200 miles from a fill are perfectly possible. Riding those distances will be easy thanks to the manually adjustable screen that was ideal for this 5ft 10in rider and the 795mm seat height was also spot on.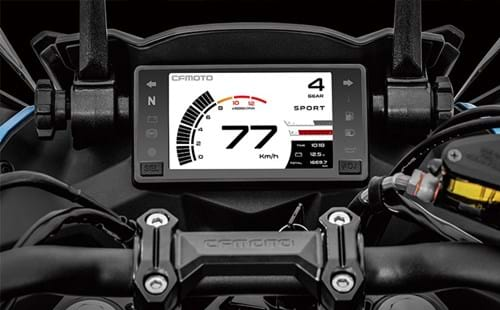 The rest of the GT's rider environment is taken care of by the five-inch TFT screen that has two modes. It comes with auto-dimming and is easy to read in the day and at night. You also get back-lit switches, two USB ports and a 12-volt charger so running sat-nav from your phone or a separate device is easy.
One thing we noticed every time we swung our leg over the 650 GT was it feels every gram of its 226kg kerb weight, and that's without factoring in the extra weight of panniers. This heft seems to be quite high in the chassis, so you need to be careful when moving the bike out of the shed or into a parking space. The rest of the time, it's not an issue and the GT flowed along twisty roads with a relaxed gait that's entirely in keeping with its touring credentials.
Some might find the suspension a little on the soft side, but bear in mind this is a touring and commuting machine and we reckon the balance is about right. We also liked the handling, which is on par with its key rivals. It plots into a corner faithfully and holds its line, but don't go expecting any nip and tuck heroism against sports bikes. Instead, give in to the GT's easy-going nature and enjoy the journey.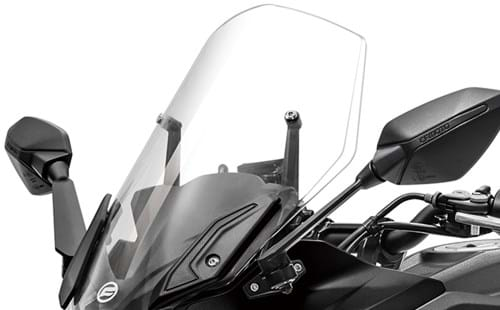 Should I buy it?
On price alone, the CF Moto 650 GT makes a compelling case for itself and it's hard to look past that. However, when you do, you find a very able mid-size tourer that comes with a decent list of equipment that's been chosen for its usefulness rather than being snazzy. This isn't to say the GT doesn't have some style and the looks are modern with some neat flourishes. We also found the build quality to be good.
A little more power wouldn't go amiss with the 650 GT and we'd also appreciate a bit more space for the pillion passengers, particularly on a bike aimed at the touring crowd. Even so, it's a machine that worked its way into our affections for the way it just gets on with the job.