What is it?
The 522GW is the top spec, updated incarnation of the 512GW in Nextbase's brand-new dash cam range - the Series 2. As the GW in the name suggests, the 522 features GPS and WiFi - just like its predecessor - as well as a number of other impressive features. Resolution is 1440p @ 30fps with a 140-degree viewing angle and a built-in polarising filter. At a faster frame rate (60fps), resolution drops to 1080p.
The 522GW offers Amazon Alexa connectivity and Autosync - the latter of which makes this new Nextbase dash cam range the first to let you automatically sync files to your phone via WiFi and Bluetooth. It also features a new and improved 3-inch LED touchscreen, a new software suite to watch and edit your footage, and Emergency SOS so you can alert emergency services of your location in the event of an accident.
Considering most people use dash cameras to protect themselves against false insurance claims or in the event of an accident, Nextbase has also renewed it's partnership with SureThing!, offering those who buy a Series 2 dash cam 25% off a policy with the insurer - which is an increase on the previous 20% discount.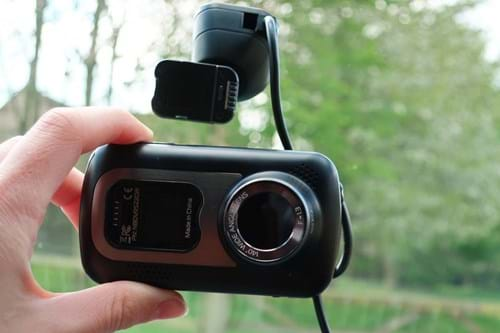 What's it like?
Very simple to use. It's similar enough to previous models to make it very easy to operate if you've had a Nextbase cam in the past, but with a number of revolutionary new features. Aside from the various improvements to the footage quality and whatnot, which we'll get into, the first noticeable difference is the mounting system of the 522GW.
Gone is the big clunky mount of the 512GW. Replacing it is a mount that connects straight into the body of the camera using a magnetic attachment. It's very smart. The charging cable also plugs directly into the camera or the mount - there's the option for both.
The new Click&Go Pro dash cam mount comes with an adhesive 3M and a suction option. The adhesive mount isn't at all easy to remove from your windscreen, so if you plan to change it into different vehicles frequently, opt for the suction mount. Both mounts clip into place very simply, with easy to follow instructions in the Quick Start Guide - although the mount can be very firm when it's brand new so it needs a strong pull to separate if you want to swap the adhesive option for the suction one.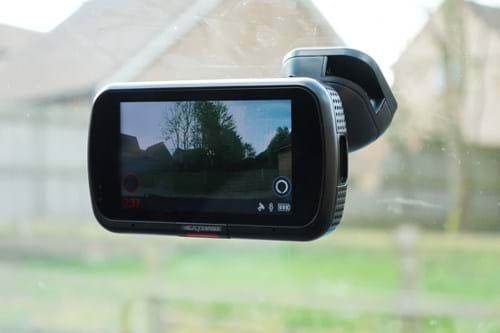 The neodymium magnetic attachment is exceptionally strong, too, so your dash cam should never detach from the windscreen and none of the footage we captured is shaky. The magnetic mount attachment also makes clipping the dash cam onto the mount much less fiddly than before.
The dash cam itself is smaller and more discreet than the 512GW, too, 35% smaller in fact. The adhesive mount is much smaller than the suction one though, so that's something to bear in mind if you're conscious of how much space the dash cam will take up on your windscreen.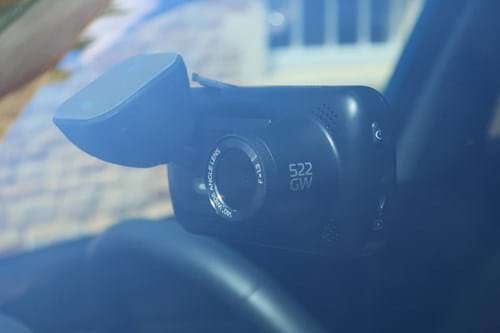 Using Bluetooth 4.2 Low Energy tech, the video files can be sent to your phone in two resolutions (high and low), meaning the low res files can be viewed quickly as they take a very short amount of time to transfer. If anyone has tried to transfer a dash cam video file to their phone via WiFi using the previous Nextbase app, you'll know just how painstakingly long these massive footage files can take - so Bluetooth is a big upgrade.
There's only two physical buttons on the device. One is used for turning the power on and off, while the other is on the front of the camera (you can see it marked with a red line in the picture below) to save files from being deleted. The slick touchscreen is used to alter settings, set up Alexa connectivity, Parking Mode etc.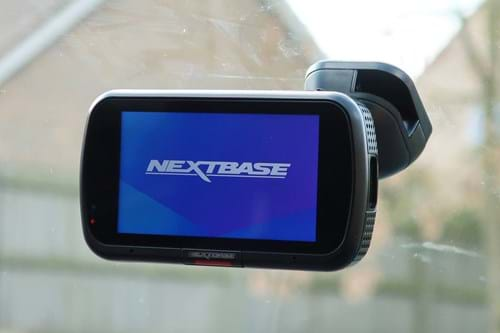 Using Alexa with the dash cam is a brand new feature for Nextbase, it's actually the first dash cam in the world to offer this voice control feature. What does it mean for you though? Essentially, if you want to protect a recording, add eggs to your shopping list, ask for directions to a nearby petrol station, check the weather, call your dentist or a whole range of other things - you can just say 'Alexa', and your dash cam acts like an Amazon Echo device.
All you need to do is download the MyNextbase Connect app and the Amazon Alexa app (both free) onto your smartphone and turn on the capability on your 522GW. Aside from the ease of asking Alexa to find you a car park on the move, there's also a very important safety aspect of Alexa integration considering how many people still get their phones out or mess about with infotainment screens while they're driving.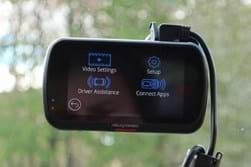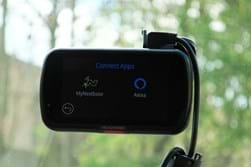 There are plenty of settings to adjust - including resolution, duration of recording (1, 2 or 3 minutes) and exposure, as well as switching audio recording on and off or setting a number plate for your vehicle. Things like Parking Mode - which records for a short period of time when the car is parked if it the G sensor detects an incident - time stamp and speed stamp can be switched on and off too.
Impressively, Parking Mode is available on all the Series 2 Nextbase dash cams (122-522GW). If you're wondering where the 622GW is in the new range, it doesn't yet exist - so there's no 4K Series 2 dash cam. Not yet anyway, but we've heard that it's on the cards...
When an incident is detected, the Emergency SOS system will go through a number of failsafe protocols to check you're okay - including ringing your phone. If the phone remains still or goes unanswered, then the emergency alert is sent - however, this can be cancelled. Nextbase Emergency SOS can then alert emergency services in the area to where you are using GPS and sends crucial information like blood type and medical history (as long as you've added these details). This feature is compatible with the 322GW and 422GW as well.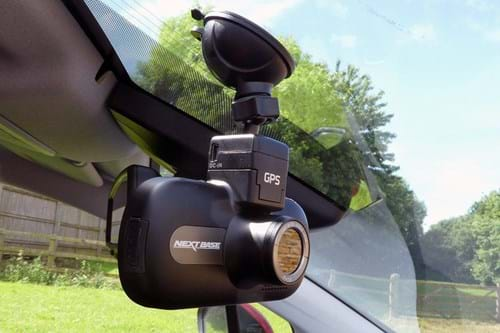 The 512GW (as pictured here) is much larger than the new 522GW
The 522GW has a built-in a polarising filter to reduce windscreen glare, so the footage is significantly better than that of the previous models. The 512GW struggled to deal with exposure changes (like when the sun came out from behind the clouds) and would often lead to very dark footage. The 522GW doesn't struggle with the same issues, as you can see in the footage below.
Bear in mind YouTube compresses the videos, so quality is lower than it would be downloaded straight from the MicroSD card onto your PC, laptop, tablet or smartphone. On our computer, the video is very clear - with details like number plates being easy to read. Night time footage is also very much improved (we'll be uploading this footage to the review soon).
If that isn't quite enough improvements and upgrades for you to take in, the 522GW is modular, too. In short, that means you can connect a Rear View or Cabin View camera to the body of the main dash cam unit. This means that the 322GW, 422GW and 522GW can be made into dual dash cams. The rear camera footage for the 422GW can be viewed here.
There are three modules to choose from, with the cabin view camera (likely used by taxi drivers who want to keep an eye on passengers) and rear view cam looking very similar. The Rear View cam has a zoomed lens so it can film through the rear window. A Rear Window camera is also available, which attaches to the rear window and has a new, more versatile magnetic mount with an adhesive fixture. Each module is £49.
So, now the important bit: price. We were very pleased to discover that the new range won't cost you an arm and a leg. In fact, it's priced just like the previous range. The 522GW is £149 and the cheapest of the models - the 122 - is £49. the 422GW is £129, the 322GW is £99 and the 222 is £69. Happy days.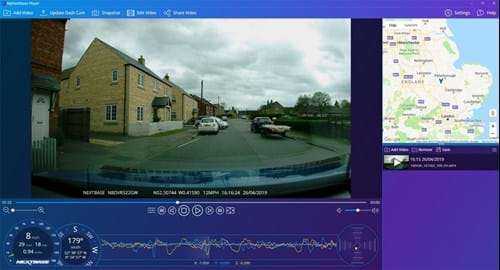 In terms of apps, there's the MyNextbase Connect iOS app to edit and share footage, which we're told will be available for download on the May 13th 2019 for iPhone users. Android will follow a day or two later. Secondly, MyNextbase Cloud is a new storage system for your video files, this is free but videos are deleted after about 30 days. Finally, there's MyNextbase Player - which you can see above - which lets you see all sorts of data about your video files - including the route you've driven, speed etc. 
If the Incident Aware feature is on, in the event of an accident the dash cam will lock the video file and send it to your smartphone. Your smartphone will then ask if you want to share this with your insurer. If so, you can send the footage straight to your insurance company with your insurance details and GPS location.
You can also buy a Nextbase hardwiring kit if you don't want to plug the dash cam into and out of the 12v socket in your car every time you use it. Not all drivers will need to do this, but some cars will find the battery drained if you leave anything plugged in for a few hours. A local Halfords branch will hardwire a dash camera fairly quickly at a reasonable price, although it is possible to do yourself - it's just more hassle.
There's nothing wrong with the 12v power cable, it actually features a blue light that indicates if the cable is fully plugged in and on - which is better than the previous cable. However, a dual-USB charger is more dynamic and would be a better choice if we were picking faults with the 522GW. You can buy a dual USB charger as an extra accessory from Nextbase, as well as polarising filters for lower spec models in the range (122, 222, 322GW, 422GW) and Micro SD cards because the dash cams don't come supplied with them.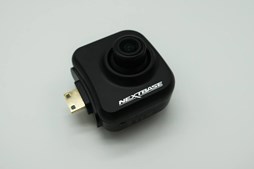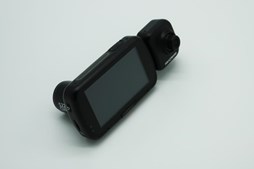 The new Nextbase range takes microSD cards up to 64GB - we're currently using 32GB microSD cards in ours. As for the batteries, they've been upgraded along with the rest of the dash cam hardware. They range now uses Lithium Polymer batteries (3.7V/320mAh) and intelligent battery charging with thermal cut out in the circuity – this ensures the batteries now charge at the correct rate depending on their temperature and dramatically prolongs their life.
Should I buy one?
If you're looking for the most feature-packed dash cam on the market - the Nextbase 522GW is it. It's simply head and shoulders above the rest. In short, we're very impressed with it and the new Series 2 range in general.
If you'd rather a simple dash cam without things like parking mode, time and speed stamping, Amazon Alexa etc - we'd have previously suggested cheaper alternatives (and we still do), but the 122 and 222 make good cases for themselves at £49 and £99. The 422GW is also a very good choice at £129, or if you want to move away from Nextbase dash cams, the 66W is a fantastic new option - which we recently reviewed - from Garmin.
However, taking the 25% SureThing! insurance discount into account, and the fact that many insurers now want GPS, time and speed stamping on submitted footage - the 522GW is a very smart option.